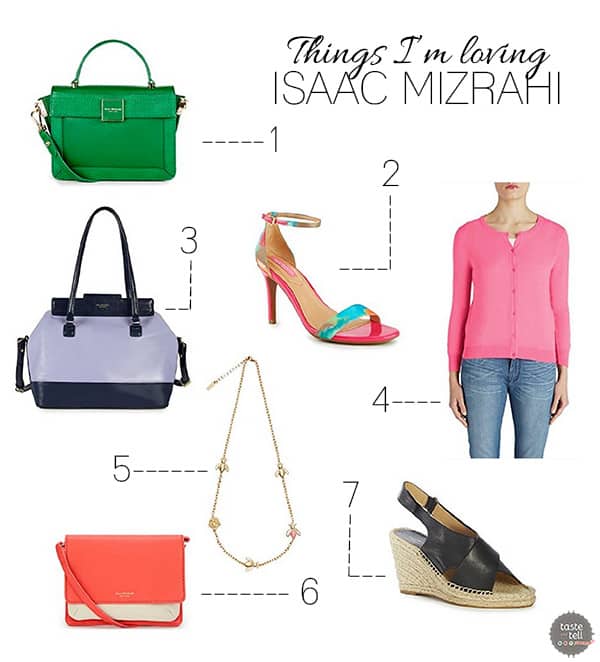 It has been way too long since I've done a "Things I'm Loving" post – I'm so glad to be bringing it back today!!
I have entered a new phase in my life, and it's been kind of fun. For the past 6+ years, my life has been 100% about comfort. I've been pregnant, or had a small baby, or a toddler. Which has meant lots of yoga pants, tshirts and flats. Well, I am finally emerging from that stage – with a 2 year old, 4 year old and 6 year old, I'm not always worried about having a child on my hip or having to clean spaghetti off the wall. So yeah – there are still moments when I have a child on my hip or when I have to clean spaghetti off the wall, but for the most part, we are slowly getting past those moments. 🙂

With this new phase of life has come a new obsession. Fashion. Now – I'm not saying I'm anything close to a fashionista. Not even close. But I started following several fashion bloggers on Instagram, and now I want all the clothes. All the shoes. All the bags. And all the hairstyles. 😉
Enter Isaac Mizrahi. I first became acquainted with Isaac Mizrahi back when he had a line of clothes at Target several years ago. And I remember seeing him on The Fashion Show and Project Runway. And more recently, I got sucked into his website with his current line, Isaac Mizrahi New York.
So today, I'm sharing a few of my favorite things from Isaac Mizrahi. And giving one of you a chance to fall in love with this brand through a giveaway!
1 – Adele Crossbody in Verdant Green – I'm not normally one to be drawn to the really bold, bright colors, but I was smitten with this bag the minute I saw it. I'm actually pretty sure I'm not going to be able to live without it in my life. I'm desperately needing a smaller bag, and I love the crossbody bags. Love this!
2 – Pink Floral Printed High Heel Sandal – so – I used to wear heels all the time. And then I had kids, and I know some women do it, but I just couldn't wear heels while pregnant or with a baby. I was all about comfort. And even after I had my kids, and after they started to become more mobile, my feet weren't used to being in heels, and even if I tried, I'd end up ditching them after having to try to carry a child while wearing them. Well, my kids are all too big now to be carried constantly, so I'm slowly getting my feet used to heels again. And when I saw these heels, I knew I had to have them. I wanted something fun, and this print is definitely fun. The heel is pretty high, but you will definitely feel fashionable wearing these!
3 – Amelia Satchel in Lilac and Navy – I think I'm really wanting a new bag right now, as 3 of the 7 items I chose were bags. 🙂 I love the colors of this bag, (I think it's perfect for spring and summer!) and it looks like the perfect size.
4 – Lightweight Cardigan in Popsicle Pink – if you know me, you'll almost always see me with a sweater or cardigan. I'm addicted. I'm loving the bright pop of color from this cardigan – you can't go wrong with pink!
5 – Bee Station Necklace in Yellow Pave – Maybe it's because I'm in Utah (the Beehive State!) but I fell in love with this necklace the moment I saw it. I think it would be a great way to dress up a casual outfit, and bees are just fun!! (not real ones – just the jewelry ones!)
6 – Wendy Crossbody in Flamingo and Antique White – Haha – another bright color, and another crossbody bag! I may have a hard time deciding between this and the green bag!
7 – Iris Espadrille Wedge – I don't currently own a pair of wedges, and I think that needs to change asap. I love these black wedges, and know I could wear them all the time during the summer!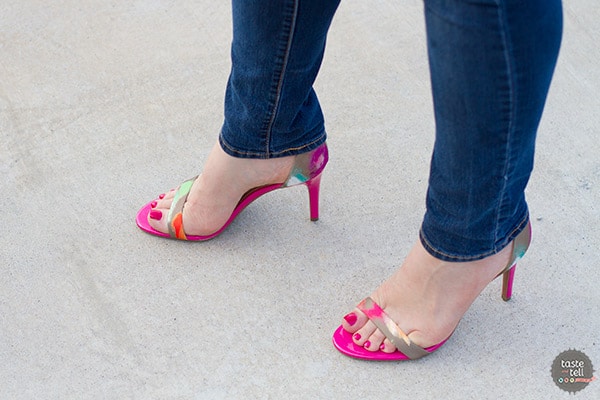 The folks over at Isaac Mizrahi generously sent me a pair of the Pink Floral Printed High Heel Sandal. I love that they can be dressed up or dressed down – I can see myself wearing them all the time this summer!! And I'm excited to give one of you a chance to have your own shopping spree at IsaacMizrahi.com. Just enter using the widget below, and the winner will get to choose something from the website. But don't blame me if you get sucked in, falling in love with all of the products!
**I was sent a pair of shoes for review purposes. The brand is providing the giveaway for this post. All opinions are my own, as always!**