This is my week to talk about Liz from The Lemon Bowl! On Monday, a group of bloggers got together to celebrate the upcoming birth of Liz's baby boy, and today, we get to learn more about Liz! Liz is one of those bloggers that is easy to like. She is kind and giving and supportive and all of the things you look for in a person. I really hope that we get to meet in person one day, but for the time being, I'm happy to be featuring her here and getting to know her a little better. I'm glad to have you here today, Liz!!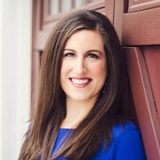 Liz Della Croce is the creator and author of The Lemon Bowl, a healthy food blog. Since 2010, Liz has been creating delicious recipes using real ingredients with an emphasis on seasonality. Liz has appeared live on the TODAY Show and tapes regular cooking segments for her local NBC affiliate station. She is a contributor for The Huffington Post and Cooking Light. Liz's recipes and food photography have been featured on several websites including Shape Magazine, Food Network blog, The Cooking Channel, TODAY Food and more.
What inspired you to first start writing your blog?
Throughout my personal weight loss journey, friends and family would frequently ask me what I was cooking and eating to lose the weight. I've always been a big foodie so they wanted to know how I was eating delicious food but still reaching my weight loss goals. The Lemon Bowl became the perfect place for me to share these healthy recipes along with the complete nutrition facts to help others reach their health goals.
Where do most of your recipes come from?
All of my recipes are original with the exception of the traditional Middle Eastern/Lebanese recipes that have been passed down for generations. When it comes to recipe development, I love to let the season guide me using inspiration from local farms and my favorite farmers markets. Since the season is always changing, I'm always working with new ingredients which is why we rarely eat the same dinner twice!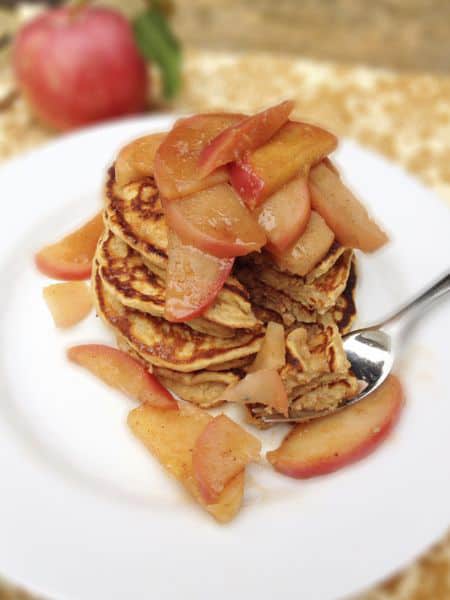 Whole Grain Pancakes with Warm Apple Topping
What is your favorite kind of food to make?
I love making ethnic food – specifically Asian food and Middle Eastern food. My mom's side of the family is Syrian so we grew up eating a lot of traditional Lebanese dishes like
hummus
,
stuffed grape leave
s,
tabbouleh
and more. My dad's family lives in San Francisco so I have been eating traditional dim sum and authentic Asian food from China Town and surrounding areas my entire life. Even here in Michigan we would go out for "sushi Saturday" most weekends and spend many Sunday dinners eating at a local Vietnamese restaurant. Recreating these recipes at home brings me back to these wonderful memories.
What is your favorite recipe posted on your blog?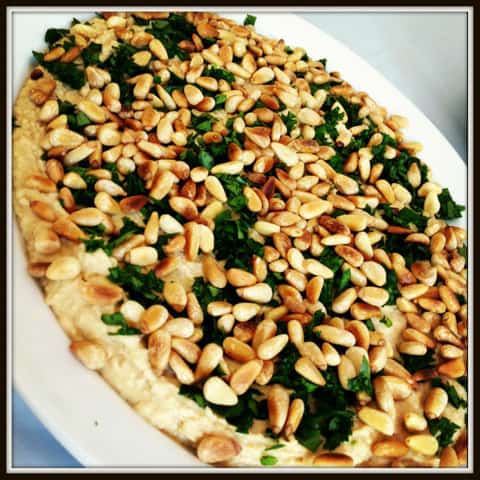 Classic Hummus with Toasted Pine Nuts is probably my most favorite recipe. I learned the recipe from my Great Aunt Vieve who is no longer alive so when she passed away, I was given the "hummus torch" and it is now my specialty dish to bring to all family gatherings and holidays. Whenever I sprinkle the platter with pine nuts and fresh parsley I think of her.
What is your favorite kitchen tool/appliance?
Hands down, my Microplane grater. I cook with a ton of fresh garlic and the microplane allows me to grate the garlic into a paste so that it literally melts into salad dressings, dips, soups, pasta and more. No one is stuck taking a big bite of garlic which is especially important when the garlic is served raw such as in my Fattoush Salad (Middle Eastern Bread Salad.) Plus, you don't need to dirty a cutting board or deal with washing all those tiny holes in a garlic press. The grater also works for parmesan cheese, ginger, nutmeg and more.
When you really want to cheat, what do you eat?
Chocolate peanut butter ice cream. I am pretty much obsessed with anything peanut butter and chocolate so putting it in ice cream is my happy place. Runner up? Movie theater popcorn with butter. I need to stop talking about this because at 8 ½ months pregnant I am not so great at resisting urges these days. 🙂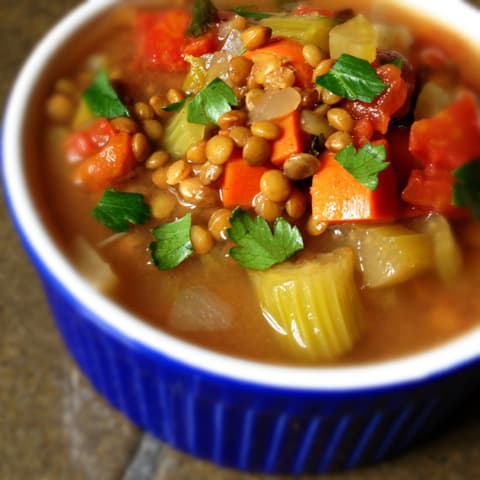 Slow Cooker Lentil Soup with Bacon
If you could cook alongside any other blogger for a day, who would you choose?
It would have to be Beverly of Bev Cooks. For one, she tends to do more savory foods which is what I always crave. I don't have a big sweet tooth but salt tooth is another story. Everything Bev makes I want to eat and her posts are hilarious. She makes silly videos on Vine and just seems to have a lot of fun cooking. Her goofiness is contagious and I would love to spend a day cooking with her!
Take us through a typical day of eating in your house.
My 2 year old wakes up around 7AM so the day usually starts by feeding him breakfast. I like to keep homemade frozen pancakes in the freezer for these busy mornings to go with whatever fresh fruit I've found at the farmers market that week. I have coffee and make myself a protein smoothie which he will also drink some (most) of. 🙂 For lunch we often have leftovers from dinner the night before. Otherwise, eggs and toast are a common occurrence around here, especially this pregnancy when my old stand by of salad with grilled meat doesn't sound as good. 🙂 Dinner is never typical – it is usually an ethnic recipe I've been craving or an Asian stir-fry using whatever veggies we found at the market that week. Full Disclosure: I'm not a huge fan of typical American comfort foods like hamburgers, pizza or meatloaf. I would much rather make a Vietnamese Pho Noodle Soup or Lebanese Stuffed Eggplant. 🙂
Slow Cooked Asian BBQ Pork
What is your favorite part about blogging?
I love the interaction with my fellow bloggers. The food blogging community is not something I knew existed when I started blogging. It has been a huge gift to discover and I feel so grateful to be a part of such a talented, creative and giving group of people. I have learned so much from my fellow bloggers and I would not be where I am today if it wasn't for the food blogging community.
What is your best tip to becoming a successful blogger?
You get what you give. For every 1 recipe of mine that I share, I try to promote 10 recipes from my fellow food bloggers. The food blogging community has been so supportive of my blog and I love being able to give back and promote others. I have found that the more I comment on other blogs, the more recipes I pin of other bloggers and the more recipes I share on twitter, the more love that comes my way. It's also a great way to interact and meet other bloggers that you admire and respect which has been a huge gift.
——————
Thank you, Liz. It was so great to get to know you better! If you want to see more from Liz, here is where you can find her: