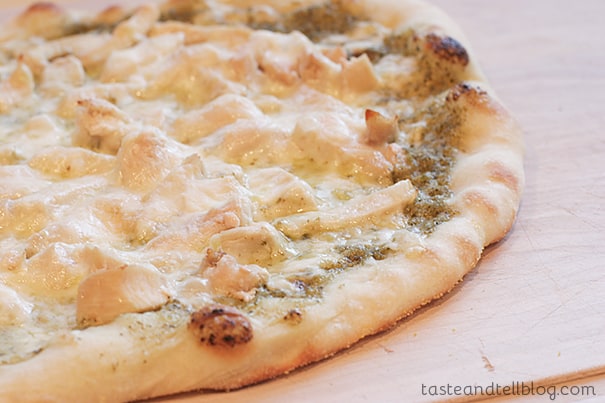 I'm back to my Daring Baker's Challenges! I missed the last 2 – and I really thought that I would have to drop out because this pregnant body has been having a hard time completing anything that takes longer than 45 minutes in the kitchen. But since I'm not working anymore, I have a bit more time, and I'm able to spread things out so that my body can take it!
This month's challenge was chosen by Rosa from Rosa's Yummy Yums – Peter Reinhart's Basic Pizza Dough. I was excited to try this out for 2 reasons – 1st, because I love pizza! and 2nd, because I really like Peter Reinhart's recipes. And really, I'm surprised this worked out becasue I ran into a few problems!
I mis-read the recipe, thinking it was a tablespoon of yeast instead of a teaspoon. After I added the yeast, I had to scoop out most of it, so I really have no idea how much yeast I ended up with!
I lost track of time on the day I was making the pizza, so they only rested for about an hour instead of 2.
I couldn't even attempt to toss the dough because it was so soft. Just picking it up to transfer it stretched it enough! I'm guessing it's because of the amount of yeast? but I really don't know.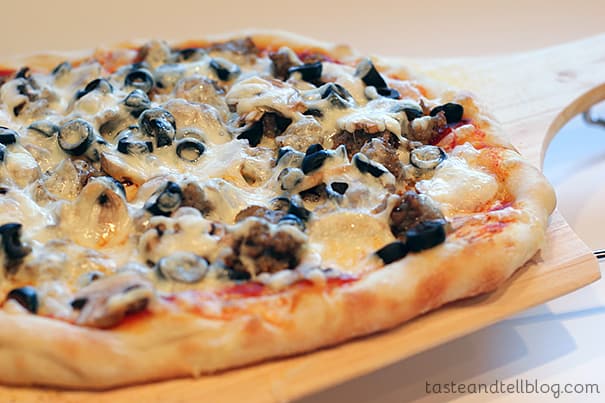 But it was delicious! It got a thumbs up from my husband, and I eagerly ate my slices. We did 2 versions. The first had a pesto/ranch sauce (just a mixture of pesto and ranch dressing), topped with chicken and cheese. The second one my husband requested – sausage, pepperoni, mushrooms and olives.
We've got 4 more balls of crust in the freezer, which I'm excited about to have more pizza nights!!
For the recipe, visit Rosa's site, and visit the rest of the Daring Bakers here!