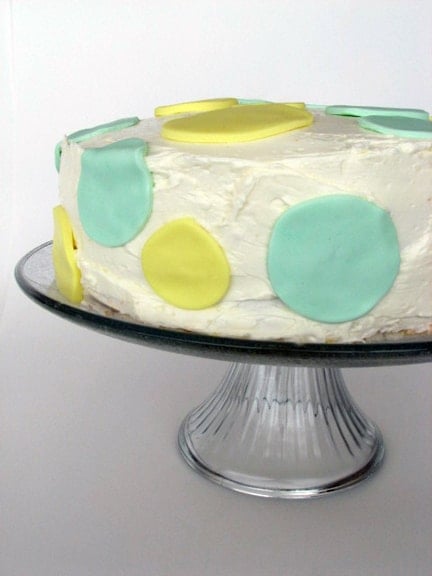 This is a happy day for me. Not only is it the day we post our Daring Bakers Challenge for March, (my 9th challenge already!), but it is also my 1 year blog birthday!! I can't believe it's already been a year since I started this little blog!!
I was going to remake the cake I made for my first post for my birthday post, but the Daring Bakers posting date just happened to fall on the same day. But when I found out that this challenge was Dorie Greenspan's Perfect Party Cake, I thought it was even better, because I had made and blogged about this cake before!! (And it was even for a fellow Daring Baker's blog birthday!) This time around, I could remake the cake, but find a way to challenge myself and make it even better!

After promising to make the challenge earlier in the month, I was all set out to do the cake the first weekend of the month. I was going to substitute the raspberry preserves with candied lemon and orange peels. I candied the lemon and orange, but that is as far as I got. But I'm glad I didn't continue on, because over the next week, I came up with a different game plan that I liked even better. I have talked about Pierre Hermè's French Lemon Cream, which I learned from Dorie Greenspan in Baking. In my opinion, this is the very best recipe ever created!! I thought to do just lemon cream in the layers instead of the raspberry preserves, but then I realized I had some limes that needed to be used, the idea came to me to do a lemon-lime cake, with 2 layers of lemon and one of lime. And just to challenge myself, I decided to do some fondant decorating. I had never worked with fondant before, but it is always something I have wanted to play around with, and this was the perfect opportunity.

The cake came together easily. I know many people had problems with flat cakes, but the recipe worked great for me. Since I had made the buttercream before, I knew that it would seem to curdle before it came together, so this also was pretty easy for me. I made the lemon cream just as I had before, and for the lime cream, I just substituted lime juice for the lemon juice. I did add a bit of coloring to the lime cream, because it was the same color as the lemon, and I wanted the layers to be distinct.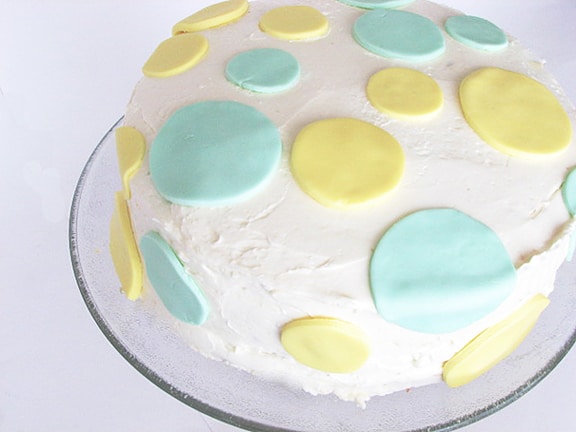 The fondant was fun. I used a marshmallow fondant recipe that I read about on Shawnda's blog – Confections of a Foodie Bride. She makes beautiful cakes, and I trusted her recipe completely. I had pictured the fondant polka dots in my mind, and decided to stay with the same colors as the cream fillings – green and yellow. I'm really glad I tried this fondant, because now I am really excited to keep working with fondant, and maybe even learn how to cover a whole cake with it! And this fondant does taste much better than normal fondant. I really got a workout kneading and rolling this out. I did the yellow first, and I think I hadn't let the fondant sit long enough, because I couldn't get it very thin. The green worked much better for me. I ended up taking all of the yellow polka dots off, re-rolling them thinner, and then re-cutting them.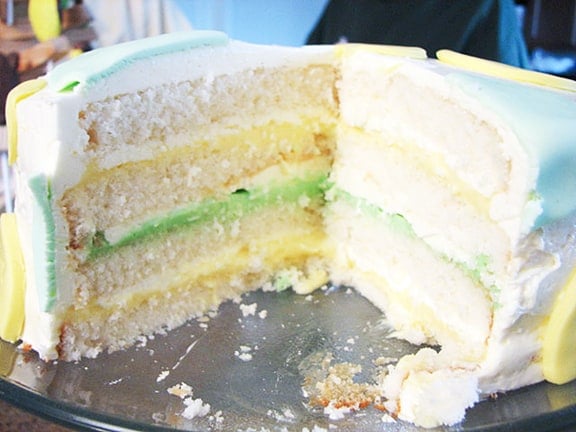 Overall, this was one of best cakes I have ever made. The lemon and lime cream complimented the cake and buttercream perfectly. I remembered the first time I made this cake with the raspberry, it was too sweet for me, but the sweet/sour combo of this was wonderful. My mom and sister even said that they could see it being served in a restaurant! The only thing I am disappointed in is my pictures. 🙁 I took this cake to a family get together, and it's always hard to get good pictures while everyone is eating, and when you aren't in your own house where you know the lighting is the best. But believe me that it was much better looking in person!!

Now is the time to say thank you to everyone for reading this past year. Without going into details, let's just say that this little blog of mine has changed my life for the better. I am always touched with every comment that is left, and every single one of them means so much to me. The food blogging community is such a wonderful place, and I plan to be a part of it for a long time!!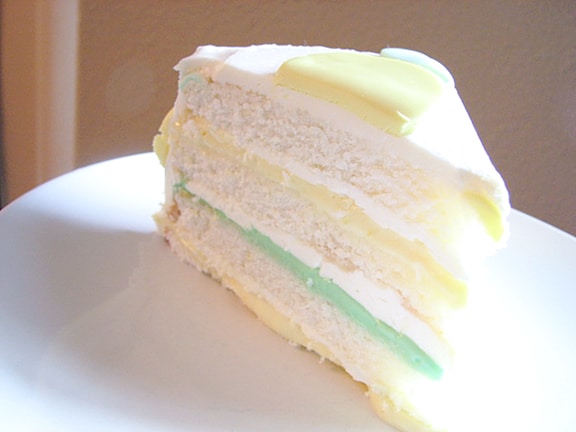 *I know it looks like there isn't a bottom layer in this picture, but it just got lost when transferring it to the plate!*
You can find the Perfect Party Cake Recipe at the site of this month's host – Morven at Food Art and Random Thoughts. The lemon creme recipe is here, and the marshmallow fondant recipe can be found here.
Make sure and check out all of the other Daring Baker's creations – I'm sure this month is going to be quite a creative one!!