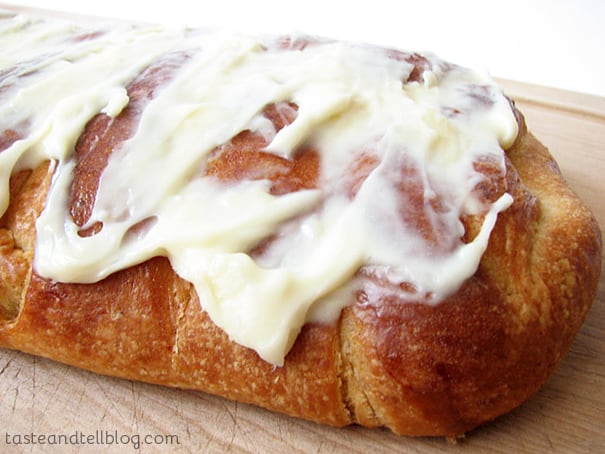 I'm lucky I'm not a boy, because I'd make a terrible Boy Scout. You know that little thing about "Be Prepared?" Yeah. Not me. Let's just say it was hard to fit in this month's Daring Bakers Challenge, and yes, I procrastinated again and just did mine yesterday. And it took me ALL day. Literally. I started at 7am, and the second one was coming out of the oven at 7pm. And I tried to make it with only pantry staples this month, so a few small changes had to be made.
This month's challenge was hosted by two of my blogging friends – Kelly of Sass and Veracity and Ben of What's Cookin'. Both of their blogs are on my regular reading list, so I was excited to see what challenge they would bring this month. And what a challenge it was!! Danish Braid. Yes, it took me a few moments to regain my composure after reading it, but I still made it!!

The thing that I love about the Daring Bakers challenges is that the host(s) always manage to choose something that I probably wouldn't normally make, just because of how involved the recipes are. And most of them have been quite scary at first look, but once you jump in, they are actually quite manageable. And I always finish them feeling a sense of accomplishment. Now I don't know why anyone else is a Daring Baker, but that is exactly why I joined and I continue to participate every month. I love it when I feel like I have taken on a challenge, and whether or not I succeeded, I always try.

This is actually my one year mark as a Daring Baker. My twelfth challenge in twelve months. Talk about a sense of accomplishment!! I look back over those twelve challenges, and I'm proud of each of them, and for the things those hosts got me to do in the kitchen!

Back to the braid – I kept it pretty simple this month. I followed the recipe exactly, except I didn't have cardamom or vanilla beans. I used pumpkin pie spice in place of the cardamom, and I just omitted the vanilla beans. I would have followed it to a T, but I was trying not to buy anything this month. For the filling, the first braid, I used the apple filling recipe that was provided. I wanted to do a fresh peach filling for the second, but my peaches weren't ripe enough yet, so I settled on making a cream cheese mixture, (cream cheese, powdered sugar and vanilla extract) and then putting some homemade peach jam on top.
When I went to shape the final braids, I couldn't get my dough to a 15×10 rectangle, still keeping it 1/4 inch thick. So my rectangle was slightly smaller, which was ok because otherwise it probably wouldn't have fit on my baking sheet! For the first braid, I baked it at 400F for the first 10 minutes, but as I went to change the pan around and lower the temperature, I realized the braid was already pretty dark. So I only left it in an additional 10 minutes. For the second braid, I didn't turn the heat back up, but left it at 350F and still only baked it for 20 minutes, and although it was still a little dark, I was much happier with it.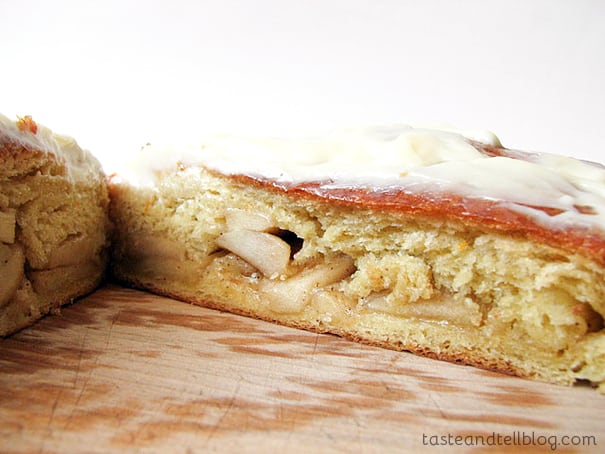 I'm really sad, because on my second braid, the braid was so beautiful. I should have taken pictures first, but I decided to glaze it with the leftover cream cheese filling from the first braid. And then you couldn't see the braid anymore!! As far as taste went, I loved both of the fillings. I liked the bread from the second braid much better, though. I'm pretty sure it's because I baked it in a cooler oven, but it was moist and light.
Overall, I really enjoyed this challenge. I wish I would have taken some time, maybe done it over a few days so that I could have made something spectacular, but it still turned out very well, just following the given recipe! I want to try this again sometime, taking out the orange and spices from the dough, and turning it into a savory meal. It's a keeper!
Make sure and check out the other creations here. And for the full recipe, go to Kelly or Ben's site!
12 months of being a Daring Baker
June 2008 – Danish Braid
May 2008 – Opera Cake
April 2008 – Cheesecake Pops
March 2008 – Dorie's Perfect Party Cake
February 2008 – Julia Child's French Bread
January 2008 – Lemon Meringue Pie
December 2007 – Yule Log
November 2007 – Potato Bread
October 2007 – Bostini Cream Pie
September 2007 – Cinnamon Rolls & Sticky Buns
August 2007 – Milk Chocolate and Caramel Tart
July 2007 – Strawberry Mirror Cake