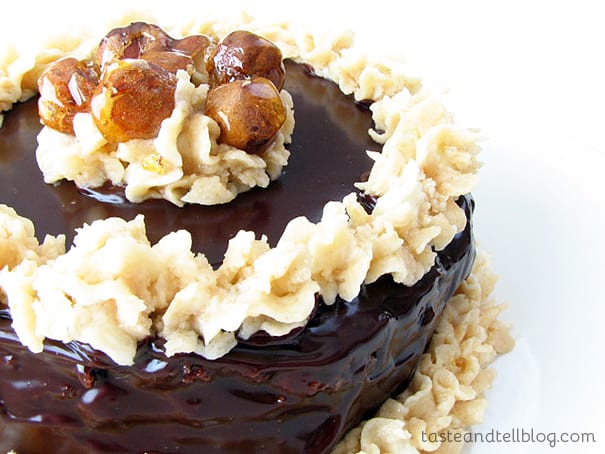 Well, I've procrastinated before, but never like this!! My cake is just finished. But at least I'm posting on the right day, even though it's the very end of the day! This month's challenge is a Filbert Gateau with Praline Buttercream from Great Cakes by Carol Walter, brought to us by Chris at Mele Cotte.
I have been hoping to get back some energy that people say you get back in the 2nd trimester, but so far, I'm still so tired. I had intended to make this when I took some time off last week, but every time I got up to make it, the couch would call my name, and my body would tell me that the couch was the right decision!! So I finally made the cake on Saturday, did the buttercream yesterday, and did the ganache just now. At least I got it done! I don't have pictures of the inside – my ganache in not quite set – but I wanted to get this up!
The only part that really gave me any trouble was the cake itself. I halved the recipe and used a 6 inch pan. When I filled up the pan, the batter almost came to the top, and I got worried. My first reaction was to take some of the batter out, but then I thought that I should be safe, and maybe this was a cake that didn't rise much. Well, maybe I beat my eggs too much, because sure enough, the cake overflowed in the oven. That caused my final cake to sink in the middle, and so I was only able to get 2 layers out of it. Luckily, that was my only problem.I also did leave out all of the alcohol, and I decided not to do the apricot glaze. Mostly because I was confused by the directions (to put it on the warm cake – but I had made the cake days before!) After all was said and done, I realized that you were supposed to keep the glaze warm when it went on the cake. Oh well…
I've mentioned before, but since I became pregnant, I haven't wanted sweets. Well, I could eat fruit snacks every day, but cakes and cookies just aren't my thing right now. They've never been easier to turn away! That, combined with the fact that this buttercream is not exactly pregnancy safe, I wasn't really all that excited about the cake. I really think I could have done something great with it, but I have to admit that my heart just wasn't in it – which explains why my cake looks less than perfect. Nothing against the cake, but just anything sweet in general. I might end up leaving the Daring Bakers until the baby is born – but I don't know yet. I do this for fun, and when it's not fun anymore, I just don't see the purpose in making myself do it every month. I guess I'll wait and see what next month's challenge is, and if it's savory, I might stick around for another month. Or maybe my sweet tooth will come back!!
For the recipe, please visit Chris' blog. And don't forget to check out all of the others!