The Brass Tag – located at the Lodges at Deer Valley in Park City, Utah.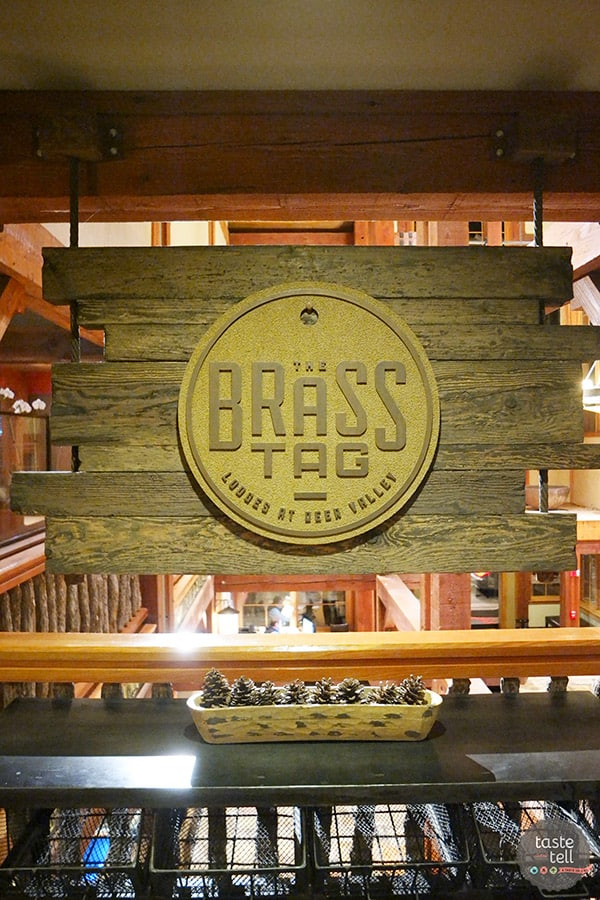 Last week, my husband and I celebrated our 10th wedding anniversary. We had said that the cruise we took earlier this year was our anniversary celebration, but I couldn't let the actual anniversary pass by without doing something special. It is our 10th, after all.
Since it's hard to get away for very long, we decided to just take a quick trip up to Park City. So on Friday night, we headed up for a little one-night getaway.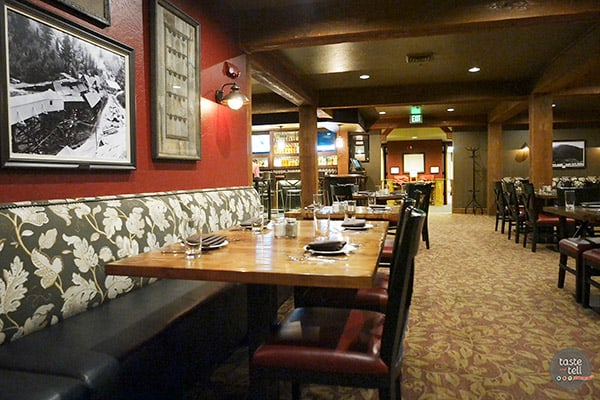 We stayed at the Lodges at Deer Valley (more to come on that soon!), and so dinner was an easy decision – The Brass Tag, located right at the Lodges at Deer Valley.
I don't even know where to start because it was all so amazing. I had never been to The Brass Tag, but everything I have ever had from Deer Valley has been nothing short of amazing, so I knew it would be good.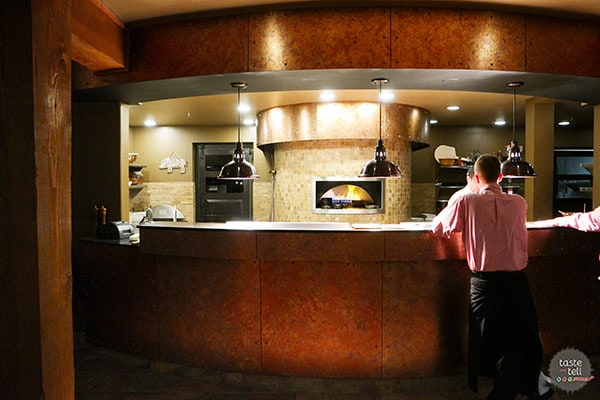 The Brass Tag just opened in July of 2014, so it is still fairly new. It's name comes from the mining history in the area. Miners would each have a brass tag with a number that they would hang up at the beginning of a shift before they went down into the mines. Upon leaving, they would take their tag, and if any tags remained, they would know that someone was missing and a search would go out for any lost miners. The restaurant is decorated with photos from old mines throughout.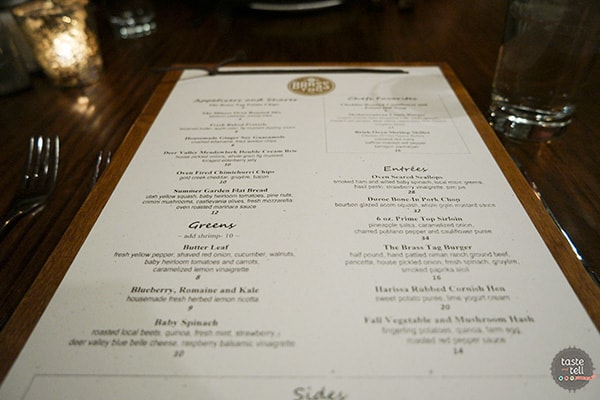 The food was nothing short of perfect. I couldn't even tell you one thing I would change. And to match the food, the service was top notch as well. The restaurant wasn't super busy, as ski season doesn't start for a few more weeks, but we definitely felt like the waiters were attentive enough without being overbearing.
Here is what we ordered: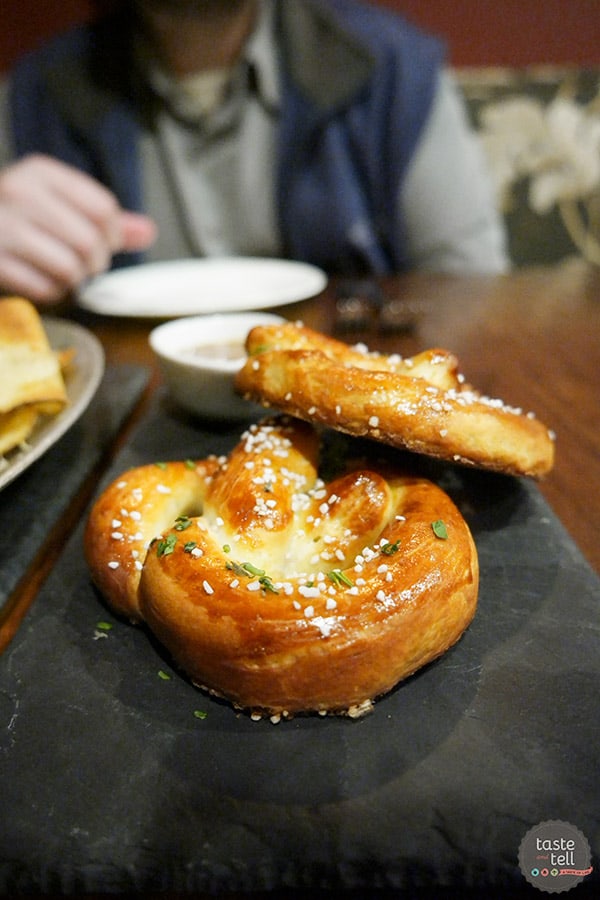 We couldn't decide on one appetizer (I honestly wanted to order one of everything!) so we decided to go with two.  Up first – fresh baked pretzels.  The pretzels themselves were very good, but I love loved the dipping sauce – a browned butter, apple cider, fig mustard dipping sauce.  It was a bit sweet, but I absolutely love the sweet and salty combination.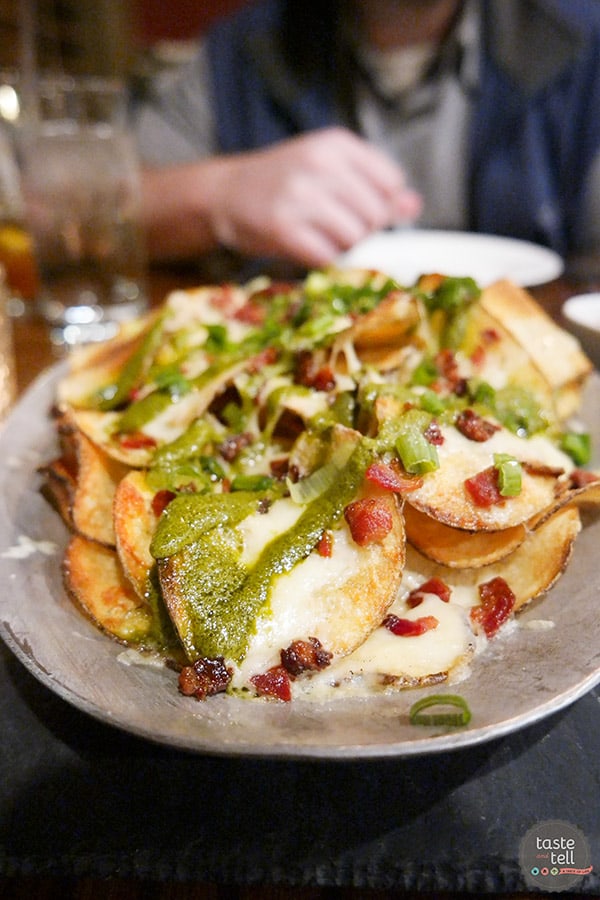 We also ordered the Oven Fried Chimichurri Chips, which were a highlight of the meal.  The thinnest, crispiest potato chips topped with cheddar, gruyere, bacon, and chimichurri.  We ate every single bite of these chips.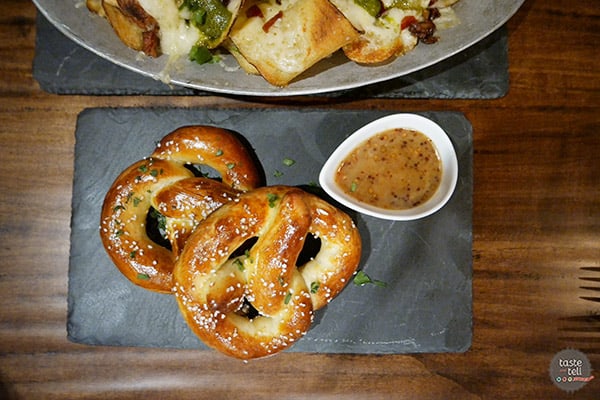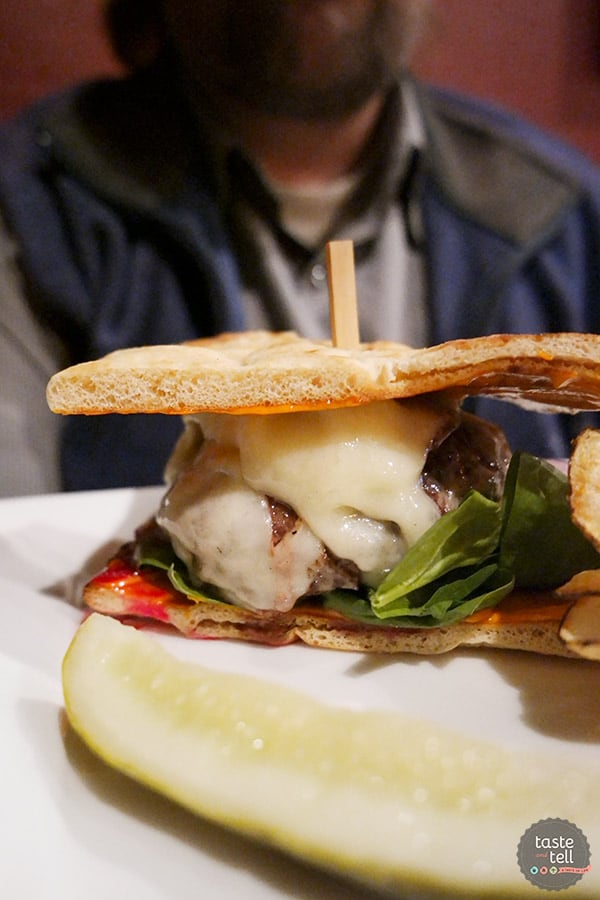 My husband ordered The Brass Tag Burger –  a half pound burger made from niman ranch beef, with pancetta, house pickled onions, fresh spinach, gruyere, and a smoked paprika aioli.  The burger was cooked a perfect medium, and was honestly the best tasting beef I have ever had in a hamburger.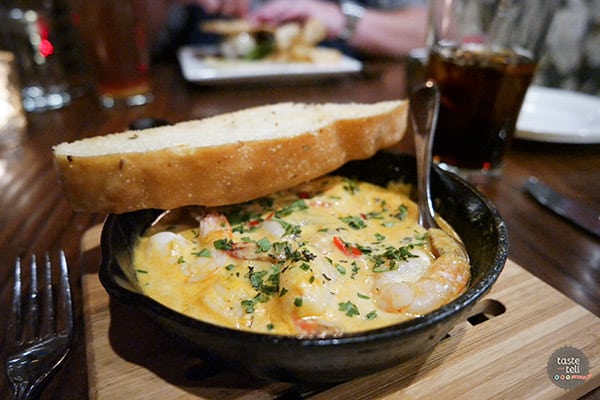 I couldn't decide between the shrimp and the scallops, but decided I was feeling a bit spicy, so I went with the shrimp skillet.  They give you three choices for sauces, and I went with the red curry. The sauce was amazing, and I sopped up every bit of that sauce with my bread!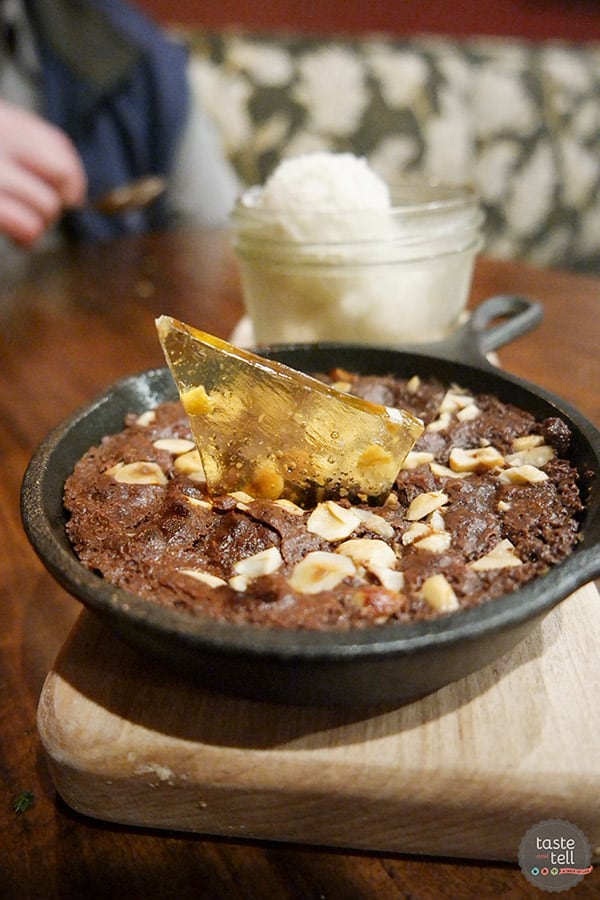 Although we were beyond stuffed, we couldn't pass up dessert and went with the skillet brownie with vanilla gelato.  You can't beat a warm brownie (which was gluten free, fyi) and the gelato just took it over the top.  It was the perfect way to end our meal!
There were so many things on the menu at The Brass Tag that I want to try, so I definitely think I'll be back in the future.  In fact, I'm thinking I already need another little getaway with The Brass Tag on the itinerary!
The Brass Tag
Located at The Lodges at Deer Valley
2900 Deer Valley Drive
Park City, UT 84060
Follow my travel board and never miss any eats or adventures while I'm out and about!
Follow Taste and Tell's board Taste and Tell – Travel on Pinterest.


We were hosted by Deer Valley, but were not asked or expected to write a review. All thoughts and opinions are our own.