There are some bloggers that I would love to live next to – one main reason would be to have the chance to eat what they've been cooking. Tracey from Tracey's Culinary Adventures is one of those people. Everything she makes looks so good. She makes a wide variety of recipes – everything from Pork Schnitzel to Salted Carmelita Bars to Homemade Pizza Rolls. Are you hungry yet? 🙂 So a big welcome to Tracey – I'm glad to get to know her a little better today!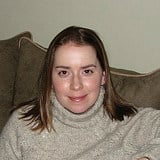 Hi everyone! I'm Tracey, the cook-baker-photograher-author behind Tracey's Culinary Adventures. Though I'm an attorney by training, my real passion is food. While I share a variety of savory and sweet recipes on my blog, baking has always been my favorite; nothing makes me happier than an afternoon spent creating desserts from scratch. When I'm not in the kitchen taking on new challenges, you'll likely find me traveling, working out, or cheering on my favorite sports team, the Boston Bruins! I live in Rhode Island with my husband, Shane, who is my faithful taste-tester and proofreader.
What inspired you to first start writing your blog?
After we bought our house in 2007, I really wanted to take advantage of our new kitchen and learn to cook/bake. I'd been reading food blogs for a few months, and eventually worked up the courage to start one of my own as a place to document my journey. It was also an easy way to keep track of the recipes we were trying and show our families that we weren't just eating mac and cheese for every meal. 🙂
Where do most of your recipes come from?
Oh gosh, everywhere! I love cookbooks and magazines but also am inspired by other bloggers, and sometimes, the recipes are of my own creation.
What is your favorite kind of food to make?
No question, it's definitely Mexican food! It's one of the things my husband and I can always agree on. I think we'd eat it five or more nights a week if all of our favorite dishes weren't loaded with tons of cheese, sour cream and all of those other delicious, but not exactly light, ingredients.
Do you plan a weekly menu? If so, what inspires your menu?
Yes, I've been meal planning for a few years now – it saves money on groceries, cuts down on waste, and makes dinner time less stressful during the week. The menu is often inspired by the season. For example in the winter it includes a lot of soups, stews and other comfort foods while in the summer we're outside grilling.
What is your favorite recipe posted on your blog?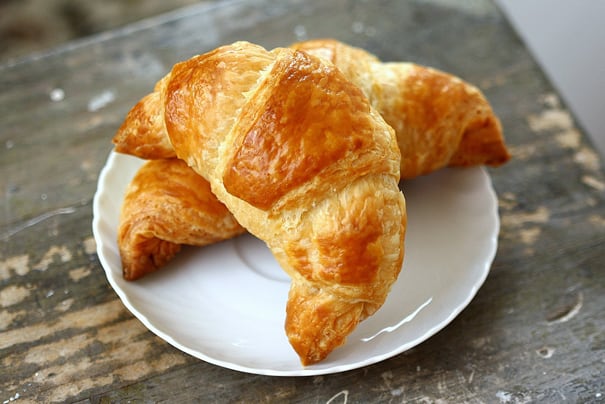 It's an older one, but I absolutely love these homemade croissants and the tutorial I put together for the post. When I was learning to bake, croissants were the kind of thing I dreamt of making. To actually accomplish it was so cool! And hopefully, I've helped a few other bakers tackle this project too.

What kind of camera/lens/equipment do you use?
For the past few years I've been shooting with a Canon Rebel XS. I have the 18-55 mm lens, which I use occasionally, but most of the time I prefer my 50 mm/1.8 lens. I also have a Speedlite external flash that comes in handy when the days are shorter during the winter months.
Any suggestions or hints to have great food photos?
Practice, practice, practice! Aside from that, the most important thing for me was learning my camera. I read the manual and a ton of online tutorials until it all started to make sense. Also, shoot in natural light when possible – try different spots in your house to find the best light, it could be anywhere.

Will you show us your kitchen? What is your favorite thing about your kitchen?
Sure! When we bought this house I didn't cook or bake, nevermind blog, so I'd probably have different criteria if we were house shopping today, but that said, the kitchen has a lot going for it. It's one of the biggest rooms in the house with plenty of counter space and tons of great light!
When you really want to cheat, what do you eat?
Fried foods are my favorite cheat – doughnuts, onion rings, french fries, chicken, etc. I think you get the point.
If you could travel anywhere in the world – just for the food – where would you go?
Just one place? How about one continent? I wish I could spend a month (or more!) traveling through Europe trying the food in each and every country. We were at Disney World last month and ate our way around all of the countries in Epcot; I'm guessing that's the closest we'll come to this fantasy!
——————-
Thank you so much, Tracey! It was fun getting to know you better. If you want to see more from Tracey, here is where you can find her: