I met Jamie from Jamie Cooks It Up! for the first time almost 3 years ago. (Has it really been that long??) We both attended an event at the Betty Crocker Kitchens. Jamie also lives in Utah, so we will also run into each other at local events at times. Jamie's food is my kind of food – family friendly and not overly complicated. Her Cranberry Cream Cheese Dip has become a holiday staple for my family!  I can't believe it's taken me so long to feature her here – but I'm so glad that she is here today!!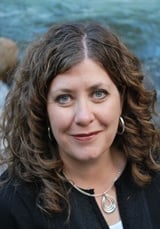 About Me: Hey there! I am Jamie Eskelson from Jamie Cooks It Up! I grew up in Murray, Utah and am the oldest of 6 children. I earned a degree in Choral Music Education at the University of Utah, married the love of my life and have been a stay at home mom ever since. My husband and I live in Herriman Utah where we are raising 5 kids, ages 15 down to 6. Being a wife and mother is the most wonderful thing that has ever happened to me. 🙂 Though I often tire of the endless stacks of dishes, dirty laundry and sibling quarrels, I can't imagine my life any other way and feel blessed beyond belief to have the opportunity to raise a family.
About The Blog: Jamie Cooks It Up! has been up and running since October of 2009. There are over 700 family friendly recipes living and breathing on this site. I post new recipes 3 times a week, most often on Monday, Wednesday and Friday. On the first Monday of every month I post a Monthly Menu Plan with links back to previously posted recipes. My goal is to share fabulous recipes that are sure to put a smile on your face.
About My Cooking Experience: Would you believe me if I told you there was a time in my life when my cooking repertoire consisted of One Casserole and a Big Pot Of Pioneer Taffy? It's true. Believe me when I say it, man. When I got married my skills were limited, I tell you. Then I started having kids and realized that I really love to cook. So, I cooked. I made a few things that weren't fit to feed an ugly dog! Even and ugly dog doesn't care for burnt biscuits you know. So, I practiced some more. I studied up and cooked and baked and learned everything I could about the subject. (I am still learning, even today!) My reason for telling you all of this is simple. Any one can learn to be a great cook. You just need a great recipe, some decent instruction and a little time to practice. You can be a cooking rock star, as sure as the sky is blue.
Where do most of your recipes come from?
Many of the recipes I post on my blog are my own creation. Some are recipes passed on to me from family and friends. Others I find on line or in cookbooks and magazines.
Do you plan a weekly menu? If so, what inspires your menu?
I base my weekly menu from the Monthly Menu Plan that I post on the first Monday of each month. At the beginning of the week I write out a plan and a shopping list.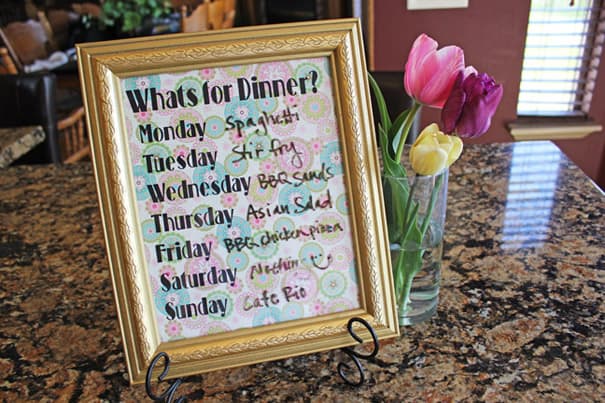 Lately I have been using this fun Dry Erase Board to list my dinner menu. I leave it out on the kitchen counter so my family can easily see what is on the menu for dinner. It helps to simplify things. 🙂 You can find directions (including a printable) on how to make one here.

What is your favorite recipe posted on your blog?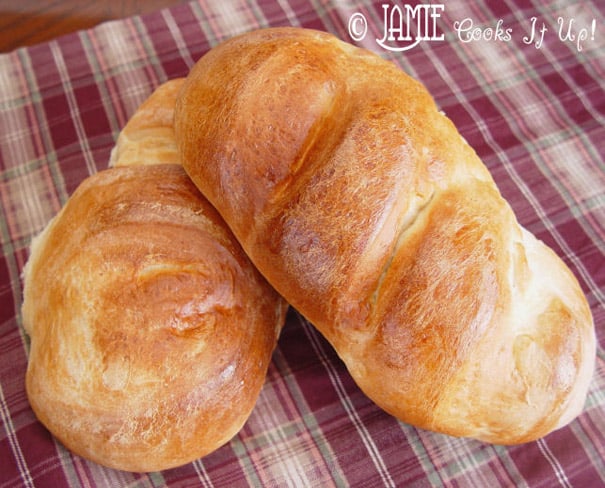 Fabulous French Bread
Fabulous French Bread comes in as my favorite recipe of all time. It has the most amazing taste and makes a great companion to any soup or Italian dish. It freezes well and can be made in to the best French Bread Pizza and French Toast.
What is your favorite kitchen tool/appliance?
I couldn't live without my Kitchen Aid or my Ninga Blender. I use these two for pretty much everything.
What is your best tip for getting dinner on the table?
Make a plan in the morning. I can do a much better job a getting everyone fed and on to the next activity if I know what I am going to make in the morning. I rely on my Crock Pot, and Make A-Head recipes a lot. Both of these help cut down on the chaos the afternoon brings with it, each and every day. 🙂
What would you eat as your last supper?

Grilled Bruschetta Chicken with Pasta,
What kind of camera/lens/equipment do you use?
My food photography is a constant work in progress. I use a Canon t2i.
What is your best tip for saving money on groceries?
I always read the grocery store ads each week and then price match the sale items at Walmart. This especially saves on produce. I also shop the Case Lot Sales that are offered in my area. I stock up on all of my canned goods twice a year.
What is your favorite part about blogging?
I love the connection I have been able to make both with other bloggers and my readers. I love to hearing of the success people have with the recipes on my site. It keeps me rolling. 🙂
What is your best tip to becoming a successful blogger?
My best tip is to just be yourself.
————————–
Thanks, Jamie. It was fun to get to know you a little bit better!! If you want to see more from Jamie, here is where you can find her: