There are so many words that I could use to describe today's blogger spotlight – Chelsia from Catz in the Kitchen. Sweet, loyal, a great mother – the list goes on and on. I "met" Chelsia online through our blogs quite some time ago, and she is one of my most loyal readers, and I am so touched that she always sticks around for my words and recipes here. I know that when we get to meet in real life one day, we will definitely get along! And she makes some amazing, family friendly food – like Simple Grilled Chicken Bruschetta, Pork Chops with Blackberry Sauce and Eclair Cake, just to name a few. I'm so happy to be sharing her with you all. She is a genuine blogger that you all need to check out!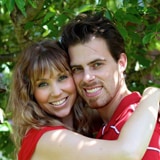 Our goal and desire in creating Catz is simple – to further our family's knowledge and enjoyment of cooking together, and to enable other families to do the same. We aren't trained cooks or experts in the culinary arts by any stretch of the imagination, but we believe that if we keep practicing, and keep trying new things, we'll continue to get better!
As a couple, we have found cooking together to be an incredibly romantic and productive way to spend time and energy. Over the decade we've been married and cooking together, we have grown closer, become better partners, and learned more about each other along the way. Creating a meal together, be it gourmet or simply creative or daring, is a beautiful and gratifying thing to do – and then there's the actual treat of eating it together at the end!
As a family, we've discovered that putting real thought and effort into the food we eat and the meals we prepare allows the appreciation of good food and the work behind it to trickle down to our children. We take a decent amount of pride in the fact that our girls (Grace, eight, and Eden, four) will eat absolutely anything we put in front of them – and most of the time they enjoy it! Oftentimes the first question they ask us in the morning is "What's for dinner?" We love that! Our new little guy is only a couple of months old (Christian), but he'll learn soon enough! Mealtime, especially the evening meal, is a wonderful time for the family to come together and appreciate the work that one or two family members have done for everyone's benefit.
You'll notice that we are a little heavy on Italian and Mexican recipes – we can't help it; they're just so good! – but we try to be as open-minded as possible. Chels likes to dabble in desserts, while Josh loves to grill as often as possible during the dry season. We're a budget-consicous family, so you'll generally find our recipes financially economical. We also love to try to imitate and improve on meals that we enjoy at restaurants, so you'll see a bit of that as well.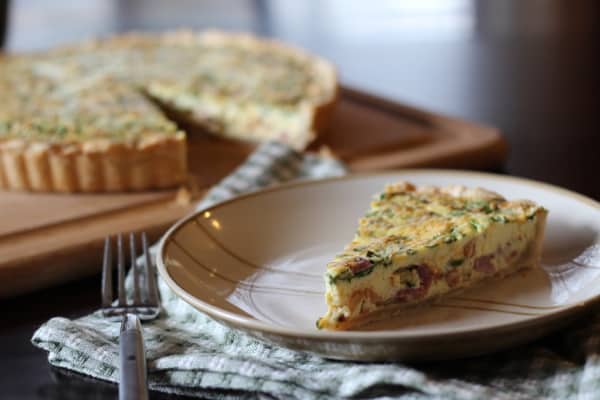 Ham and Cheese Quiche with Fresh Spinach
What inspired you to first start writing your blog?
In 2010, my second daughter Eden turned two years old, and Gracie was in first grade. I was homeschooling, and we were going through a brief but trying period of living with a single vehicle. I found myself stuck at home a lot, needing to find a way to be creative and interact with the adult world, allowing me to maintain my sanity and continue to be a positive influence on my daughters during the many, many hours I spent with them each day. I started watching Rachael Ray on The Food Network, and her absolute love of food and cooking inspired me. Josh and I had begun to enjoy getting more creative with our meals, and we both felt the need to reduce our reliance on precooked and frozen foods. Beyond this, we found our time in the kitchen to be surprisingly romantic, an opportunity to connect and work together to provide something nourishing and positive for our little family. My growing love of being in the kitchen, my newfound interest in Rachael and her philosophy of cooking, and my need to find a daily outlet to the grownup world outside my four walls led to the idea of starting a blog that would chronicle our culinary successes and failures, good ideas and bad ones, inspiration and desperation. Eventually, Josh joined me and started writing his own posts about the meals he makes (he loves to write almost as much as he loves to eat), and now it's a fun project we work on as a couple.
Where do your recipes come from?
Everywhere! We always find more interesting recipes than we could ever possibly make. We have a huge and growing collection of cookbooks, building on pieces of notebook paper and files of index cards full of recipes from my own mother, as well as quite a few provided by Josh's mother and oldest sister, Jennifer. I surf Pinterest religiously, using a combination of public and "secret" boards to pin recipes that capture my imagination. We collect them from sources as pedestrian as the backs of sauce bottles and ingredient boxes, and we love to imitate meals that we simply can't get enough of at our favorite restaurants (We're looking at you, Chevy's!). Naturally, a substantial portion of the 500-ish recipes we've blogged on Catz come from our fellow bloggers, our generous host Taste and Tell prominent among them.

What is your most used cookbook?
Well, this is a hard one for me. Josh has it easy here – while The Barbecue Bible is a favorite, Bobby Flay's Barbecue Addiction (a recent purchase) currently sits atop the heap for him. For me, at the moment it would have to be the Taste of Home cookbook Josh's parents gave me one year for Christmas, followed closely by the Better Homes and Gardens cookbook and the Betty Crocker Bridal Edition. I've recently added Giada's Weeknight Meals and a Cooking Light cookbook I picked up at Goodwill, and those are quickly becoming staples as well.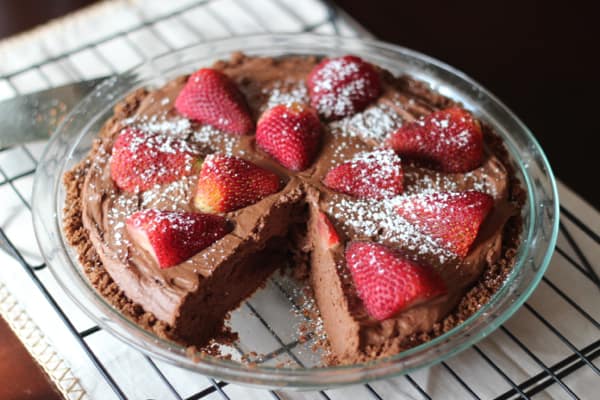 Strawberry and Strawbery Cream Pie
Do you plan a weekly menu? If so, what inspires your menu?
Absolutely! In fact, I truly can't live without one. There are weeks (family in town, kids gone with their grandparents, etc) when it doesn't make sense to try to plan one, and it completely kills me. I am so bad at cooking for two people! I love to have the week planned out, know which favorites we're fixing, what new meals we're trying, and that I have all of the ingredients I'm going to need at the ready.
My inspiration for creating a menu each week came from my mom. On Friday mornings growing up, I remember sitting next to her at the table eating my cereal while she planned out the menu for the coming week. I learned what types of items to keep on hand at all times in the pantry, and I was invited to suggest things I would enjoy seeing on the dinner table in the week to come. Today, I do the same thing with my daughters. We sit around the table each week, and I ask them what they want to eat, what foods they have been craving, and what meals interest them. The farmer's market we visit every weekend during the summer months also inspires the menu – if we find something magical (and we often do), it gets worked in!
What kind of camera/lens/equipment do you use?
Luckily, this is an area of our blogging that has improved recently! Up until the spring of this year, shortly after our son Christian was born, we shot all of our pictures on our iPhones and our Canon SD780 (point and shoot). Needless to say, the quality of the photos was heavily dependent on the lighting conditions we took them in, the vibrancy of the food, etc, and creative things like blurred backgrounds were difficult to achieve. This spring, we discovered that Canon has a customer loyalty program that allows customers to trade in old Canon hardware (like our SD780) for significant discounts on new and refurbished DSLRs. This made our purchase of an entry-level DSLR, the Canon 600D (T3i) surprisingly affordable, and we took the plunge!
Naturally, only four months in, we're still novices at DSLR photography, but the quality of our pictures has improved dramatically. I still shoot in Creative Auto, while Josh likes to photograph his meals with the camera in full manual mode. We're up to three lenses, but we really only use two for food photography – the "kit lens" (EF-S 18-55mm f/3.5-5.6 IS II) and the "nifty fifty" prime lens (EF 50mm f/1.8 II). The 50mm prime, which was a recommendation from Amanda at kevinandamanda.com, is ideal in many situations, with its capability for dramatic depth of field and incredible detail. Plus, it's incredibly affordable!
What kind of food did you eat growing up? Do you cook the same kinds of things today?
In my house, we ate a lot of fish, chicken, and turkey. We had a lot of soups, and a lot of meatless dinners. My grandfather was a fisherman, and no one in the family had a particular affinity for red meat, so the menu naturally tilted in that direction. I especially remember when my mom had a chicken roasting in the oven – the aroma would fill the house, and dinner couldn't come fast enough! Very rarely did a week go by without fish on the menu. Whether my grandpa had caught local tuna or sailed up to Alaska for halibut, fresh seafood made frequent appearances on our dinner table.
There is still a strong inspiration from the way I grew up in the way we cook today. My grandfather is no longer with us, so, although we still love seafood, it doesn't dominate the menu anymore, sadly enough. I've learned to appreciate red meat in moderation, which Josh loves, so steaks, burgers, and pork entrees make more frequent appearances on our shopping lists. The smell of a roast chicken in the oven still thrills me! All of that being said, we have developed a definite tilt towards Italian and Latin cuisine in our household menu these days – a tendency we hope to pass on to our little ones as they learn to love cooking!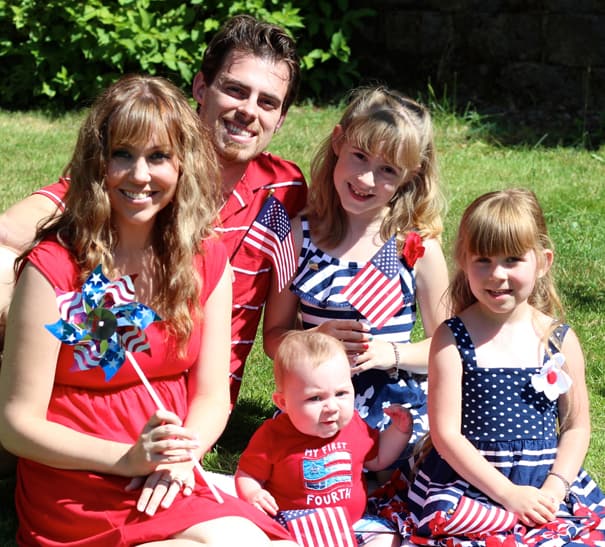 What are your favorite blogs to read?
There are so many! The Pioneer Woman, Taste and Tell (of course!), Two Peas & Their Pod, Kevin & Amanda, Confessions of a Cookbook Queen, Picky Palate, Lauren's Latest, and Inside BruCrew Life, just to name a few!
What is your best tip for saving money on groceries?
Let me think…
Coupons. Coupons. Coupons. I try to focus my dinner menu around what's in the weekly circular, and then find manufacturer coupons to go along with that. We buy our meat in bulk at Costco (beef, chicken, and turkey), along with flour, sugar, vanilla, cinnamon, and olive oil. Speciality cheese on the menu? That budget buster gets picked up at Trader Joe's.
Also, clearance. I don't know about your local supermarket, but ours has a rack in the back by the dairy where they put things that are being phased out, have been dropped, dented, etc. All of these things are 50% off. And we buy…most of them. It helps that Josh works across the parking lot from the grocery store and is there on a daily basis. In addition to a wide variety of pantry items, he's scored baby formula, artisan breads, and even a straight iron!
If you could invite any 3 people to dinner – living or dead – who would you choose?
Audrey Hepburn. She has captured my imagination since I was a child, and now I picture her teaching me to crack an egg the way she learned in Paris (in Sabrina)!
Sir Anthony Hopkins. This is Josh's, and I know his most famous "kitchen" appearance is problem the rather unseemly one in Hannibal, but he just seems like he would be an absolutely fascinating dinner guest!
I'm going to make the third one complicated. It's actually two people – Josh's grandparents, "Grampy and Grammy" (their real names are Jack and Nell), whom we have had dinner with many times, and even had the opportunity to have over to our home for dinner about a week ago. However, I would want to have dinner with them on their home turf, where they live, in southeast Africa. I don't know exactly what the scenery and the cuisine are like, but I would love to find out.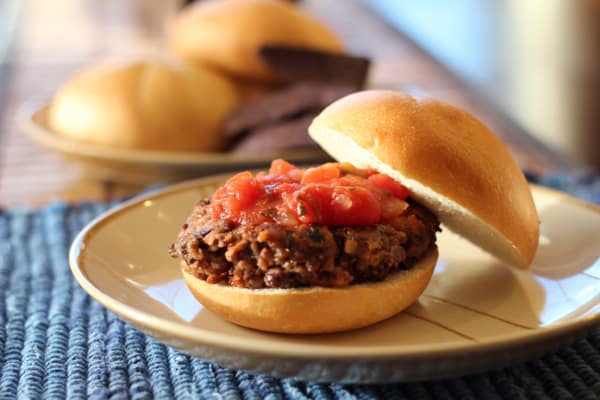 Black Bean Nacho Burgers
What was your first post? How do you think your blog has changed since you first started blogging?
Well, this is funny. I couldn't remember what it was, and I honestly had to look it up. It was the Ultimate Ham and Cheese Sandwich, a Rachael Ray recipe from about four years ago. It's still a great recipe, and we've actually made it a number of times! However, I would never publish a post today with that picture in it! It's quite unappetizing, unfortunately! I have actually been going through some of my older recipes lately and remaking them with updated photography. Our pictures may not be professional, but they are definitely better than they used to be!
There are a few major things, besides the photography, that have changed since I started out. One, I post far more often now – normally five days a week. Two, Josh writes with me on a regular basis, normally at least three or four posts a month. Lastly, I feel much more connected to the amazing "food blogging community" and the readers, and that's a great feeling!
———————
Thank you, Chelsia! I think I want to join you for dinner at Grampy and Grammy's house! If you want to see more from Chelsia (and Josh!), here is where you can find her: