Quinoa and chicken are combined with quinoa, coconut milk, chiles and other veggies in these easy Thai Chicken Wraps that are a great recipe for lunch or an easy dinner.
So, how many of you made some lofty New Year's Resolutions?
I was actually having a conversation about New Year's resolutions with my sister a couple of days ago, and the statistics behind how many people fail at their resolutions. I think it's mainly because of 2 thing: one, people don't make goals that can be measured. And two, they simply over-do it on the goal-making.
I used to be someone that fell into that second category. I'd make 49 goals, and then get overwhelmed and I wouldn't stick with one of them. Or I'd make them really big, and fail simply because I needed to take smaller steps to get there.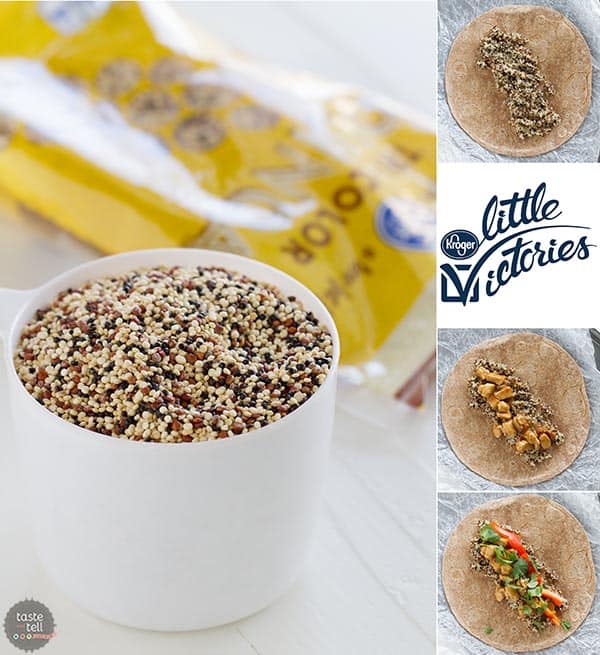 When it comes to losing weight or becoming more healthy as a New Year's Resolution (which is definitely the most popular resolution), I have definitely learned in my life that it's all about the little changes. I'm not so great at drastically changing my diet. For me, that equals failure. So I am really excited to work with Kroger this month alongside some of my blogging friends, all talking about ways we can take little steps to make better choices. Little changes = little victories. And pretty soon, all of those little victories add up to big changes.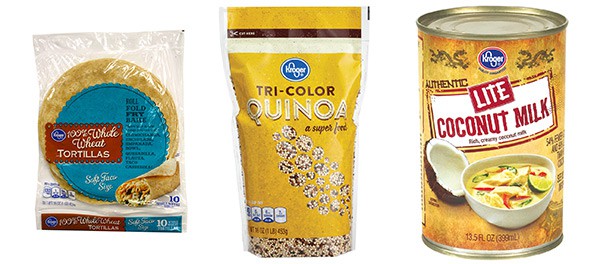 I'm a huge Kroger fan – I do all of my grocery shopping at my local Smith's. And I have been buying their store brand products forever. I love that they have all kinds of good quality products. And they make it easy to make small swaps to make your recipes a little better for you. Like these Thai Chicken Wraps. Instead of using rice, I swapped in the Kroger Tri-Color Quinoa. This ended up becoming the star of this recipe – I'm totally in love with this quinoa!! Swap in lite coconut milk for full fat coconut milk, low-sodium soy sauce for regular soy sauce, and whole wheat tortillas for regular flour tortillas. These are all little victories (that are all delicious anyway!) that really add up.
And the end result was a lunch that I completely loved. I would totally serve these chicken wraps for dinner, too, but they made a great lunch. And I was able to bag up the filling in single portions for an easy, healthy lunch all week long.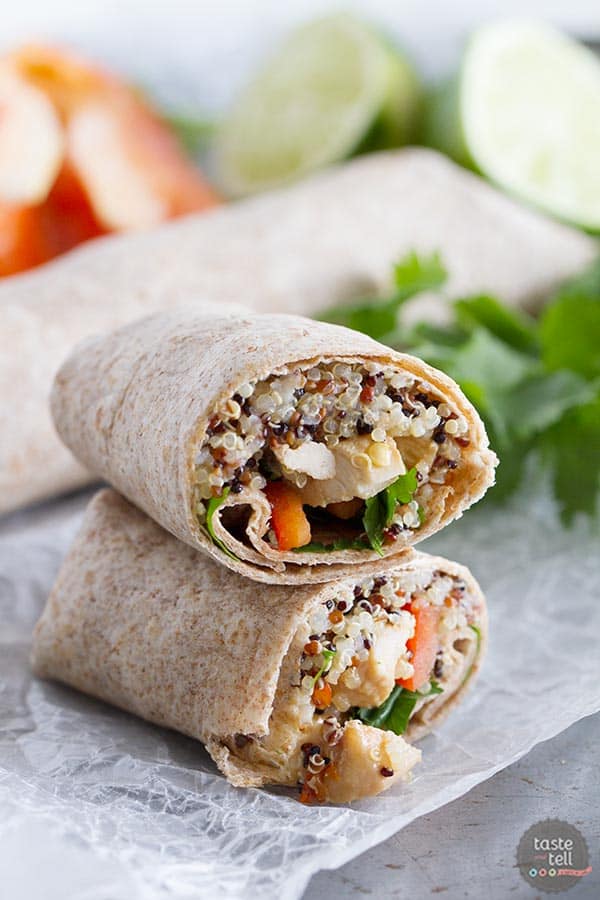 Like what you see here? Make sure you are following Taste and Tell for more great recipes and ideas!!

Facebook ** Pinterest ** Twitter ** Instagram ** Google+
or you can subscribe to my newsletter or Feedly or Bloglovin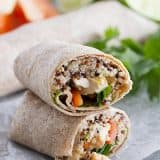 Thai Chicken Wraps with Quinoa
---
Prep Time: 15 mins
Cook Time: 20 mins
Total Time: 35 mins
Yield: 4 servings 1x
Description
Quinoa and chicken are combined with quinoa, coconut milk, chiles and other veggies in these easy Thai Chicken Wraps that are a great recipe for lunch or an easy dinner.
---
Scale
Ingredients
1/2 cup Kroger Tri-Color Quinoa
1 cup Kroger Lite Coconut Milk, divided
1/2 tablespoon extra-virgin olive oil
1 lb boneless, skinless chicken breasts, cut into small pieces
1 teaspoon lime zest plus juice from the lime
1 clove garlic, minced
2 small red fresno chile peppers, minced
1 tablespoon Kroger low-sodium soy sauce
2 teaspoons brown sugar
salt, to taste
4 Kroger 100% Whole Wheat flour tortillas
1 red bell pepper, sliced
fresh cilantro
---
Instructions
In a fine mesh sieve, rinse the quinoa for several seconds, until the water runs clear. Combine the quinoa, 1/2 cup of the coconut milk and 1/2 cup water in a small saucepan. Bring to a boil, then reduce the heat and cover the pan. Cook until all the liquid has been absorbed, about 15 minutes. Fluff with a fork.
Meanwhile, in a large skillet, heat the olive oil over medium-high heat. Add the chicken and cook, stirring, until browned and cooked through. Add the lime zest and juice, garlic and chile peppers to the chicken and cook until the chiles are softened, about 3 minutes. Stir in the remaining 1/2 cup coconut milk, the soy sauce, and brown sugar. Season to taste with salt. Cook for several minutes, until the coconut milk is slightly reduced.
Heat the tortillas in the microwave for several seconds until pliable. Divide the quinoa between the tortillas and put it down the middle of the tortilla. Top each portion with 1/4 of the chicken mixture, some of the red bell pepper and a good sprinkling of fresh cilantro. Fold the ends over the filling, then roll up into a wrap.
Don't miss a thing! Follow me on Pinterest to see what I'm pinning!
Visit Taste and Tell's profile on Pinterest.



I am working with Kroger on this Little Victories campaign, and this post has been sponsored. I'm so glad to be able to work with companies and organizations that I truly believe in. Thank you for supporting them, too.