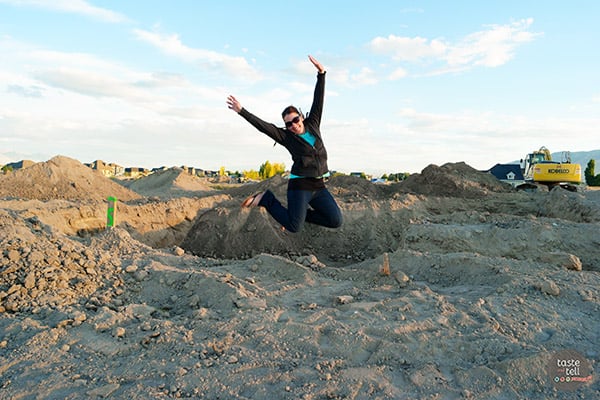 Breaking ground!
I have some big news! We're building a house!!
This has actually been in the works for quite awhile now. We originally signed on the line back in May. But we broke ground about a month ago, so it's all feeling real now!
But let me back up to the beginning. 🙂
The goal has been to build a house for some time now. I have been dreaming and planning and walking through model home after model home for the last few years. And 2016 was going to be the year.
And then January happened. I knew our lives were going to change, and I knew that our dream of building would have to be put off. And I was ok with that. Because family is #1 to me, no matter what.
But this pull to build a house didn't subside. We have been renting the house that we live in now for several years. And while we've been happy here, I have never been good at being temporary. I need roots. I want my kids to have roots. Just knowing that we wouldn't live in this house long term made it hard for me to ever really feel settled. We've been here 3 years now, and most of the rooms still don't have anything hung on the walls. I really just don't do temporary very well. And my kids would constantly be talking about "when we move", and I knew that they felt some of the same feelings I felt. I wanted a home that they could grow up in, make tons and tons of memories in, and one day bring their own families to it and share those memories of the house they grew up in.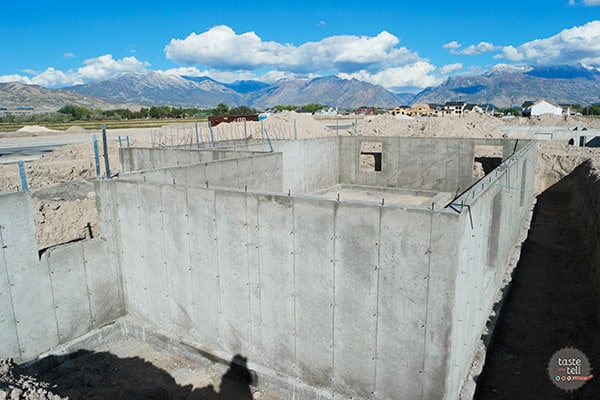 A few weeks ago, after the foundation was poured.
I had heard horror stories about how hard cancer could be, and how hard it could make your life. But Easton was doing so well. So well. So even though I still didn't think a house would happen this year, I still kept my ears and eyes open.
I had actually found the perfect house before all of the craziness of life happened, but the builder didn't have any subdivisions we really liked. So we were hoping that something would open up in 2017, and at that point, we would be able to move forward with building. But then one day I was talking to my sister on the phone, and she asked if we had checked out this different builder. I looked them up online, and actually remembered walking through one of their houses (that I loved!) during the Parade of Homes a year earlier. I honestly didn't think they would be in our price range, but found out that they were opening a new subdivision just a few miles south of where we live now. I jumped in the car and drove there, and immediately knew that I wanted to live there. There weren't even any houses there yet, but I just felt it.
So even though we thought we were going to be putting everything off for a year, it all just kind of fell into place. Perfectly. We are building the home that we are planning on living in for the rest of our lives, and I couldn't be more excited. I love our house. Love the location. And started the kids at their new school and couldn't be happier with that, either.  Even the budget worked out.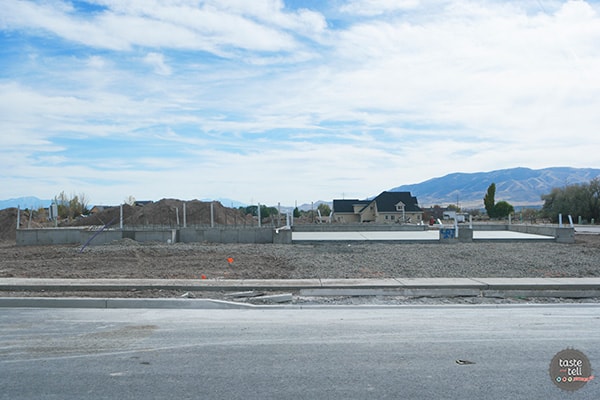 Where we are today – foundation in and waiting for framing!
So here we are, about a month into the process, with about 4 months to go until the house is finished. If you follow me on Snapchat, this is all old news to you. But I'm planning on updating here, maybe once a month as the house goes up. The last month has been super exciting because we broke ground and the foundation was poured, but also pretty boring because there is a lot of waiting at this point. I'm hoping framing will happen in the next week to two weeks, and then there will be more exciting things to share than some concrete walls. 🙂 I feel relatively calm and not stressed at this point because all of the design choices have already been made (hooray for a white kitchen!!), so it will be fun to just share the journey with all of you!
Make sure to follow me on Snapchat and Instagram for more updates. And check out #tasteandtellhome to see it all come together!