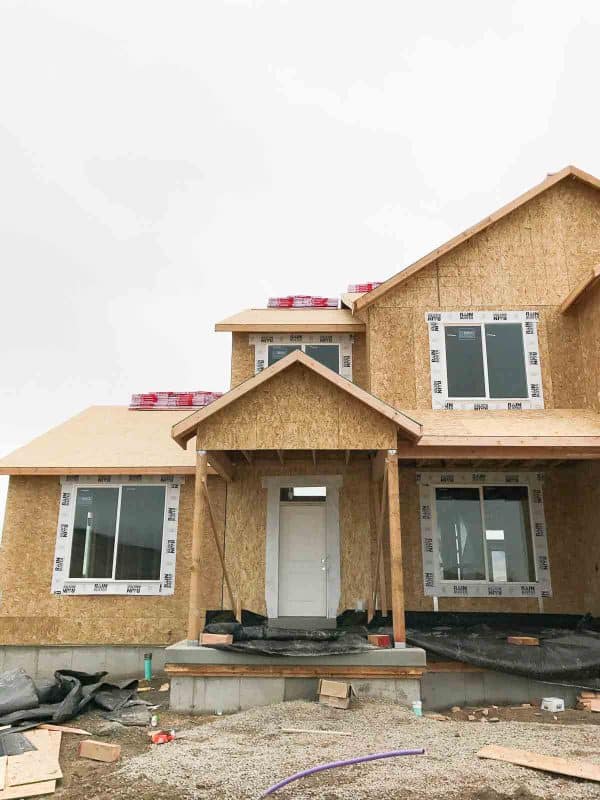 Have you ever been waiting for something, and it feels like it is taking forever to come? And then once it's there, you look back, and all of a sudden, you realize just how fast the time actually went?
Well, that's how I'm feeling right now. We waited and searched and dreamed of this house for so long. And when we finally broke ground, I couldn't be more excited. But I also couldn't be more impatient. Because I'm naturally an impatient person, but when you add on building your forever house, impatient doesn't even describe it. Every day, I think about how long this whole thing is taking.
But now we have reached the halfway point of the actual build. And all of a sudden, I'm kind of in a panic. Only 2 1/2 months until we move. I'm so not prepared right now!!
So yes – about 2 1/2 months until move in. And the house has finally been framed!! We actually had our pre-drywall meeting this past week, and it was exciting to walk through the house and see where everything will be. But now that we actually have walls up on the house, I thought it would be a good time to give you all a sneak peek of what it will look like!!
I had a few "must haves" on my list when we first started looking at houses. I wanted a 2-story family room, and I wanted the master bedroom on the main floor. We are planning on making this our forever house, and I didn't want to have to deal with stairs when we are old. Especially since my husband has bad knees, and stairs are already hard on him. And my husband wanted a decent sized lot, since he loves being out in the yard. So this house is the perfect house for us, because we are both getting our must haves. I love, love, love the family room. The windows are amazing – I can't wait to actually have tons of light in the house. I am that person who opens all of the blinds from sun up to sun down because I need the sunshine. So I really am so excited about that room and the windows.
So at this point, we are framed  and all of the hvac, electrical and plumbing are finished. Once the 4-way inspection passes, insulation will be going in, and I'm hoping shingles will go on the roof in the next week. After that, it's drywall!  They said that should be happening in the next week or two, so I'm so excited to see it all come together.
I'm sure there will be so much more to show on the next update, but in the meantime, you can follow me on Snapchat (tasteandtell there!) because I tend to give more sneak peeks there.  In the meantime, I guess I should start packing – it's going to be here before I know it!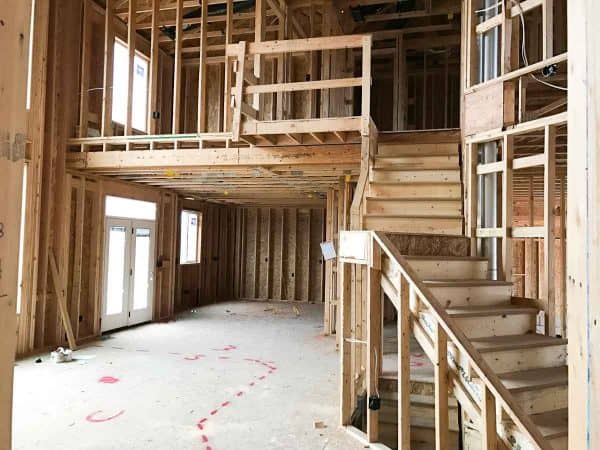 View of the stairs to the right, family room to the left, and kitchen straight ahead
My future kitchen!!!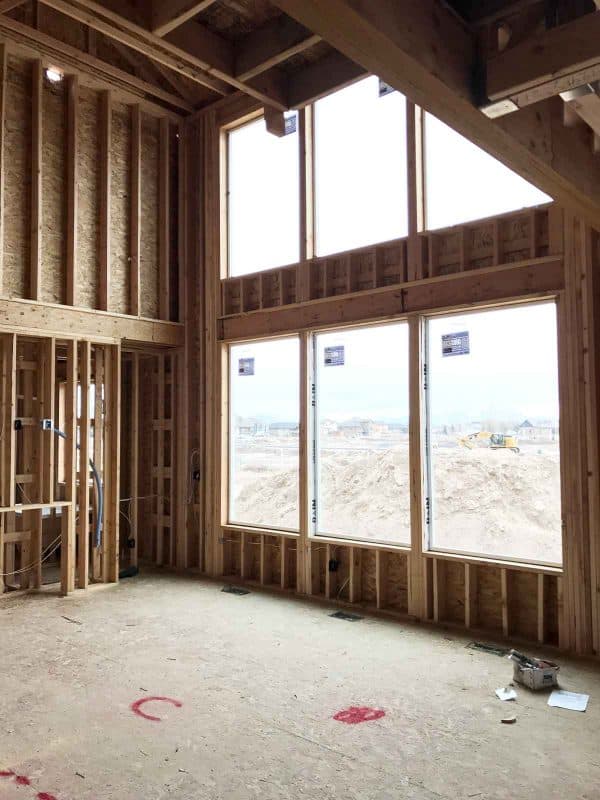 Those windows I'm obsessed with