Wondering where to eat in Portland, OR? Find some of my favorites below!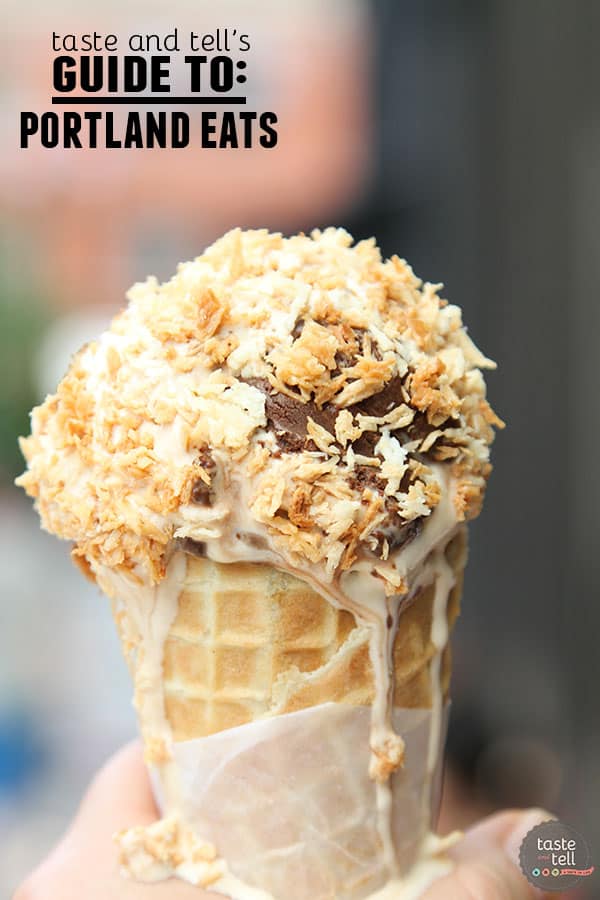 Oh, Portland. I know I just skimmed the surface and that I need to return to experience more of what Portland has to offer. I was there a mere 2 1/2 days, and one of those days was spent exploring outside of Portland. So I'd have to say I was pretty successful in all that I got to try in that 1 1/2 days. I am determined to make it back to try even more!
While this list is far from comprehensive, it lists the places I ate on my trip to Portland. I have talked about a couple of these places before, but if you are here for the first time, click through on the links to read even more!
(*note – this post will be updated if more restaurants are visited!)
Blue Star Donuts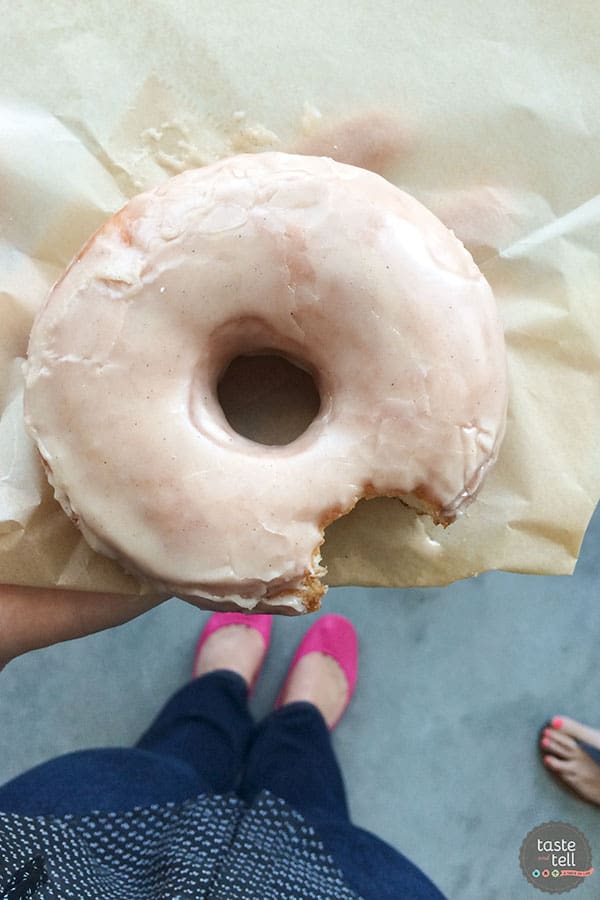 Blue Star Donuts probably gets my vote for my favorite thing I ate in Portland. Because, well, it's donuts, and I'm a donut obsessed mama. I don't think you can go wrong when it comes to picking a flavor, but my definite favorite was the Lemon Poppyseed Old Fashioned. Yum!
Read more about Blue Star Donuts here.
Blue Star Donuts
www.bluestardonuts.com
1237 SW Washington
Portland, Oregon 97205
Ruby Jewel Scoops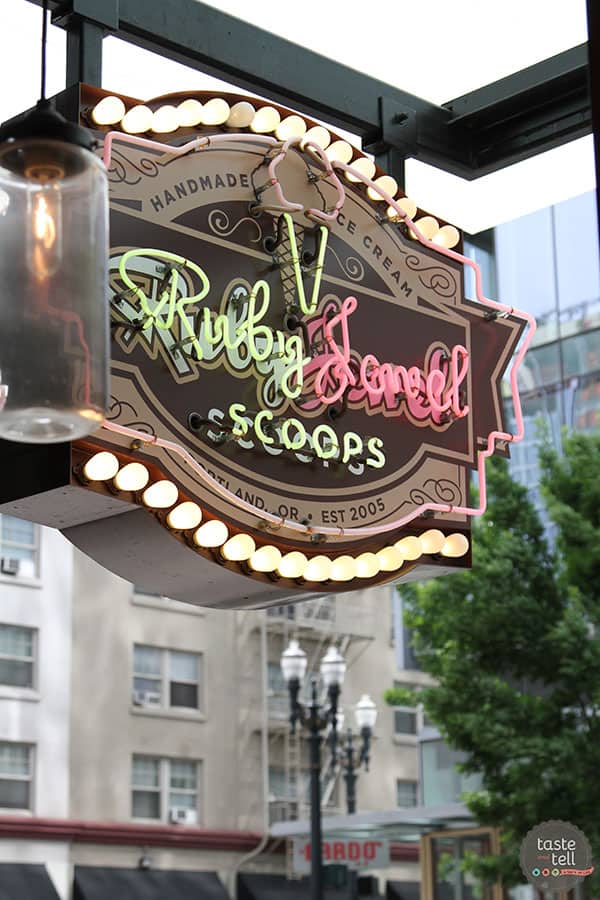 So I totally went to Portland and didn't even make it to Salt and Straw. (Next time, I promise!!) But when there is ice cream across the street after you've already stuffed your face at lunch, you have to go for a scoop, right? I chose the caramel with salted chocolate and added candied coconut. I was too hungry to eat the whole thing, but it was definitely delicious. So good that it inspired an ice cream I made at home!!
Ruby Jewel Scoops
www.rubyjewel.com
428 SW 12th Ave
Portland, OR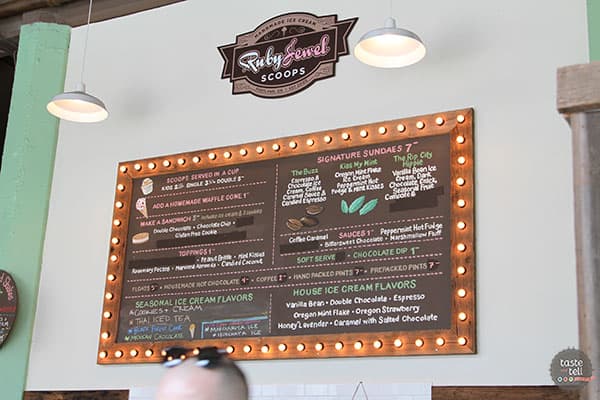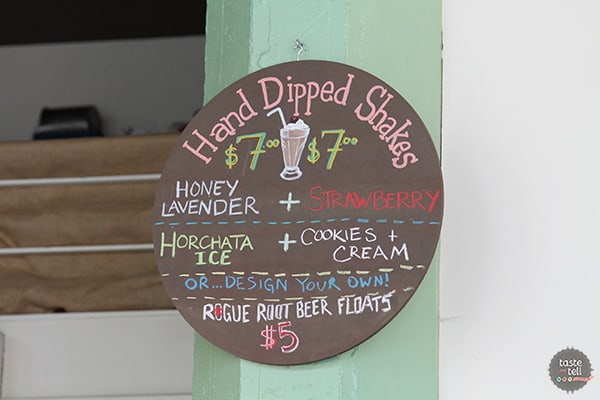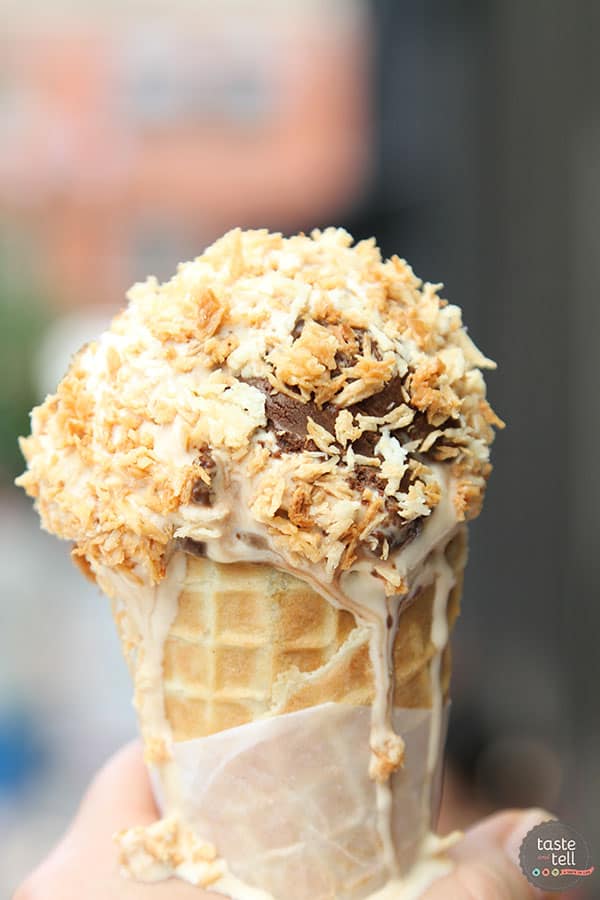 The Dump Truck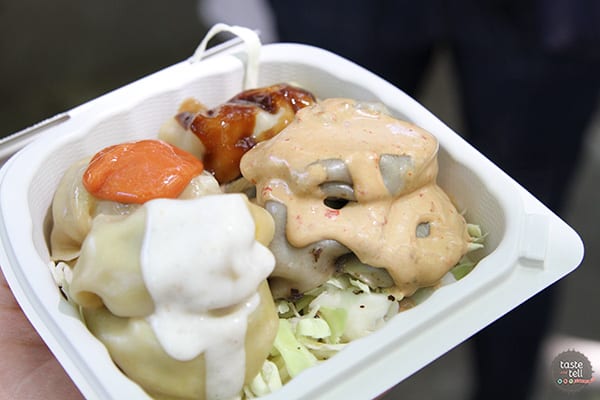 Portland is known for their food trailers – and I can totally see why. While the food trucks in Utah move around from day to day, in Portland, they park and stay. You can tell that some of these trucks/trailers haven't moved in years. They have what they call "pods" around the city – groupings of food trailers. One of the largest was near the hotel where our conference was, so for the lunch break one day, we headed out to explore this pod of food trailers.
Leigh Anne – who lives in Portland – was a great help to steer a group of us to some of her favorites. I ended up ordering from The Dump Truck – which serves up unique dumplings and sauces. I couldn't decide what to get, so I let them decide. I had some of all of the flavors on the menu, and really liked them all. And now that it's been awhile, I can't remember just which flavor was my favorite, but I think it was the dumpling with the mushrooms. Regardless of which was my favorite, I liked them all and would totally recommend them!!
The Dump Truck
www.dumptruckpdx.com
SW Alder between 10th and 11th
Portland, OR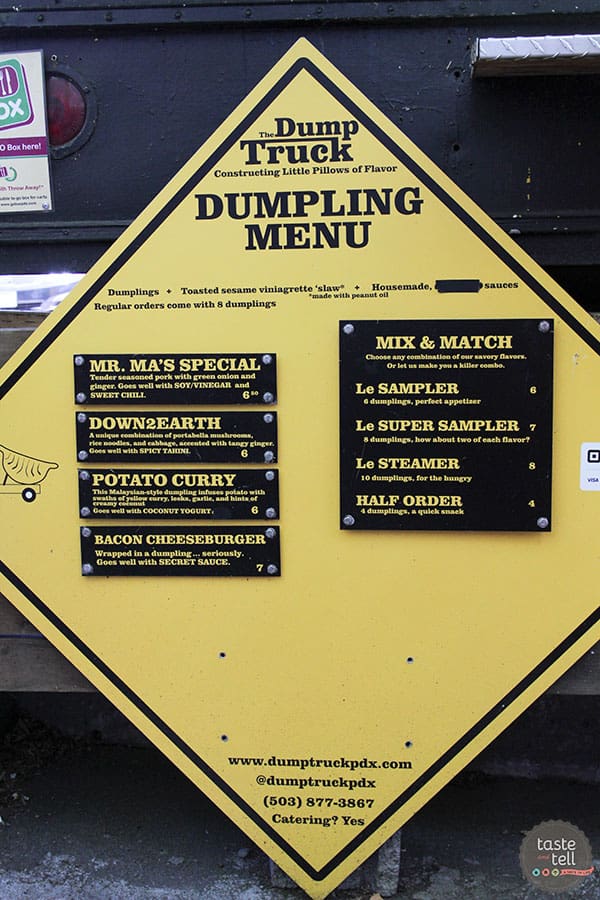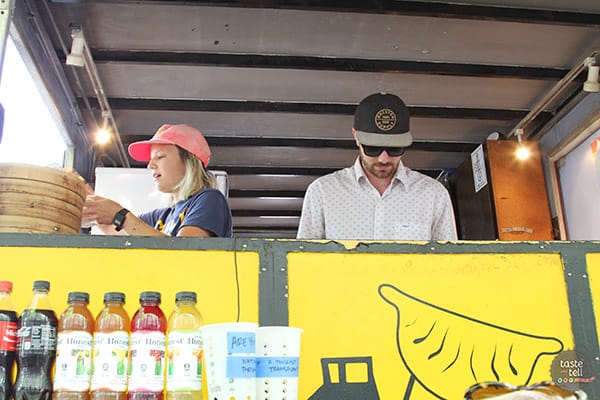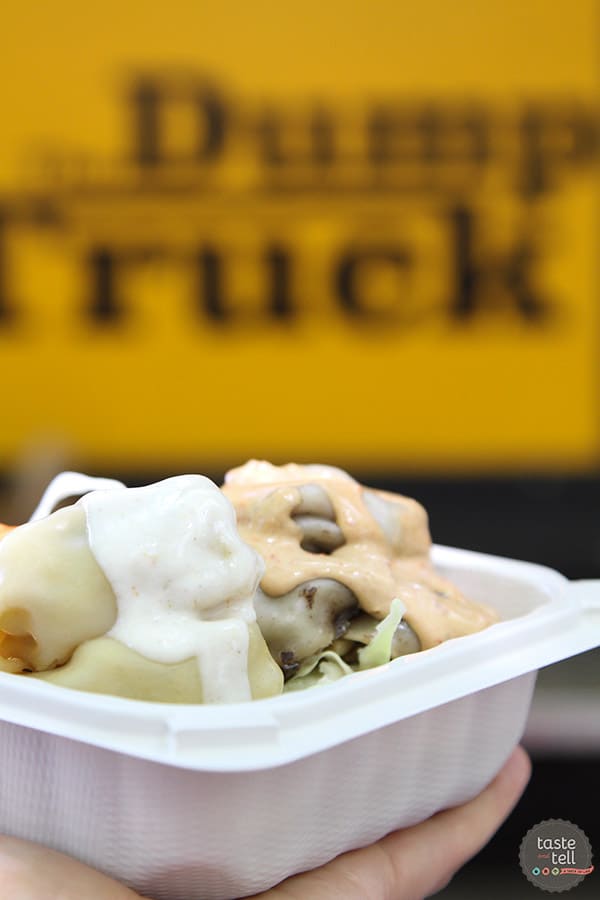 The Grilled Cheese Grill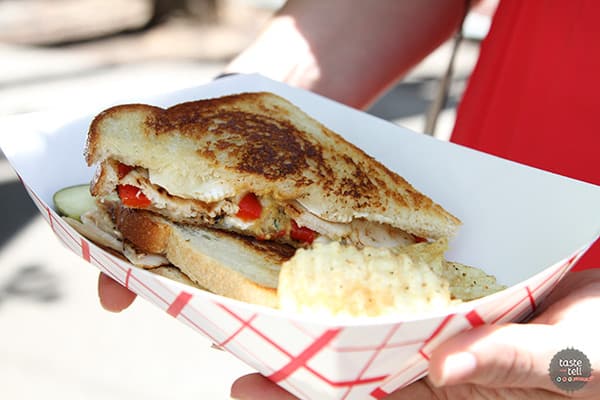 I didn't actually order anything from The Grilled Cheese Grill (another food trailer) but I did taste someone else's, so that counts, right?? This actually seemed to be a popular choice among many of the bloggers at the conference, and there were a lot of people raving about their sandwiches. I tried some of Shawn's sandwich, and would have totally gone back for more if I was still hungry!
The Grilled Cheese Grill
www.grilledcheesegrill.com
SW 10th and Alder
Portland, OR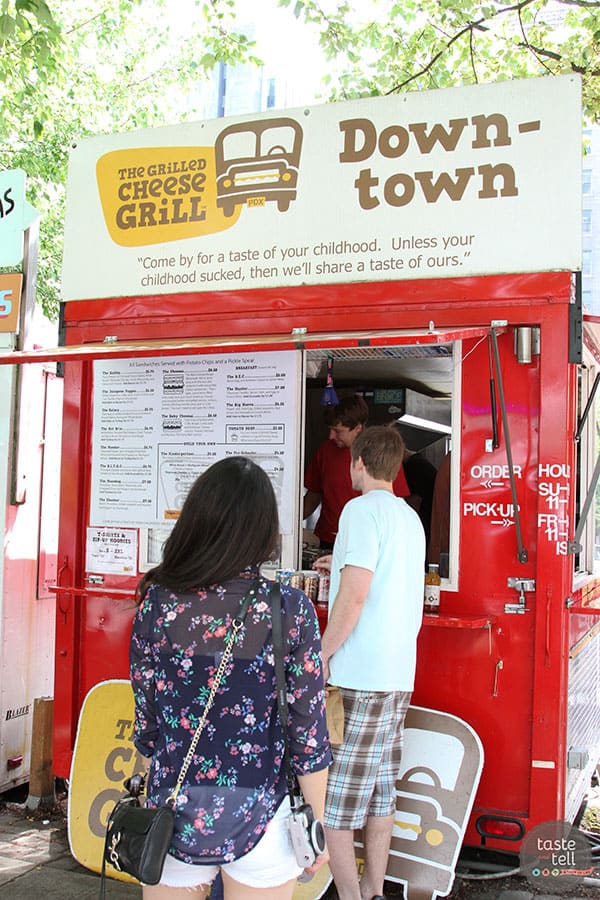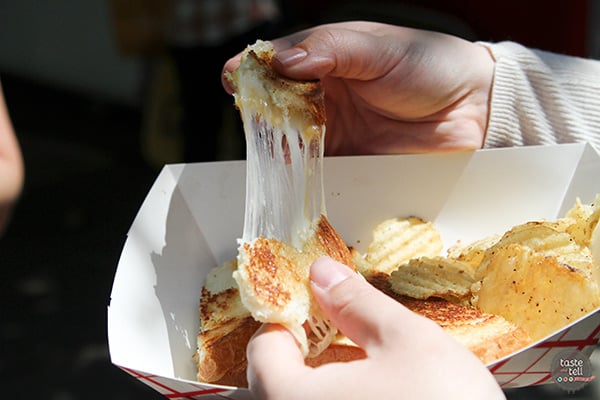 Lardo
I've already confessed my love for Lardo and those dirty fries. And everything else that I put in my mouth. Lardo would definitely go on my list of top spots to eat in Portland!
Read more about Lardo here.
Lardo
lardosandwiches.com
1205 SW Washington Street (2 other locations as well)
Portland, OR
Tasty n Alder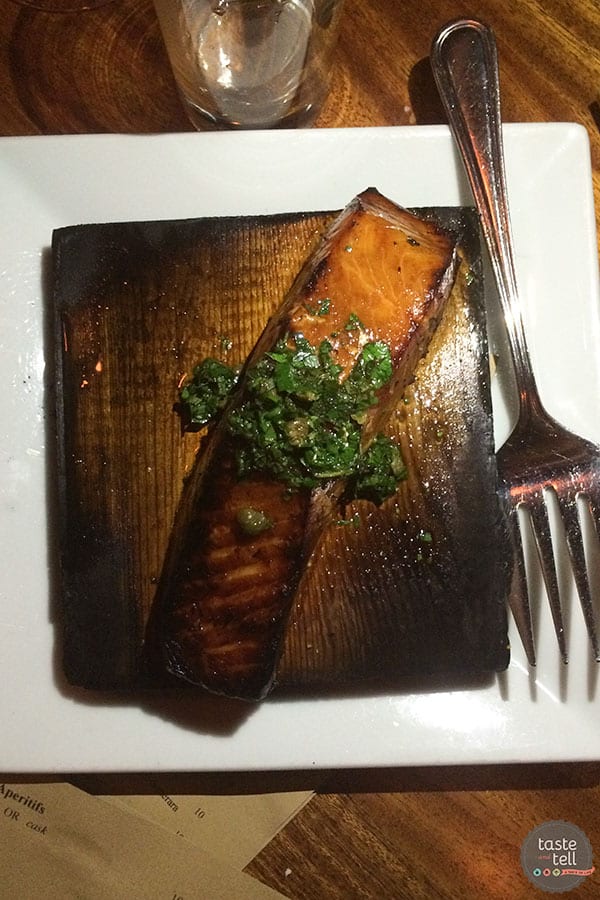 I went to dinner with a group of girls to Tasty n Alder one night, and while there aren't a lot of photos to document our meal (really bad lighting for photos, combined with it being nighttime…), you'll just have to trust me that it was fabulous. We had everything served family style, and had what felt like a million different dishes that we passed around the table. Everything that I tried was absolutely amazing (including the octopus!). It was fun to be with a bigger group where we could try so many of the different menu options. The skilled corn cake and the cedar plank salmon stand out as 2 of my favorites!
Tasty n Alder
www.tastynalder.com
580 SW 12th Ave
Portland, OR
Whew! While that was a lot of food to consume in a day and a half, there are still so many places I'd like to experience in Portland. I guess that means I need to take another trip back! 😉