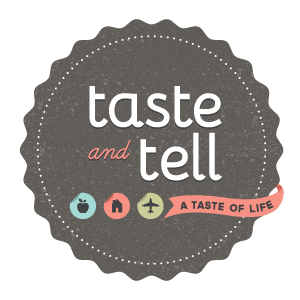 Today is a very good day here at Taste and Tell. You may notice that things look a little different around here. Ok, a lot different. For pretty much the last 2 years, I have been dreaming up my perfect site. I've changed my mind about a million times and I looked high and low for someone who could help me turn my dream into a reality.
And today, that dream has come true.
I cannot tell you how excited I am to reveal the new look here. And I have the wonderful and talented Melissa and Erin to thank for it all. I was on the search for a web designer when Melissa and Erin announced that they were starting a new boutique web design business – Wooden Spoons Kitchen. I'm not even kidding you – I emailed them the moment I saw the announcement. I've always love the clean style and look of both of their blogs, and I knew that I had found my designers!!
And here we are, and I couldn't be happier. From the moment we started this process, I knew that I was going to love the end result. They have worked with me every step of the way, listening to all of my crazy ideas and bringing them to fruition. I would 100%, whole-heartedly recommend them to anyone who is looking for a new look!
Please take a look around! Here are some of the big changes:
I have always said that food will always be my main focus here on Taste and Tell. And that isn't changing. But we are expanding!! If you'll look under the logo in the top right corner, you'll see links to each section.
– Food – Anytime you come to Taste and Tell, it will bring you to the main section, which is the food section. Things will continue on here as normal.
– Home – This is where things will get a little more personal. I'm not exactly sure what direction this section will take, but that's the beauty of it. I'll be discussing things a little more on this section on Thursday.
– Travel – If you've been following me here, you know this as Destinations – where I've been posting about places I've been and things I've seen. This section is the most exciting to me, because Erin was able to turn this into exactly what I wanted. I am a visual person, and this is as visual as it gets. I wanted it to be photo driven, since I get so much more excited about travel photos than I do words. You have got to check out this section. (I'm still reformatting the posts there, but I'm getting there slowly!)  Click on one of the recent posts to get the full effect!
Only the food posts will show up here on the homepage, but you can always see what is happening in each section on the right sidebar. And you'll still get updated if you subscribe to my newsletter, email updates, or by rss.
We'll still be updating a few things in the next couple weeks. The recipe archives will have even more functionality in the weeks to come. (After I update 6 years worth of posts…ugh). And please feel free to tell me if I'm missing something that you had here before!
Some changes – I've thought long and hard about this, and after a lot of deliberation, I have decided to give up Taste and Tell Thursdays. It kind of breaks my heart because it was just starting to gain some momentum, but something had to go. But I will have recipe posts here Monday, Wednesday and Friday, and Blogger Spotlights are moving to Saturdays.
A huge thanks to Melissa and Erin – thank you for making my vision come to life!!
Check back on Thursday on the Home section for a little introduction there, and an all new recipe is coming at you on Friday. I hope you love the new look as much as I do!!