This Tarragon Cream Chicken and Polenta Pot Pie is an easy 30 minute meal with lots of veggies and chicken, all topped with a polenta crust.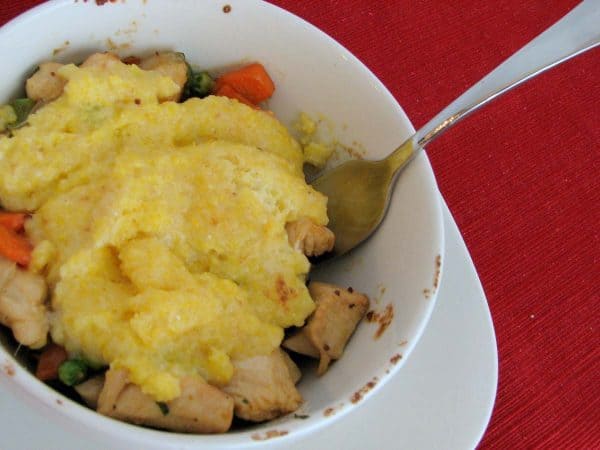 Before getting to the recipe, I want to go off on a little tangent here. I have been thinking about what makes a good food blog lately. Maybe it's because I hit 100 posts, or maybe it's because I have been bothered by a few things said on some other blogs. So, I want to know from you – what makes you go back to certain blogs?
I know for me, there are a few things that determine what make a good blog. For some, it's the photos. And some make me laugh every time I visit. But mostly, it's the recipes. Some blogs are constantly posting recipes that I would make at home.
Now, I know that everyone has different tastes and styles, so what food appeals to me might not appeal to someone else. I also realize that people's personalities come across online – and I realize that not all personalities mesh. And although I made this blog primarily for myself – and continue to have a record of different recipes I have tried – I would be lying if I said that I didn't like the comments and attention that comes from it.
So, I want your feedback. Not necessarily about my blog, but about blogs in general. Maybe everyone can use this as a way to improve. Take for example – there is a certain blog that I would read more often, but the type set is so small that it is hard for me to read, so I tend to skip over posts from this blog. Well, I almost always use Firefox as my browser, but I opened up my blog on Internet Explorer the other day, and on my monitor at home, the print in Explorer is a lot smaller than it is on Firefox. I had no idea. So I need to figure out a way to fix that problem. Anyway – if you have any pointers or advice on what you like in a food blog, let me (and anyone else reading) know. I would love to hear what you think!!
Onto the food…I discovered 2 things when I made this meal. One – that I'm not a huge fan of tarragon, and two – my husband loves tarragon!! I saw Rachael Ray making this on 30-Minute Meals one day, and it looked so good. Actually, I should say that it sounded good, because let's face it – it's not such a photogenic meal!! It did actually taste really good – especially for such a quick meal. Personally, I would leave out the tarragon next time or substitute it for something else, but that is just a personal preference! And I timed myself when I made this – and it was done in just under 30 minutes. I was impressed, because I can't usually make the 30 Minute Meals in 30 minutes!!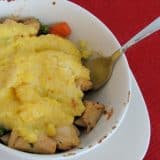 Tarragon Cream Chicken and Polenta Pot Pie
---
Author:
Prep Time: 5 mins
Cook Time: 25 mins
Total Time: 30 minutes
Yield: 4 servings 1x
Category: Main Dish
Method: Stove Top
Description
This Tarragon Cream Chicken and Polenta Pot Pie is an easy 30 minute meal with lots of veggies and chicken, all topped with a polenta crust.
---
Scale
Ingredients
2 tablespoons extra-virgin olive oil
1 1/2 pounds chicken tenders, chopped
2 carrots, chopped
1 onion, chopped
2 ribs celery with the greens, chopped
Salt and freshly ground pepper
3 cups chicken stock, divided
1 cup cream, divided
1/2 cup quick cooking polenta, plus more, if needed*
2 tablespoons butter
2 tablespoons all-purpose flour
2 teaspoons Dijon mustard
6 sprigs fresh tarragon, stripped and chopped, 3 to 4 tablespoons
1 cup frozen peas
1 cup Gruyere cheese, grated
---
Instructions
In a deep skillet heat 2 turns of the pan extra-virgin olive oil over medium-high heat. Add chicken and lightly brown, 3 minutes, add carrots, onions, and celery as you chop. Season with salt and pepper and cook 10 to 12 minutes to soften.
Preheat broiler. Set rack in middle of oven.
Bring 1 cup chicken stock and 1/2 cup cream to a boil, stir in polenta and whisk, 3 minutes. Turn heat low, stir in Gruyere cheese and reserve.
Scoot meat and veggies off to side, melt butter and combine with flour 1 minute. Whisk in 2 cups stock and combine, stir in 1/2 cup cream and bring to a bubble. Stir in Dijon, tarragon, peas and adjust salt and pepper and transfer to soup bowls. Set soup bowls on baking dish. Form tops to your pot pies with the polenta and cheese mixture. Set under broiler and brown 2 to 3 minutes.
Recipe Notes:
*Cook's Note: You may need up to 3/4 to 1 cup of polenta to fill the tops of your soup bowls or use some more of the remaining stock.
from 30 Minute Meals