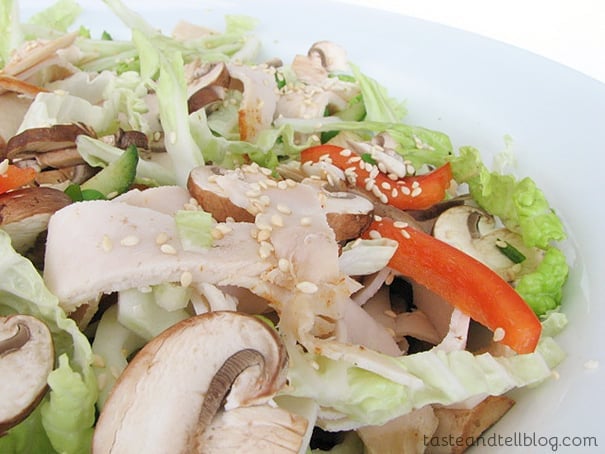 I don't know if anyone is like me, but sometimes, I have to skip past the food shows on tv, afraid that there will be another dish made that looks so delicious that I just have to make it. Maybe I'm easily overwhelmed, but I hate it when I feel like there are too many recipes to try, and not enough time. I get nervous looking at my bookmarked recipes that hold almost 1300 recipes that I have bookmarked from blogs or tv shows. How am I going to get through them all!?! So maybe if I stop reading blogs and watching food shows, I'll be able to catch up. But that's not going to happen, so I guess I just need to get in the kitchen and get busy!
While we were in New York, we were taking a break in our hotel room. My husband had fallen asleep, taking a nap, and I was flipping through the channels on the tv. Rachael Ray's daytime talk show was on. I love 30-Minute Meals, but it's been quite some time since I've watched her talk show. That day, she made this chicken salad, and I knew I just had to have it. I didn't have a computer with me to bookmark it, so I figured I'd just forget about it. But I didn't. I kept thinking, come on – it's just a salad. But I couldn't get it out of my mind.
So upon our return, I made the salad. It was a perfect post-vacation meal, especially after eating cheesecake, cupcakes, and oreos galore. The salad is healthy, easy, and full of flavor. And now that it's summer here, and the heat is hitting us full on, this meal is even more perfect. There is no heating required at all!!
The recipe calls for edamame, but as you can tell from my photo, there is no edamame. It's a bit hard to find here, and when I can find it, I'm never lucky enough to find the frozen, shelled kind. I always have to shell it myself. Well, the store I stopped at this day didn't have any at all, so I ended up adding peas, which worked great. I'm sure it would have been better with edamame, but it was still tasty! I also substituted baby bellas for the shitake, again because the store didn't have them. But that's the beauty of recipes like this – they are easily adaptable!
Szechuan Chicken Salad
from Rachael Ray
3 tablespoons rice wine vinegar
3 tablespoons honey
2 tablespoons Tamar
2 tablespoons hot sauce
3 tablespoons vegetable oil
salt and freshly ground pepper
2-inch piece of ginger, grated
1 large clove of garlic, grated or finely chopped
1 cup shelled frozen edamame, defrosted
1/2 head Napa or Savoy cabbage, shredded
1 small red bell pepper, thinly sliced
1/4 cucumber, halved lenghtwise and then thinly sliced on an angle
1/4 pound shitake mushrooms, stemmed and thinly sliced
4 scallions, very thinly sliced on an angle
3/4 pound deli-sliced chicken breast, torn or thinly sliced
3 tablespoons toasted sesame seeds
In a salad bowl, combine the vinegar, honey, Tamari, hot sauce, oil, salt, pepper, ginger and garlic.
Add in the edamame, cabbage, pepper, cucumber, mushrooms, scallions, and chicken. Toss to coat and garnish with sesame seeds.