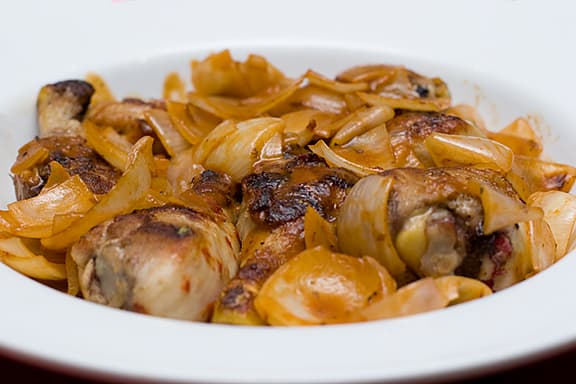 Don't forget to enter to win a copy of Make Ahead Meals for Busy Moms! Check it out here.

There is one thing I really don't understand – spammers. I have been getting spam comments galore these last couple weeks. As soon as I'm notified that they are there, they automatically go in the garbage. But I don't understand them to start off with. Does anyone really click on those links that they leave? And why is it that they are always in broken English? And don't these people realize that the comments get deleted and they are wasting their time? Regardless, I've had to change my comments for the time being. You can no longer comment as an anonymous commenter. I hate doing this because I know that there are people who leave valid anonymous comments, so this won't be permanent, but hopefully this pesky spammer I have will leave and I'll be able to go back to normal in a week or two.
I am convinced that I have something for sweet and sour chicken. Anytime I see a recipe with those 4 words in it, I always bookmark it. This would be the 3rd that I've made and posted here on my blog!! The first is still my favorite, the second was mighty tasty as well, but the third? It was ok. I loved the idea of this recipe, and I may try it again to see if I can perfect it. It was good, just not great. But it was so easy that it's worth another try!!
Sweet & Sour Chicken III
adapted from Food Network Magazine November 2009
Serves 4
Cooking Time: about 30 minutes
3 to 4 pounds of chicken legs
salt and pepper
all-purpose flour, for dusting
2 tablespoons extra virgin olive oil
1 pound onions, cut into large chunks
1 tablespoon tomato paste
1 tablespoon fresh thyme
1/2 cup apple cider vinegar
1/2 cup apple cider
2 tablespoons cold unsalted butter, cut into cubes
Position rack in upper third of the oven and preheat to 450F.
Pat the chicken dry and season with salt and pepper. Dust the skin side with flour. Place a large ovenproof skillet over medium-high heat, add the olive oil and heat until shimmering. Add the chicken, skin-side down, and cook until the skin is golden, about 5 minutes. Turn the pieces and pour off the excess fat. Tuck the onions under and around the chicken and cook until just golden, about 2 more minutes.
Push the chicken aside, then stir in the tomato paste and thyme and cook until the paste darkens, about 30 seconds. Add the vinegar and apple cider, bring to a boil and simmer 1 minute. Transfer the skillet to the oven and roast the chicken until just cooked through, 10 to 12 minutes.
Transfer the chicken, skin-side up, to a heatproof serving dish and return to the oven (turn the oven off). Bring the sauce left in the pan to a boil and reduce by half, 3 to 4 minutes. Lower the heat and whisk in the butter. Spoon the sauce over the chicken.