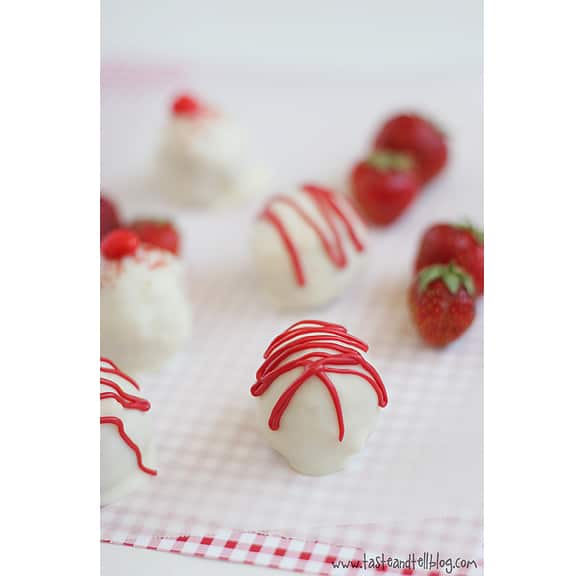 We all know that I love cookbooks.  I own way too many of them, but can never pass up a chance to get my hands on a new one.  So when I was contacted to review Wendy Paul's latest cookbook – 101 Gourmet Cake Bites – I was super excited!!
Ok, confession time, though.  I don't always love cake bites.  I've said it before, but they are usually too sweet for me, which is probably a good thing because 1 is plenty.  But this book is SO FUN.  Forget your normal cake bites that are just decorated all fancy.  This cookbook is mostly all about what is on the inside.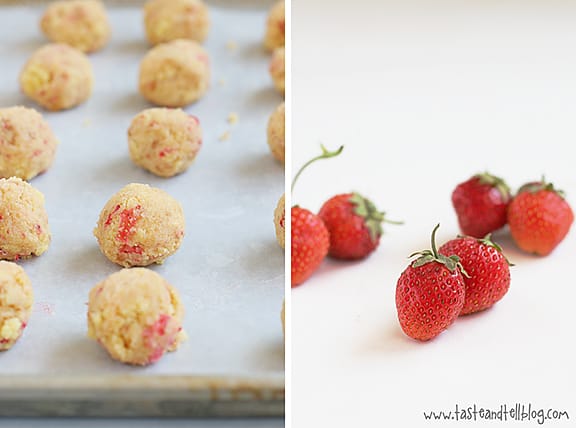 I had originally planned on making the Bananas Foster Cake Bites, but when I went to make them, I found out that my husband had eaten the 2 bananas that I had put aside for the recipe.  Thank goodness my mother in law brought over a bucket-full of fresh strawberries from her garden just the night before!!  I was totally drawn to the fruity section of the cookbook – maybe because it is summer and there is such an abundance of great fruit out there right now.  But I can't believe what a difference it made to add fruit to the inside of these bites.  No more boring cake bites!!
This cookbook is full of all sorts of amazing recipes.  There are so many different flavor combinations – you can bet that I'll be trying out more of them.  There is also a section of decorated cake bites that are perfect for holidays or special occasions.  But the different flavors are what sets this cookbook apart from others for me!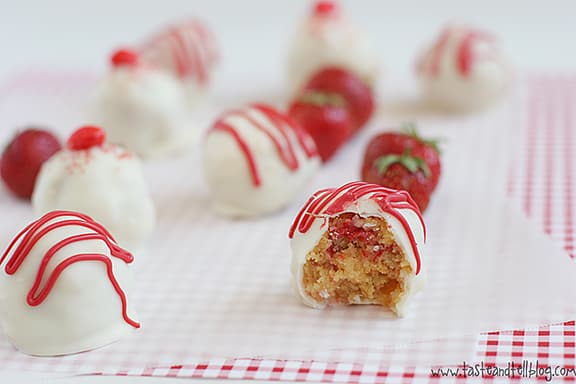 Strawberry Shortcake Cake Bites
from 101 Gourmet Cake Bites
makes 26-40 cake pops
1 box white cake mix
3 eggs
1 teaspoon sea or kosher salt
3/4 cup half-and-half
1/3 cup fresh strawberries, mashed
3/4 cup Vanilla Buttercream (recipe follows)
white melting chocolate
Preheat the oven to 350F. Prepare a 13×9-inch baking pan by spraying with non-stick cooking spray.
Mix together the cake mix, eggs, salt and half and half. Batter will be thick. Pour into the prepared pan and bake until a toothpick inserted in the center comes out clean, 28-32 minutes. Cool completely.
In a large bowl, crumble the cooked, cooled cake. Add in the strawberries and buttercream. Using the back of a spoon, mix together all ingredients. Form into balls and refrigerate for 1-2 hours or in the freezer for 20 minutes. Dip in melting chocolate.
Vanilla Buttercream
from 101 Gourmet Cake Bites
makes about 3 cups
8 tablespoons (1 stick) unsalted butter, at room temperature
3 3/4 cups powdered sugar, sifted
3-4 tablespoons milk
2 teaspoons vanilla extract
Place the butter in a large mixing bowl. Beat until light and fluffy, about 30 seconds. Stop the mixer and add in the sugar. Mix on low until mostly incorporated. Add in the vanilla and 3 tablespoons of milk, and start the mixer on low and work up to medium until completely incorporated. Add 1 more tablespoon of milk if the frosting is too thick.