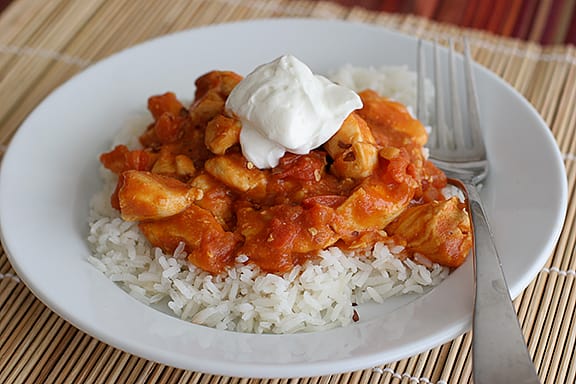 Normally, I adopt the saying from Auguste Gusteau in the animated film – Ratatouille – "Anyone Can Cook." In fact, I've been saying that for years and years. Whenever anyone would comment on how I tried so many different recipes, or how I enjoyed cooking in general, I'll always say that anyone can cook. All it takes is being able to follow a recipe, but really, anyone can do it.
I used to say that, at least. I'm beginning to wonder if it's really true now! I've been on a bit of a cooking slump. I made sloppy joes that were too salty, jerk kabobs that were too spicy, and don't even get me started on when I try to make a curry. I don't know what it is about me and curry, but we just don't mix. I've only made one in the last little while that has been good – for some reason, this is a dish that I just cannot make. Maybe it's a mental thing because I know my husband doesn't like it, and for some reason, that affects my cooking skills. I don't know, but this was another curry that turned out to be eh. First of all, I couldn't even taste the peanut butter in it at all. Second of all, I think all the spices cooked out, because there really was no flavor to this dish. Then third, the chicken just cooked way too long and ended up dried out, even though it was covered in liquid. The meal was edible, but definitely not what I was hoping for.
I still really do believe that anyone can cook – but maybe sometimes it takes some practice – or the perfect recipe!!
Spicy Peanut Chicken Over Rice
from Cooking Light August 2008
serves 12
total time: about an hour
1 tablespoon peanut oil
1 cup chopped onion (about 1 medium)
1 1/2 tablespoons minced garlic (about 4 cloves)
2 1/2 pounds skinless, boneless chicken breast halves, cut into 1-inch pieces
1/3 cup chunky peanut butter
1 1/2 teaspoons curry powder
1 teaspoon salt
1 teaspoon crushed red pepper
1/2 teaspoon freshly ground black pepper
1 (6-ounce) can tomato paste
3 cups chopped plum tomatoes (about 6 tomatoes)
2 (14-ounce) cans fat-free, less sodium chicken broth
8 cups cooked brown rice
3/4 cup Greek-style yogurt
Heat oil in a Dutch oven over medium heat. Add the onion and garlic and cook until tender, about 5 minutes. Add the chicken to the pan, cook until chicken is done, stirring frequently.
Stir in the peanut butter, curry powder, salt, red pepper, black pepper and tomato paste; cook 1 minute. Add the tomatoes and the chicken broth to the pan and bring it to a boil. Reduce the heat and simmer for 30 minutes or until slightly thickened, stirring occasionally.
Serve chicken over rice and top with the Greek yogurt.