Normally, today I would just post a review of this month's Cookbook of the Month – Poor Girl Gourmet.  But I found myself not wanting to put the book back on my shelf quite yet, so here I am with a 5th recipe!!  I seriously had so many recipes bookmarked from this book, and I knew I wanted this last one to be a good one.  And really, you can't go wrong with pasta!  The bonus was that I had everything for this dish on hand except the pancetta.  I almost always have bacon on hand, and I really think that would be a delicious substitution, but I did go for it and I bought some pancetta to make this recipe.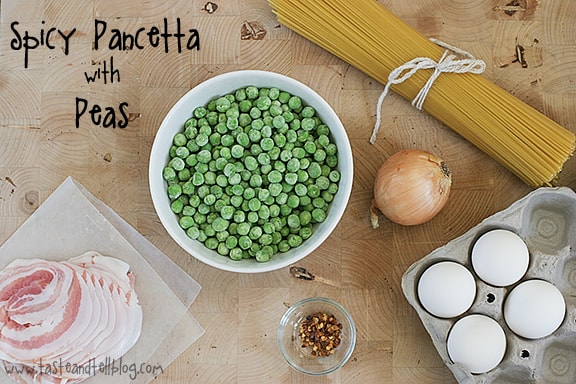 I love a good carbonara.  And reading through this recipe at first, I thought it was going to be your normal carbonara, but with a kick added in from some red pepper flakes.  But when I read through the recipe, I knew I wanted to make this.  Instead of making a sauce with the egg in the pasta, you serve a sunny side egg on top.  Yes, kind of brilliant, isn't it?
I love a good, runny egg, and every bite of this meal was heavenly for me.  You would never imagine that a small list of ingredients could make something so delicious.  And it didn't feel super heavy like some pasta dishes can feel.  This was absolutely delicious – and I can totally see myself turning to this recipe on nights that I don't have any meals planned.  Yum!
Recipe Rating:  9 out of 10 (recipe at the bottom of the post!)
And now to the cookbook review!!
————————————-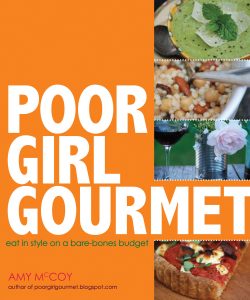 I am not a gourmet cook by any stretch of the imagination.  I think I'm just about as normal as you can get.  But I absolutely loved this month's book – Poor Girl Gourmet.  I only mention that I'm not gourmet, because I don't want you to be scared away by the "Gourmet' in the title.  This is just good food.  I love that Amy McCoy shows us that we can cook good, fresh food – all on a budget.
Most of the recipes in this book can be made for under $10 for 4 servings.  But there is a chapter in the back of the book that has some "splurge" recipes- going up to $30 for 4 servings.  I do have to admit that a couple of the "splurge" meals sounded a bit intimidating for me, but for the most part, this is a cookbook that anyone could pick up and cook from.
The way the instructions on the recipes are written is a little different.  You can definitely hear Amy's personality in the instructions.  At first, I wasn't sure how I felt about it, but even by the time I had finished the first recipe, I decided that I loved how personal it made the recipes.  I could see Amy in my mind, walking me through the recipe like a friend would, instead of faceless instructions with no personality.  Really, this was such a fun book!
Prep Times and Total Recipe Times Listed:no
Number of Photos: lots
There are quite a few photos throughout the book.  Most are smaller – half a page or less, but you do get a good idea of what those recipes look like.

Difficulty Level of Recipes: medium
Most of these will take a little more effort than just throwing a bunch of ingredients in a pot, but I still think that most anyone could easily work their way through any recipe in this book.
Availability of Ingredients: easy
Most of these recipes are made with very few ingredients.  And very basic ingredients.  It just goes to show that you can turn basic things into gourmet!
Here is what I made: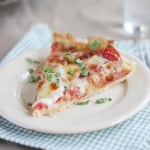 Tomato Tart – 8 out of 10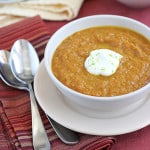 Spicy Carrot Ginger Soup – 8.25 out of 10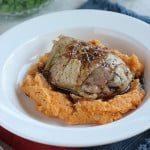 Honey-Balsamic Chicken Thighs – 9 out of 10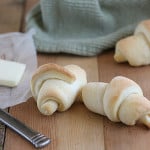 Butterhorns – 9 out of 10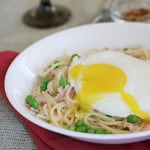 Spicy Pancetta with Peas – 9 out of 10
Overall Rating: 8.65 out of 10
This was such a great book – I loved it!  And from the correspondence I've had with Amy – she really does seem like a wonderful, genuine person.  (And if you missed it, check out her Blogger Spotlight.)  I am so happy I was able to cook my way through this book!
I have to admit that I'm a bit giddy about October's Cookbook of the Month – Basic to Brilliant, Y'all.  I've been a bit obsessed with Southern cookbooks this year, and this book is a fusion of Southern and French cooking!  This is a brand new – straight off the press book, as well.  In fact, I pre-ordered my copy, and since it was just released a couple of days ago, I won't even have my copy in my hands until early next week.  And another bonus – the photographs in the book are by the brilliantly talented Helene of Tartelette – so I know the photos are going to be stunning!  I can't wait to get my hands on my copy and start cooking from this book!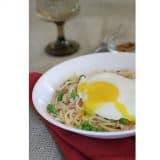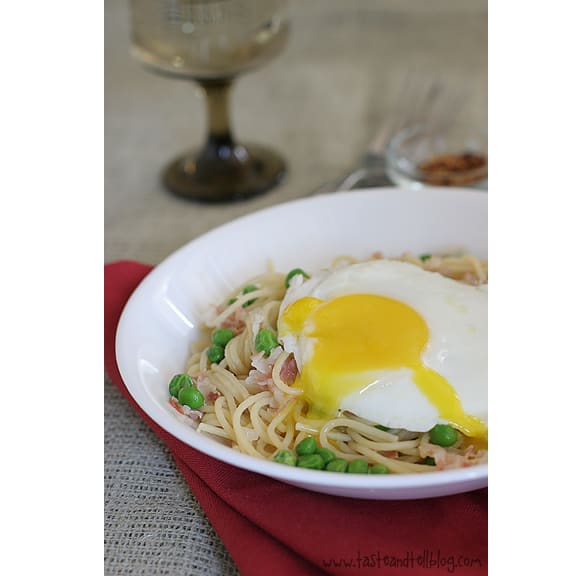 Spicy Pancetta with Peas
---
Prep Time: 20 minutes
Total Time: 20 minutes
Yield: 4 servings 1x
Description
A twist on pasta carbonara – spaghetti with pancetta and peas, served with a sunny-side up egg on top!
---
Scale
Ingredients
1 pound spaghetti
5 tablespoons extra-virgin olive oil
1/2 pound thinly sliced pancetta, cut into roughly 1-inch squared
1 small onion, diced
1/2 teaspoon red pepper flakes
2 cups peas
kosher salt
freshly ground pepper
4 large eggs
---
Instructions
Bring a large pot of salted water to a boil and cook the spaghetti until al dente. Before draining, reserve 1 1/2 cups of the starchy cooking water.
Meanwhile, heat 3 tablespoons of the olive oil over medium heat in a large saute pan or skillet. Add the pancetta and cook until the fat starts to melt, 5 to 6 minutes. Add in the onion and red pepper flakes. Cook until the onion starts to become translucent, 2 to 3 minutes. Add the peas and stir to combine.
Add 1 cup of the reserved pasta water into the saute pan. Add in the pasta and toss everything together. Reduce the heat to medium low. If the pasta starts to look like it's drying out, add in more of the reserved water. Add salt and pepper to taste.
In a small frying pan, heat the remaining 2 tablespoons olive oil. Add the eggs and cook until the whites are cooked, but the yolk is still runny.
Divide the pasta evenly between 4 serving plates. Top each with a sunny-side up egg, and serve immediately.
Slightly adapted from Poor Girl Gourmet