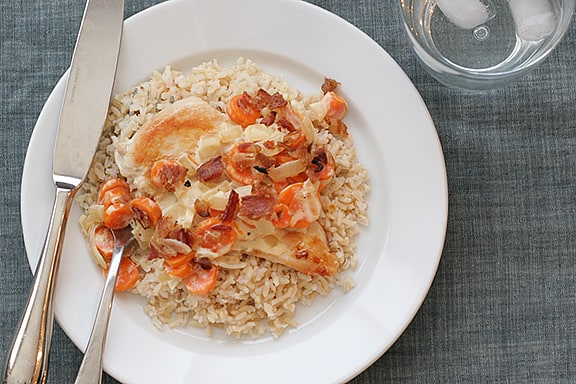 I had a conversation with some girls the other day about food. I said that there are very few things that I don't like. I'm not a picky eater at all and I'll try pretty much everything.
But this meal – it reminded me of one thing I don't like. Instant rice. You know, the kind that cooks in 5 minutes. I had some in my pantry and I decided to use it up for this meal. The chicken was really good, but it's too bad that the bland, tasteless instant rice messed everything up! I'm just glad I used the rest of that rice up and I don't have to worry about it anymore!
The only other small complaint I had about this meal is that the sauce isn't very saucy. I would have liked a little more to soak into the rice, so if I were to make this again, I would probably do more sauce. But then again, we are a saucy family!!
What food do you not like?
Smothered Chicken with Brown Rice
adapted from Kraft Foods Food & Family Fall '09
serves 4
prep time: 15 minutes
total time: 45 minutes
4 slices bacon, chopped
4 small boneless, skinless chicken breast halves (about 1 lb)
4 large carrots, (1 lb), thinly sliced
1 large onion, chopped
1 cup chicken broth, divided
2 oz 1/3 less fat cream cheese, cubed
3 cups hot cooked brown rice
Cook the bacon in a large nonstick skillet until crisp. Drain on paper towels. Discard drippings from skillet.
Add the chicken to the skillet and cook 5 to 6 minutes on each side, or until internal temperature reaches 165F. Transfer the chicken to a plate and cover to keep warm. Add the vegetables and half of the broth to the skillet. Cover and simmer for 10 minutes or until the vegetables are tender.
Stir in the remaining broth and the cream cheese. Cook, uncovered for 2 minutes or until the cream cheese is melted and the sauce has thickened. Return the chicken to the skillet; cook for 2 minutes or until heated through.
Spoon rice onto a plate; top with chicken, sauce and bacon and serve.