I am back with even more recipes using Progresso's new Recipe Starters.  I guess I just can't get enough of them!!
Chicken a la King is actually one of the very first dishes I remember making when I moved away from home.  Shortly after I got married, I found my favorite recipe, and we've had it quite a few times since then.  But that hasn't stopped me from trying new recipes!
This one is a little different because it is slow cooked.  And I know that now that it is getting cooler outside, everyone is pulling out their slow cookers.  That, and the fact that when school is in, it seems like peoples' lives get just a little bit crazier! 🙂
This is the perfect fall-time, slow cooker recipe.  It's comforting, but full of veggies.  We all cleaned our plates!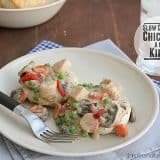 Slow Cooker Chicken a la King
---
Prep Time: 15 minutes
Cook Time: 5 hours
Total Time: 5 hours 45 minutes
Yield: 4 servings 1x
Description
Craving comfort food? This slow cooked chicken dish makes dinner time a snap while providing a comforting meal.
---
Scale
Ingredients
1 can (18 oz) Progresso™ Recipe Starters™ creamy roasted garlic with chicken stock cooking sauce
1/4 cup flour
Salt and pepper
1 lb boneless, skinless chicken breasts, cut into bite sized pieces
8 oz sliced mushrooms
2 carrots, peeled and sliced
1 (2 oz) jar pimientos
3/4 cup frozen peas
1 can (16.3 oz) Pillsbury® Grands!® Homestyle refrigerated buttermilk biscuits (8 biscuits)
---
Instructions
In the bottom of a slow cooker, combine the Progresso Recipe Starter and the flour. Season with salt and pepper. Add in the chicken, mushrooms and carrots. Cover and cook on low for 4-5 hours or on high for 2-3 hours, until the chicken is cooked through and the carrots are tender.
Heat the oven to 350°. Bake the biscuits according to the package directions.
Using a slotted spoon, remove the chicken and vegetables from the slow cooker into a bowl. Cover with foil to keep warm. Transfer the remaining liquid to a saucepan. Bring to a boil and allow to reduce for about 20 minutes. Return the sauce to the slow cooker and turn onto high. Add back in the chicken and vegetables as well as the pimientos and the peas. Cook just until warmed through.
Serve the chicken and gravy over the baked biscuits.
**Different slow cookers cook at different temperatures. Make sure you check your chicken for doneness.
**This is a sponsored post, but as always, all opinions are my own.**