Why yes – I have jumped on the slow cooker bandwagon!!  I've probably posted more slow cooker recipes in the last year than I did in the whole 4 years before.  (Part in thanks to the chance that I have had to develop all of these recipes using Progresso's Recipe Starters!)  I have found that my favorite thing in the slow cooker will always be soup.  It's easy, it's satisfying, and we are definitely going into soup season!!
This beef and potato soup was a hearty and filling dinner for us.  And it's always a plus when it comes together in just minutes!! And I don't know about you, but I can use a lot more of that these days!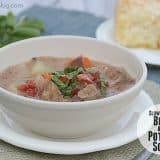 Slow Cooker Beef and Potato Soup
---
Prep Time: 10 minutes
Cook Time: 6 hours
Total Time: 6 hours 15 minutes
Yield: 4-6 servings 1x
Description
Keep warm on a cold day with this beef soup that is made in the slow cooker.
---
Scale
Ingredients
2 lb. round roast, cut into cubes
1 can (14.5 oz) diced tomatoes, undrained
2 small potatoes, peeled and diced
2 medium carrots, peeled and cut into bite-sized pieces
1 can (18 oz) Progresso™ Recipe Starters™ creamy roasted garlic with chicken stock cooking sauce
1 cup water
1 beef bouillon cube
Salt
1/2 teaspoon dried basil
1/2 teaspoon dried oregano
---
Instructions
Combine all ingredients in a slow cooker. Cook on low for 4-6 hours or on high for 2-3 hours, until the beef is cooked through and the potatoes are tender.
Serve garnished with fresh basil, if desired.
**This is a sponsored post, but all opinions are my own – as always!**