Photo updated June 2012

I have been reading some very eye opening posts about blogging lately. Some that have really hit home to me. I started this blog 3 1/2 years ago, not really knowing fully what food blogging was. I was hooked from the beginning, but food blogging was so different back then. There numbers of food blogs out there was a few hundred, but today, there are thousands and thousands. I used to feel like I knew, or had been to, most food blogs, but now I'm discovering new food blogs every day. And most of them are bigger than mine. More followers, more comments, better photographs. It's easy to get down on yourself. I've found myself comparing my blog to other blogs a lot these last few months. And feeling like I'm not part of the "in group". Really, it hasn't gotten me anything but depressed.
Until recently. I have to give a huge "Thank You" to Kristen at Dine and Dish and Kim at The Yummy Mummy Cooks Gourmet for 2 posts that I've read recently that really made me take a step back and re-evaluate why I do this.  I do this because I love food.  It makes me excited.  I love the whole process of planning a menu, going to the grocery store, then getting busy and making a recipe.  I love to blog about it.  I honestly spend most of the time that I am making a meal thinking out blog posts in my head.  And although I'm not the best writer out there – far from it – I love sharing.  I love having this platform where I can share not only recipes, but childhood memories or tidbits from my life.  I know that without this blog, my husband would surely get tired of me talking about and analyzing our dinner!  It's not about how many hits you get, the cool trips, or how many people want to send you free things. It's about doing something you are passionate about.  I have often wondered if what I blog about is too "every day" and nothing special.  But that's what I cook.  That is me.  One thing I've been hearing over and over again in the blog world is to just be passionate about what you write about.  And I need to recommit myself to this.
I still will continue to try to make my blog better, but I am promising now to stay true to myself.  To not be embarrassed about things I make or think that they aren't special enough for anyone to care.  Because this is me.  And I wouldn't have it any other way!
This recipe is one of those recipes that I would normally worry that it's too simple.  But these simple recipes have saved me more than once these last few weeks!!  And I actually really liked this – especially eating it on the tortilla chips.  This is one of those no-brainer meals that both kids and adults will love!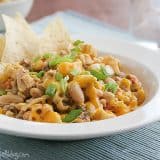 Skillet Taco Supper
---
Prep Time: 10 minutes
Cook Time: 25 minutes
Total Time: 35 minutes
Yield: 4 servings 1x
Description
An easy weeknight dinner, with pasta, ground beef, beans and cheese.
---
Scale
Ingredients
1/2 pound lean ground beef
1 package taco seasoning mix
2 1/4 cups water
1 1/2 cups uncooked wagon wheel or fiori pasta (5 1/2 oz)
1 1/2 cups frozen corn
1 can (15 oz) kidney or pinto beans, drained and rinsed
1 medium tomato, chopped
1/2 cup sour cream
1 cup shredded cheddar cheese
1 tablespoon chopped fresh chives or green onions
tortilla chips, for serving
---
Instructions
In 12-inch skillet, cook beef over medium-high heat 5 to 7 minutes, stirring frequently, until brown; drain.
Stir seasoning mix, water, uncooked pasta, corn, beans and tomato into beef. Heat to boiling; stir.
Reduce heat to medium-low. Cover; cook 10 to 15 minutes, stirring occasionally, until pasta is desired doneness and most of the liquid has been absorbed.
Stir in sour cream. Remove from heat. Sprinkle with cheese and chives. Cover; let stand 2 to 3 minutes or until cheese is melted.
Serve with tortilla chips.
———————–
from MomsWhoThink.com