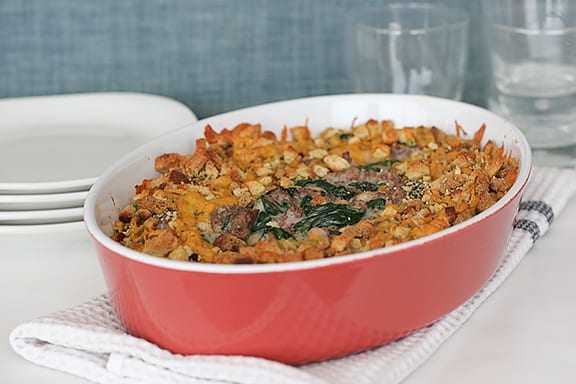 Utah weather is the craziest thing.  I was laughing just the other day while thinking that the groundhog said that spring would come early, but on the last day of April, we woke up to several inches of snow.  Luckily, it all melted pretty quickly, but it was still cold enough to have me craving comfort food.  And nothing says comfort food like a casserole!
For some reason, this recipe really appealed to me. It's strange, because normally, this isn't the type of recipe that I'd totally want to make. But it made it on the list, and it was actually a very comforting, tasty dish. There is one thing I would change – I wasn't crazy about the stuffing on the top. The leftovers were better than the first time around, mostly because the stuffing had ended up soaking up a bit of the liquid in the dish. But if I made this again, I would probably leave the stuffing off completely.  But this totally has potential – even with the canned cream of mushroom soup, which I'm normally not a big fan of.
What do you crave when it's cold outside?
Sausage, Beef & Bean Casserole
adapted from Campbell's Casseroles, One-Dish Meals and More
serves 6
prep time:  10 minutes
cook time:  30 minutes
1/2 pound sweet Italian sausage
1 pound ground beef
1 small onion, chopped (about 1/4 cup)
6 ounces baby spinach leaves
1 (10 3/4-ounce) can cream of mushroom soup
1/4 cup milk
1 can (15-ounces) cannellini beans, rinsed and drained
1 cup herb seasoned stuffing
1/2 cup shredded Cheddar cheese
Preheat the oven to 350F.
Cook the sausage, beef and onion in a large skillet, breaking up the meat, until the meats are browned and cooked through.  Pour off fat.  Add the spinach and cook until it wilts.
Stir in the soup, milk and beans.  Heat through for 2-3 minutes.  Spoon the  mixture into a 2-quart baking dish.
Stir the stuffing and cheese in a small bowl.  Sprinkle around the edge of the dish.
Bake in the preheated oven for 30 minutes or until hot and bubbly.