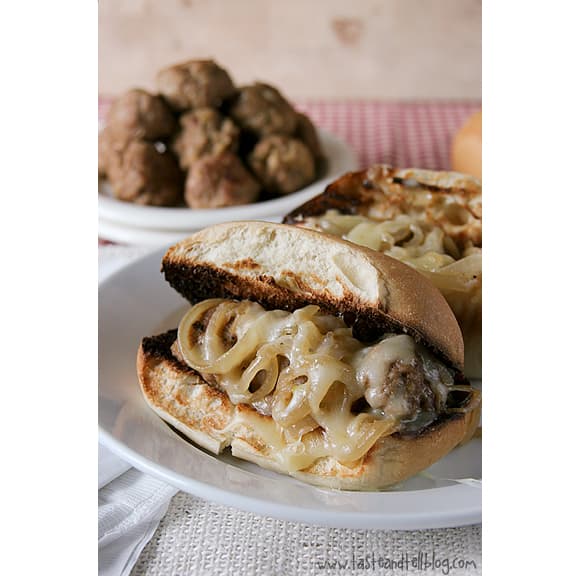 You know, you'd think that by now I'd be pretty proficient in the kitchen.  I mean, I am making something  in there every single day of the week.  But guess what?  I just can't seem to toast bread lately.

Seriously.
See those poor buns on my sandwich there?  Yeah, a little bit over-toasted.  The sad thing is that this was my third try, and this was the best of the 3.  And I was running out of buns.  I just couldn't get it right.
So it just goes to show that just because you spend a lot of time in the kitchen doesn't mean that you can do everything perfectly!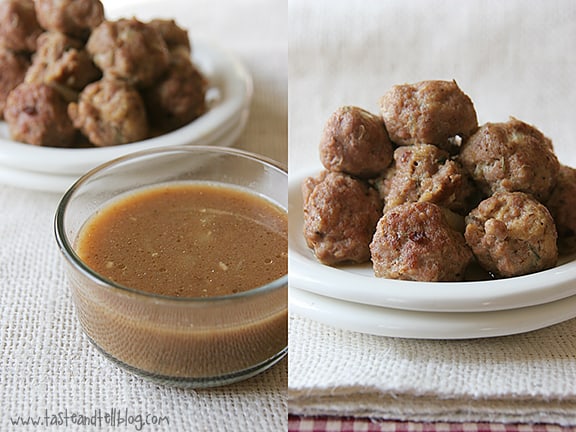 But guess what?  It didn't even matter that these sandwiches were a little on the toasty side.  They got dunked into a bowl of deliciousness, and all was forgotten.  Really – meatballs, onions, cheese.  Dunked into a delicious au jus.  This is my idea of a perfect dinner!!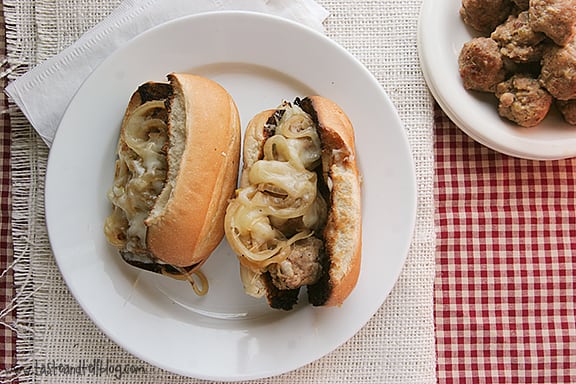 Saucy Onion Meatball Dip Subs
---
Prep Time: 15 minutes
Cook Time: 30 minutes
Total Time: 45 minutes
Yield: 8 servings 1x
Scale
Ingredients
Meatballs
1 egg, lightly beaten
1/4 cup dry breadcrumbs
1/4 cup finely chopped onion
1/4 cup grated Parmesan
2 tablespoons chicken broth
1 teaspoon salt
1/2 teaspoon pepper
1/4 teaspoon dried thyme
1 1/2 pounds ground turkey
2 tablespoons olive oil
Sauce
3 cups sliced onions
2 tablespoons olive oil
2 garlic cloves, minced
1/2 teaspoon dried thyme
1/4 cup all-purpose flour
2 cups beef broth
1 cup chicken broth
3/4 teaspoon salt
1/4 teaspoon pepper
1/4 teaspoon Worcestershire sauce
Sandwiches
8 sub buns
1 1/2 cups shredded Monterey Jack cheese
---
Instructions
In a large bowl, combine all of the ingredients for the meatballs except the ground turkey and the olive oil. Crumble in the turkey, then mix together. With wet hands, shape the mixture into 1 1/2-inch balls. (I got 30 of them.) Heat the olive oil in a large skillet, and brown the meatballs in batchtes. Drain and set aside.
In the same skillet, saute the onions until tender. Add the garlic and thyme, cook for 1 minute. Stir in the flour, cook for 1 minute, then gradually whisk in the beef and chicken broths. Stir in the salt, pepper and Worcestershire sauce. Bring to a boil, then cook for another 2 minutes, until slightly thickened.
Add the meatballs and return to a boil. Reduce heat, cover and simmer for about 10 minutes, until meatballs are no longer pink.
Meanwhile, cut the buns in half lengthwise, leaving one side attached. Place the buns – cut side up – on a baking sheet. Place under the broiler and cook until toasted.
Top the buns with meatballs and some of the onions from the sauce. Top with Monterey Jack cheese. Broil another couple minutes, until the cheese is melted and bubbly. Serve with the remaining sauce, for dipping.
—————
slightly adapted from Taste of Home Februray/March 2012