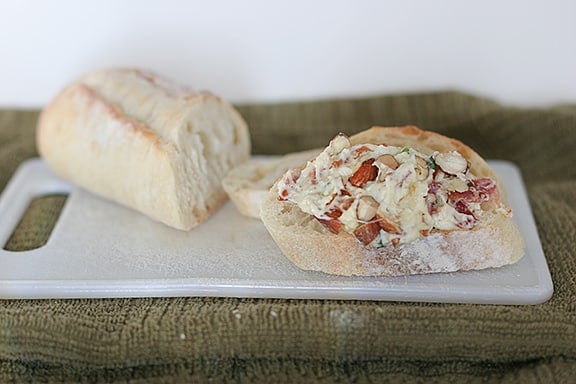 I like sports, but I'm not a sports enthusiast.  In fact, most of the time when there is a get together planned around sports, I'm more likely to get excited about the food than I am the game.
And since it's football season, and everyone is gathering to watch their favorite teams play, you need a good dip recipe to eat while you cheer your team on!  I was actually first drawn to this recipe because I had both some bacon and Swiss cheese that I needed to use up, so I thought I'd kill 2 birds with 1 stone.  (That's kind of a horrible saying, isn't it?)  But I'm so glad I had those ingredients that needed to be used, because this just may be a new favorite.  You can't really go wrong when you put cheese and bacon together, but this was seriously addicting.  In fact, I ended up just eating the dip and the bread for dinner!!
Swiss and Bacon Dip
from 30 Minute Meals
total time:  25 minutes
8 slices bacon, chopped
8 ounces softened cream cheese
1/2 cup mayonnaise
2 rounded teaspoons Dijon mustard
1 1/2 cups shredded Swiss cheese
3 scallions, chopped
1/2 cup smoked almonds, coarsely chopped
bread and/or veggies, for dipping
Preheat oven to 400F.
Brown bacon in nonstick skillet over medium high heat. Drain crisp bacon bits on paper towels.
In a mixing bowl, combine cream cheese, mayonnaise, Dijon, Swiss and scallions with cooked bacon. Transfer to a shallow small casserole or baking dish and bake until golden and bubbly at edges, 15 to 18 minutes. Top with chopped smoked almonds. Place dip on a platter and surround warm casserole with breads and carrots for dipping.
———————————-
Saturdays with Rachael Ray rules:
* You can link any blog post, present or past, as long as it is a Rachael Ray recipe.
* Your blog post must link back to this post, mentioning Saturdays with Rachael Ray.
That's it!! Simple, simple. Just make sure the recipe is a Rachael Ray recipe – it doesn't matter if it comes from her talk show, 30-Minute Meals, her magazine, or one of her cookbooks. But it must be from Rachael Ray. Any posts that don't follow these two rules will be deleted from the Mr. Linky.
I can't wait to see what you've made!