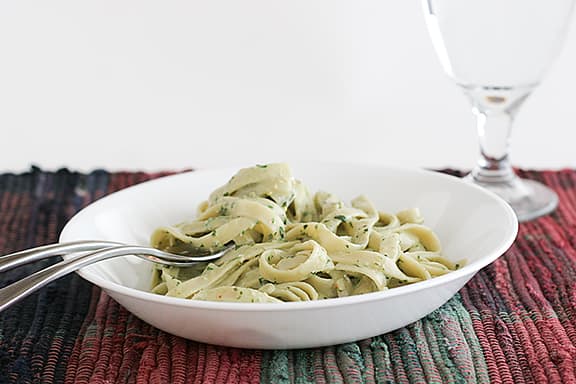 Earlier this week, I was a dinner for church. Right before the dinner, I walked into a house to drop off my dessert, and I could smell the smell of garlic bread. I thought it smelled wonderful, so I mentioned it to a woman walking beside me. And then she told me that she doesn't like garlic. I was shocked. Someone that doesn't like garlic? I didn't know those kinds of people existed!
Needless to say, I am a garlic fan. And the next day, I found myself craving garlic, probably because of that conversation. So I went through my list of Rachael Ray lists, and luckily, this pasta dish was on it. I think this may be a new favorite pasta dish for me!! And even though it does have cream, so it's not the healthiest, at least it doesn't have any butter or oil in it besides the small amount of olive oil to roast the garlic. If you are a garlic fan, this one is for you!
Roasted Garlic Pesto Cream Pasta
from the Rachael Ray Show
serves 4-6
1 head garlic
1 tablespoon extra virgin olive oil
salt
1 pound fettuccine
1 cup cream
1 cup basil leaves
1/2 cup flat-leaf parsley leaves
1/4 cup pine nuts, toasted
1/2 cup chicken or vegetable stock
ground black pepper
1/2 cup grated Parmigiano Reggiano cheese
Preheat oven to 400F.
Slice 1/4 inch off the top of the garlic head, exposing the cloves. Place the garlic on a square of aluminum foil and drizzle with about 1 tablespoon EVOO. Wrap the foil up around the garlic to enclose and roast it in the oven until golden brown and very tender, about 40 minutes.
When the garlic is ready, place a pot of water over high heat for the pasta. When the water is boiling, salt it, drop in the pasta and cook until al dente. Before draining the pasta, reserve a mugful of the starchy cooking liquid.
While the pasta is cooking, place a medium sized pot over medium heat and add the cream. Heat until just below bubbling. Squeeze the roasted garlic cloves into a small bowl and mash into a paste. Add the garlic to the cream and reserve warm.
In a food processor, combine the basil, parsley, pine nuts and stock. Process into a smooth paste, season with salt and pepper, and reserve.
When the pasta is ready, combine it with the roasted garlic cream, pesto, salt and pepper and the cheese. Add some of the starchy cooking liquid if needed. Toss well and serve.
———————————–
Saturdays with Rachael Ray rules:
* You can link any blog post, present or past, as long as it is a Rachael Ray recipe.
* Your blog post must link back to this post, mentioning Saturdays with Rachael Ray.
That's it!! Simple, simple. Just make sure the recipe is a Rachael Ray recipe – it doesn't matter if it comes from her talk show, 30-Minute Meals, her magazine, or one of her cookbooks. But it must be from Rachael Ray. Any posts that don't follow these two rules will be deleted from the Mr. Linky.
I can't wait to see what you've made!