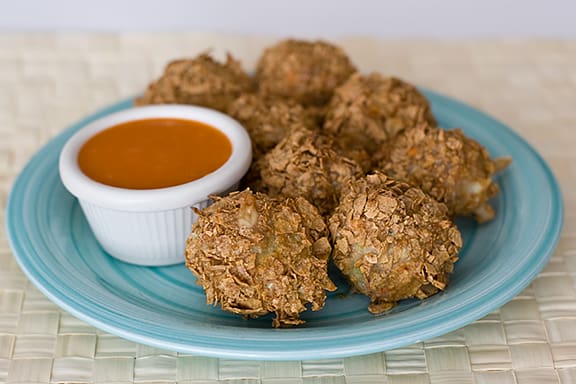 Just the other day, I was reading a blog post from a wonderful neighbor of mine over at White Lotus Cooks. In one particular post, she was talking about a recent episode of Jamie Oliver's Food Revolution and processed chicken nuggets. I'm sad to say that I haven't watched the show yet, (I actually haven't seen much tv at all lately because life has been so crazy), but it is definitely on my "to watch" list. But I have to say that I had a smile come across my face as I read her post, knowing just the night before, I had chicken nuggets for dinner. No, not the processed chicken nuggets from McDonalds. But these Oven-Baked Buffalo Blue Cheese Chicken Nuggets from Rachael Ray. The funny thing is, is that as I was feeding them to my daughter, who loved them by the way, all I could think to myself was how proud I was of myself for feeding her such a healthy alternative to the stuff you can buy at the drive through. And then I saw Veeda's post, and it made me feel even better!!
Oven-Baked Buffalo Blue Cheese Chicken Nuggets
from the Rachael Ray Show
Serves 4
total time: about 40 minutes
2 pounds ground chicken breast
1/2 small onion, grated
2 cloves garlic, grated
1 cup shredded carrots
2 stalks celery, finely chopped
2 tablespoons steak seasoning
1/2 cup blue cheese crumbles
1 cup plus 2 tablespoons flour, divided
2 eggs, lightly beaten
2 cups crushed cornflakes
2 tablespoons butter
1 1/2 cups chicken stock
1/2 cup hot sauce
salt and pepper
Preheat oven to 400ºF.
In a large mixing bowl, combine the ground chicken, onion, garlic, carrots, celery, steak seasoning and blue cheese. Work the mixture together then portion it out balls about the size of a golf ball.
Set up three dishes on the countertop: One with 1 cup flour, one with the beaten eggs and one with the corn flakes. Coat the balls first in the flour, then in the egg, and finally in the corn flakes. (Check out the fake-out chicken nuggets!) Arrange the balls on a baking sheet and bake in the oven until golden brown and cooked through, about 20 minutes.
While the nuggets are baking, place a small saucepot over medium heat with the butter. Sprinkle 2 tablespoons flour over the butter and cook for about 1 minute. Whisk the stock and hot sauce into the pan, season with salt and pepper, and simmer until thickened, 2-3 minutes.
Serve the oven-baked chicken nuggets with the buffalo dipper alongside.