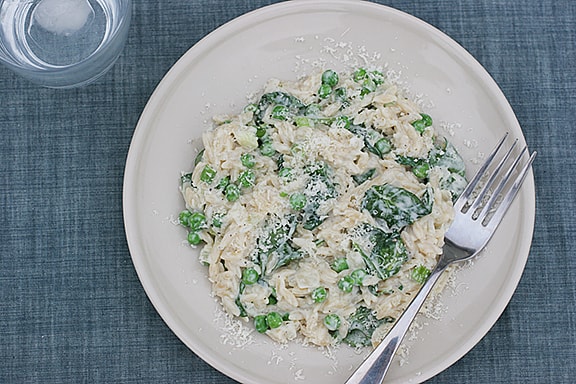 I have really been intrigued by the idea of using orzo for risotto ever since seeing an episode of Kelsey's Essentials where she uses orzo.  It's been on my "to try" list for some time now, so when I saw this recipe in March's issue of Every Day with Rachael Ray, I immediately marked it to make.
This was actually really good.  But honestly, I don't know why it's called risotto.  It's not cooked like risotto, and if "risotto" wasn't in the title, I would have never associated this with risotto.  I still want to try Kelsey's version, because it is cooked like risotto, so I think it would be more similar to actual risotto.  But regardless of it's name, I did like this.  The onion taste was prevalent – with 2 different kinds of onions, and I love the freshness of the peas.  It's a perfect, fresh, weeknight meal!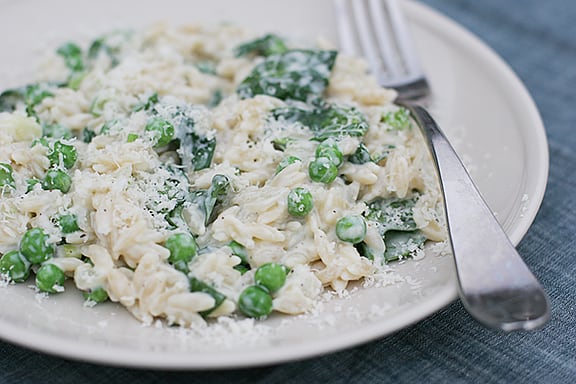 Orzo Risotto with Spring Greens
from Every Day with Rachael Ray March 2011
serves 4
total time:  25 minutes
2 cups orzo pasta
1 tablespoon extra virgin olive oil
1/2 onion, finely chopped
salt and pepper
1 pint half and half
1 1/2 cups grated Parmesan cheese
1 1/2 cups frozen peas
2 cups packed baby spinach
6 scallions, thinly sliced
In a large pot of boiling, salted water, cook the orzo until al dente, 8 to 10 minutes. Drain, reserving 1/2 cup ofStir in the cooked orzo, reserved pasta water and the peas; season with salt and pepper. Cook until warmed through. Remove from the heat and fold in the spinach and scallions. Serve sprinkled with the remaining 3/4 cup parmesan cheese. the pasta cooking water.
Meanwhile, in a large, deep skillet, heat the olive oil over medium heat. Add the onion, season with salt and pepper and cook until just golden, about 5 minutes. Stir in the half-and-half and 3/4 cup parmesan cheese and simmer, whisking often, until just thickened, 2 to 3 minutes.