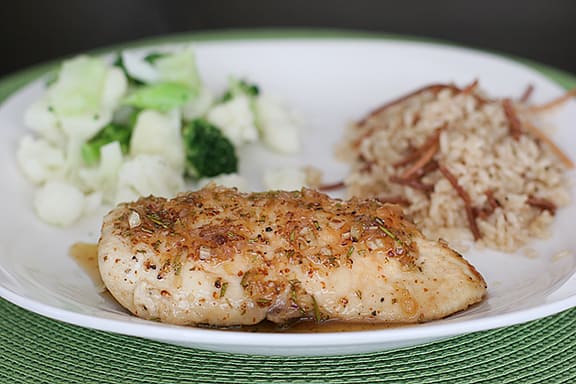 I am addicted to our DVR. I don't know what I would do without it. Actually, I do know – I wouldn't watch very much tv at all!! I rarely watch anything on tv when it is actually on anymore. That's life with a toddler, I guess. But when I do get a few moments, I flip to the DVR and have a selection of shows waiting for me.
You all already know that I am a Rachael Ray fan. So, naturally, one of the shows on my DVR is the Rachael Ray Show. I am so far behind on watching them right now, though. That's what happens when a show is on every day! But I do go back and watch them, and this dish came from one that I just watched that was on back in February. I added it to my menu this past week. I did like this recipe, but it wasn't my favorite. Maybe it's because I tend to think chicken cooked on the stove top drys out too easily. Maybe it's because we had chicken the night before. I'm not sure. I ate it all, and it was good, just not one of those you-have-to-make-this-right-now recipes (like the one yesterday).
I'm hoping more of you will start playing along with my Saturdays With Rachael Ray, but regardless, I'm going to keep doing it because it's helping me get through my huge list of RR recipes I want to try! Mr. Linky and the rules are below the recipe!
Honey-Rosemary Chicken
from The Rachael Ray Show
Serves 4
Total Time: about 25 minutes
2 tablespoons extra virgin olive oil
salt and pepper
4 6-ounce pieces boneless, skinless chicken breasts
1 large shallot, finely chopped
2 cloves garlic, finely chopped
3 sprigs rosemary, finely chopped
1/2 cup honey
1 rounded tablespoon Dijon mustard
juice of 1 lemon
Heat 1 tablespoon EVOO, a turn of the pan, in a large skillet over medium-high heat. Season chicken with salt and pepper. When oil smokes, add chicken to the pan and cook 6 minutes on each side. Remove from pan and cover with foil.
Reduce heat under pan to medium and add another tablespoon EVOO, a turn of the pan. Add shallots, garlic and rosemary to pan and cook 2-3 minutes. Add honey, stir in Dijon and lemon juice. Add chicken back to the pan and coat on all sides with the bubbling glaze. Turn off heat.
Rice Pilaf
from The Rachael Ray Show
Serves 4
total time: about 20 minutes
3 tablespoons butter
1/4 to 1/3 cup 1-inch pieces of broken spaghetti
1 cup white rice
2 cups chicken stock
Heat a pot with a tight-fitting lid over medium heat with the lid off. Melt the butter then add broken pasta to pot and toast to deep golden. Add rice and stir, add stock and bring to a boil. Cover pot and reduce heat to low or simmer. Cook 17-18 minutes then fluff rice with fork.