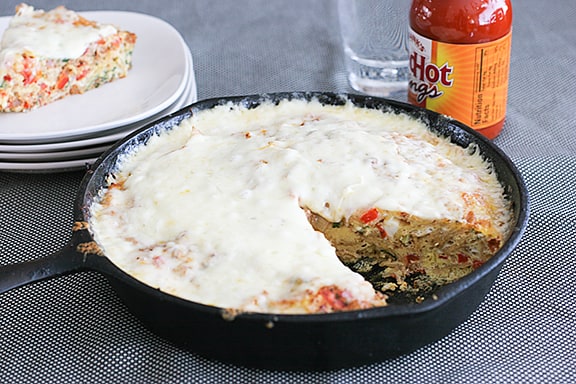 Have you ever felt so overwhelmed by the amount of recipes that you want to make?  I was catching up on a few episodes of the Rachael Ray Show today, and added a few more recipes to my "to make" list.  Now, I already post one RR recipe every week.  But seriously – I could make one of her recipes every night and not make everything on my list!!  Between the talk show, 30 minute meals and her magazine, I'm kept super busy.
Good thing every once in awhile she'll make something on her talk show that's also in the magazine.  Then I'm only adding 1 recipe instead of 2!  Plus, I usually know it's really a good recipe if she thinks it's good enough to make on her show and put in the magazine.  This was one such recipe.
Honestly, I would have probably skipped over this one in the magazine.  But after seeing her make it on her talk show, I couldn't get it out of my head.  So I added it to the meal plan.  This was seriously good.  Especially adding on some hot sauce.  The tortilla chips really soak into the tortilla, so you don't have the texture of the chips, but you do have that corn flavor.  The original recipe calls for Spanish chorizo, but it's impossible to find where I live.  This was a recipe that I could substitute in Mexican chorizo with no problem.  I only have 2 words of advice on this: 1 – don't overcook it.  Eggs are easy to overcook, and the end product will be quite dry if you cook it too long.  2 – be careful what kind of pan you cook it in.  The original recipe calls for a non-stick pan, but I decided to use my cast iron skillet.  It was a little bit hard to get the tortilla out of the cast iron skillet without it sticking to the bottom.
This is a great dish that packs a ton of flavor!
Chorizo-Tortilla Tortilla
adapted from Every Day with Rachael Ray March 2011
serves 4
total time: 30 minutes
2 tablespoons extra-virgin olive oil
1/3 pound Mexican chorizo, casings removed
4 plum tomatoes, seeded and chopped
1 medium onion, chopped
4 cloves garlic, chopped
1 red bell pepper, seeded and chopped
1 red chile pepper, such as fresno, chopped
salt and pepper
a handful of cilantro, chopped
4 handfuls unsalted thin tortilla chips, lightly crushed
12 large eggs, beaten
1 1 /2 cups shredded monterey jack cheese
hot sauce, to pass around the table
Preheat the oven to 425°. In a 10-inch, ovenproof skillet, heat the olive oil over medium-high heat. Add the chorizo and lightly brown, 2 to 3 minutes. Add the tomatoes, onion, garlic, bell pepper, chile pepper, salt and pepper; cook for 5 minutes. Scatter in the cilantro and tortilla chips. Add the eggs and season with salt and pepper. Stir to combine; let the eggs settle, then cook until set at the edges (some of the tortilla chips will pop up).
Transfer the tortilla to the oven and bake until cooked through, 15 to 18 minutes. Turn the oven to broil. Top the tortilla with the cheese and melt under the broiler. Pass the hot sauce at the table.