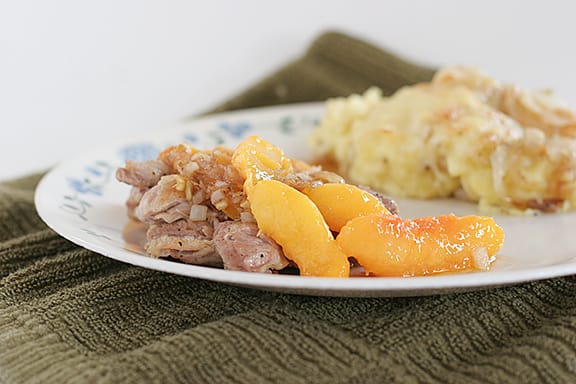 Have you ever cooked at someone else's house before?
We are currently staying at my in-laws' house. It's just across town, but they went out of town and asked if we could stay at their house to keep an eye on things and to take care of their dog. Of course we were willing to help. I know that cooking in someone's house besides your own is challenging, just because you don't know what they have and what they don't. So I've planned to cook very simply over the next week. But I needed to make my RR meal for the week, and I had bought the groceries for this meal earlier in the week, so I loaded them up and took them over to the in-laws.
Of course, I had to choose a recipe that used a ton of different plans. And I couldn't find the cheese grater, until my husband finally found it for me. And then all my mother in law uses is stainless steel cookware, and I'm used to using a non-stick skillet. Good thing I have those nectarines to cover up the chicken, because it totally stuck to the pan!
Once the meal was finally made, I was grateful. Let's just say that it took a lot longer than 30 minutes, with me searching through the cupboards for everything! But both my husband and I enjoyed this meal.
The original recipe called for peaches, but of course, I used nectarines because they were free for the picking just outside the door. I only made a half recipe of the potatoes – and it made a TON- but I'm grateful because another pregnancy craving I've been having is potatoes! This wasn't a "I'm blown away" meal, but it was a good, solid, seasonal meal.
Chicken and Nectarines
adapted from 30 Minute Meals
serves 4
total time: 20 minutes
2 tablespoons butter
6 nectarines, pitted and sliced (or 4 peaches)
1/2 lemon, juiced
1 1/2 tablespoons extra virgin olive oil
4 pieces boneless, skinless chicken thighs
2 pieces boneless, skinless chicken breasts
salt and pepper
1 shallot, chopped
1 2-inch piece of ginger, grated or finely minced
3/4 cup chicken stock
2/3 cup nectarine or peach preserves
2 teaspoons hot sauce (such as Frank's Red Hot)
2 tablespoon Worcestershire sauce
Heat a medium skillet with the butter over medium heat. Add the nectarines and the juice of 1/2 lemon, and cook until tender and lightly golden, 10 minutes. Turn off the heat.
While the nectarines cook, heat 1 tablespoon extra-virgin olive oil, a turn of the pan, in a large skillet over medium-high to high heat. Cut the chicken breasts in half across the center of each breast to make 4 equal portions. Add the chicken breasts and thighs to the pan and season with salt and pepper, to taste. Cook until the chicken is cooked through, about 12 minutes, then remove to a plate and cover with foil.
Drizzle the pan with the remaining extra-virgin olive oil, half a turn of the pan. Add the chopped shallot, and the ginger, and cook for 1 to 2 minutes. Stir in the stock, the preserves, hot sauce and Worcestershire sauce and season with black pepper, to taste. Cook over medium heat for a couple of minutes to thicken. Arrange the chicken and nectarines on a platter and douse with nectarine sauce. Portions are 1 piece of light meat and 1 thigh per person.
Sweet Onion Potatoes Au Gratin
from 30 Minute Meals
serves 4
total time: 25 minutes
2 tablespoons butter
1 large, or 2 medium sweet onions, such as Vidalia, thinly sliced
salt and pepper
1/2 teaspoon ground thyme
1 bay leaf, fresh or dried
2 pounds baby Yukon gold potatoes
1/2 to 2/3 cup cream
1/2 cup Parmigiano-Reggiano
1/2 pound brick Swiss or Gruyere cheese, grated
Heat a small skillet with the butter over medium heat. Add the onions, season with salt ground thyme, bay leaf and cook until very soft and sweet and lightly caramelized, 20 minutes. Season with salt and pepper, to taste, and discard the bay leaf.
While the onions cook, put the potatoes in a medium pot and cover with water. Bring to a boil, then salt the water and cook to tender, 12 to 15 minutes. Drain and return the potatoes to the hot pot. Mash the potatoes with the cream and Parmesan and season with salt and pepper, to taste.
Preheat the broiler.
Arrange the mashed potatoes in individual gratin dishes or 1 shallow casserole. Top the potatoes with the onions and Gruyere cheese. Put them on a sheet pan and brown under a hot broiler until bubbly, about 2 minutes. Remove from the oven and serve hot.
———————————–
Saturdays with Rachael Ray rules:
* You can link any blog post, present or past, as long as it is a Rachael Ray recipe.
* Your blog post must link back to this post, mentioning Saturdays with Rachael Ray.
That's it!! Simple, simple. Just make sure the recipe is a Rachael Ray recipe – it doesn't matter if it comes from her talk show, 30-Minute Meals, her magazine, or one of her cookbooks. But it must be from Rachael Ray. Any posts that don't follow these two rules will be deleted from the Mr. Linky.
I can't wait to see what you've made!