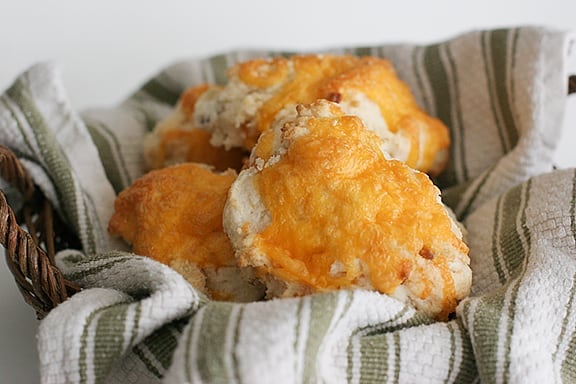 The other day, I claimed my love of butter, cheese and pasta during this pregnancy.  Well, add in bacon as well.  I can't seem to resist it, and I've been going through more of it lately than I normally do!
This recipe has actually been on my "to try" list for a little while now, and when I made some soup the other day, I decided these would be the perfect accompaniment.  And I was right!  These are so simple – using a baking mix (such as Jiffy or Bisquick) to get you started.  I often don't serve sides at dinner, just because it's so much effort and that much more time, but these are so easy that you can easily add them on to any dinner!
Cheese and Bacon Biscuits
from 30 Minute Meals
serves 4
drizzle of extra-virgin olive oil
2 slices bacon, finely chopped
1 small box biscuit mix or measured mix for 8 drop biscuits
1 cup shredded sharp Cheddar cheese
1/4 teaspoon freshly grated nutmeg
Preheat the oven to package directions for the drop biscuits.
Heat a small skillet with a drizzle of oil, over medium-high heat. Add the bacon and cook until crisp, about 2 to 3 minutes.
Put the biscuit mix in bowl, and add the bacon, 1 tablespoon of the drippings and the nutmeg. Add the ingredients according to the package directions to form a drop biscuit. Fold in half of the cheese and arrange the drop biscuits on a baking sheet. Sprinkle the tops of the biscuits with the remaining cheese and bake until golden, about 10 to 12 minutes.
Remove from the oven to a serving dish and serve hot.