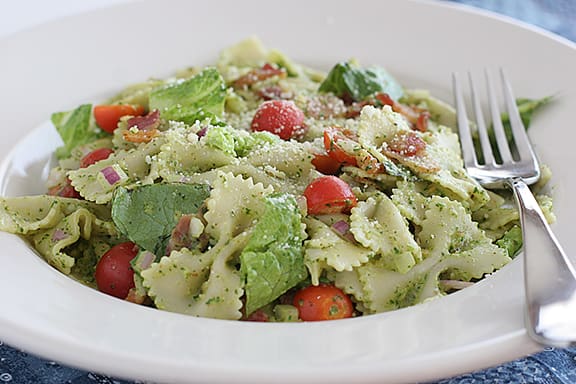 Ok, so I fell to peer pressure. A couple of weeks ago, I asked you all if you were on Twitter. To be honest, I'm surprised at how many of you said that you aren't even on it! I thought I was the only one! But, when I was at Baking with Betty, some of the girls talked me into joining, and so now I'm officially on. And it's been a lot more fun than I expected it to be. I still am learning how everything works and what everything means, but feel free to follow me – it always feels good to have friends! I've added some temporary buttons to the right of this post so you can choose to follow me on Twitter or on Facebook if you want!
But onto today's RR recipe. I loved this one. It tasted fresh, and surprising light for a pasta dish. I was taken in by the smoked almonds in the pesto, and I loved the smokiness that those and the bacon brought to the dish. I wasn't so sure how I would like the lettuce, but I did like it. I'm not sure how well it's going to work out for leftovers, but I guess we'll see today for lunch! I did use romaine, because that's the best I could find at my grocery store that day.
One complaint I do have – and maybe it's not a complaint but an observation about most of RR's recipes – the servings sizes are HUGE. This recipe is supposed to feed 4. Do you realize how much pasta 1/4 pound of pasta is? I made half this recipe and still feel like I could have easily served 4 with it. So I've adjusted the serving sizes to what I think they should be.
I also wanted to give a little shout out to Madeline at Everything Rachael Ray. If you are a fan of RR and/or her recipes, you really should check out her blog. She's been kind enough to mention my blog in more than one post, so I want to show her that love right back!
Bowties with Smoked Almond Sauce, Bacon, Lettuce and Tomatoes
adapted from Every Day with Rachael Ray August 2010
serves 6-8
total time: 30 minutes
salt and pepper
1 pound bowtie pasta
about 1/3 cup extra-virgin olive oil, plus more for drizzling
12 slices bacon, cut into 1/2-inch pieces
1 bunch flat-leaf parsley, trimmed (about 2 cups loosely packed)
a couple of handfuls of grated Parmigiano-Reggiano cheese
3 to 4 tablespoons smoked almonds
1 clove garlic, grated
1 pint cherry tomatoes
1/2 small red onion, finely chopped
1 head bibb or butter lettuce, leaves separated and torn
Bring a large pot of water to a boil. Salt it then add the pasta and cook until al dente. Reserve a ladleful of the cooking water and then drain the pasta.
Meanwhile, heat a small drizzle of EVOO in a skillet over medium-high heat and add the bacon. Cook until it is crisp, then remove to a plate to drain.
Combine the parsley, almonds, cheese and garlic in a food processor and pulse until it is finely chopped. Stream in the EVOO until it forms a thick pesto.
Scrape the pesto into a large bowl and add the cooking water, tomatoes and onion. Season with salt and pepper. Add the pasta and toss to coat. Add in the bacon and lettuce. Serve.