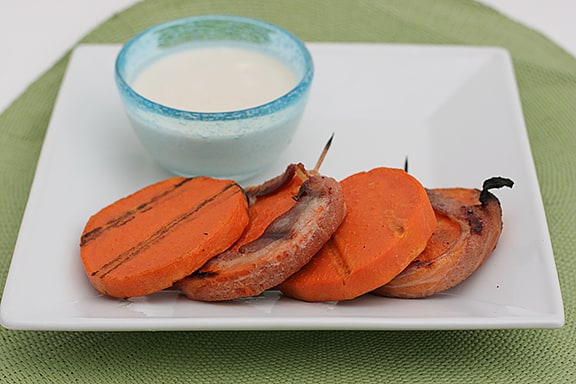 Oh, the life of a food blogger…
It's so funny, because as a food blogger I see a rainy night and I don't want to cook because pictures won't be that great without natural light. Where as before I was a food blogger, those rainy nights were my favorite for cooking! Anyhow, dinner time was right around the corner, and huge rain clouds rolled in. I was kind of bummed, because I was a procrastinator in getting my RR recipe made this week, and I only had this one chance. So bad pictures or not, I was making dinner. Then the rain came down, and the sky cleared up! I headed out, started up the grill, and got to making dinner. The sweet potatoes were boiled and cooling, and things were moving along nicely, and then my phone rang. Normally, I would ignore the call, but it was a call I had been waiting for. But of course, once I got off the phone, the rain clouds had moved back in. I moved as quickly as I could to get dinner on the grill. And because it was so dark, I had to take the picture outside if I wanted any natural light at all. So there I am, snapping literally 5 pictures before the rain starts to fall. It seriously started coming down the minute I had grabbed everything and ran back inside the house!
I am glad that I had that little adventure, though, because this was so delicious. Grilled sweet potatoes – yum. Grilled sweet potatoes wrapped in bacon – YUM. Grilled sweet potatoes wrapped in bacon served with a sour cream/maple syrup sauce – HEAVENLY!! I asked on my Facebook page the other day what your favorite was to eat sweet potatoes is, and this is going on my list as one of my favorites. I know it's really a side dish, (Rachael served hers with some chicken kabobs), but I was happy to eat just this for dinner!
You may notice, though, that mine aren't skewered. Well, I tried, but my skewers were just way to big around and the potatoes kept breaking apart. So I used toothpicks, which isn't a great idea because they catch on fire and burn away, but it still kind of worked!!
Bacon Wrapped Sweet Potato Kabobs
adapted from The Rachael Ray Show
serves 4
total time: 20 minutes
2 large sweet potatoes, cut into 24 1/2-inch rounds
6 slices of bacon, halved
olive oil
salt and pepper
2/3 cup sour cream
1/3 cup maple syrup
Place the sweet potatoes in a large pot and fill with water. Bring to a boil, then boil for 7 minutes. Drain the potatoes and let cool.
Once cool, season the potatoes with salt and pepper. Wrap 12 slices of sweet potato in bacon and skewer, layering every other potato with bacon wrapped slices. Skewer the potatoes so that as much surface area is exposed as possible. Dress the potato kabobs with oil or spray with cooking spray and season with salt and pepper.
Grill the kabobs for about 12 minutes, or until the bacon is cooked and the potatoes are marked.
Combine the sour cream and maple syrup and serve as a dipper.