Back on March 27th, 2010, I posted my first "Saturdays with Rachael Ray" post. It's an idea that came to me on a whim, and it has turned into one of my favorite days to post!! I've always had a love for Rachael Ray's recipes, and I've loved having this day set aside, just to feature her recipes.
A little while back, I got a message on Twitter that was one of the most exciting messages I've received since starting this blog. It was from the Rachael Ray magazine, and they had seen what I've been doing, and wanted to feature me in an upcoming issue.
I could hardly believe it. I'm pretty sure I was jumping up and down. 🙂 And the day has finally come. My November issue arrived last week, and it was so exciting to open it up and see a few of the recipes that I've made from the magazine. Talk about a blogging high!!  (You can find the November issue on store shelves starting this weekend.  It's the special holiday issue, so this is one that you'll want to pick up!)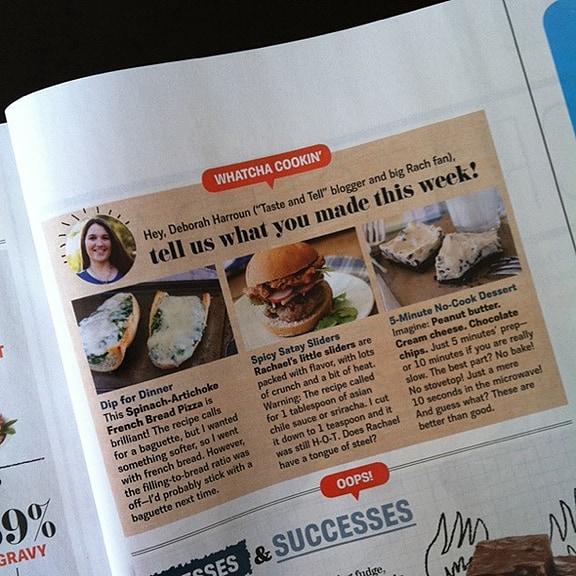 I actually had a recipe to share with you today, but instead, I wanted to take this opportunity to tell all of you thank you for reading. Thank you for commenting. Thank you for linking up your Rachael Ray recipes every Saturday. I love that I get to do this every day, and I love sharing my finds with you all!! So, in lieu of today's recipe, I thought I'd re-post some of my past favorites. All of these come from the magazine. The first 3 recipes are the recipes that were pictured in the magazine. And every single one was delicious!!  (Click on the picture to link through to the post.)
——————————–
THE GIVEAWAY!!
While I was talking to one of the ladies at Every Day with Rachael Ray, I mentioned that I was going to hold a giveaway here, just because I was so honored and excited to be featured in the magazine. They graciously sent along a beautiful red Bubble and Brown set for me to offer up in the giveaway!! And you all don't know how tempted I was to just keep this set for myself – I've been wanting a set!! But alas, it will be going to one of you…
And I couldn't stop just there. I will also be throwing in:
A copy of Rachael Ray's Look and Cook cookbook, and:
a 1 year subscription to Every Day with Rachael Ray!!
I really do love Rachael and her recipes, and now one of you will get to share the love!!
Here's how you can enter:
Mandatory: Comment below. Say whatever is on your mind!!
Extra entries:
*Follow Taste and Tell on Facebook
*Post about this giveaway on Facebook, linking to this post
*Follow Taste and Tell on Twitter
*Tweet about this giveaway, including @tasteandtell in the tweet
*Follow Taste and Tell via RSS or by email
*Follow Every Day with Rachael Ray on Twitter
*Follow Every Day with Rachael Ray on Facebook
Note: for any of the extra entries, make sure you leave a separate comment for each.
*This giveaway is open to US residents.
*I'm leaving this one open a little longer than normal. This giveaway will be open from today until Friday, October 28th at midnight MDT. The winner will be emailed on October 29th.
**Disclosure – The folks at Every Day with Rachael Ray have provided the Bubble and Brown set for this giveaway. The cookbook and magazine subscription are being provided by me. I was not compensated in any way for this giveaway.
——————————–
And as always, please link up your Rachael Ray recipes!
Saturdays with Rachael Ray rules:
* You can link any blog post, present or past, as long as it is a Rachael Ray recipe.
* Your blog post must link back to this post, mentioning Saturdays with Rachael Ray.
That's it!! Simple, simple. Just make sure the recipe is a Rachael Ray recipe – it doesn't matter if it comes from her talk show, 30-Minute Meals, her magazine, or one of her cookbooks. But it must be from Rachael Ray. Any posts that don't follow these two rules will be deleted from the linky. I can't wait to see what you've made!