My current home has taught me a lot about what I want in my next home. Like more than 1 bathroom. And a walk in closet. And a much better refrigerator.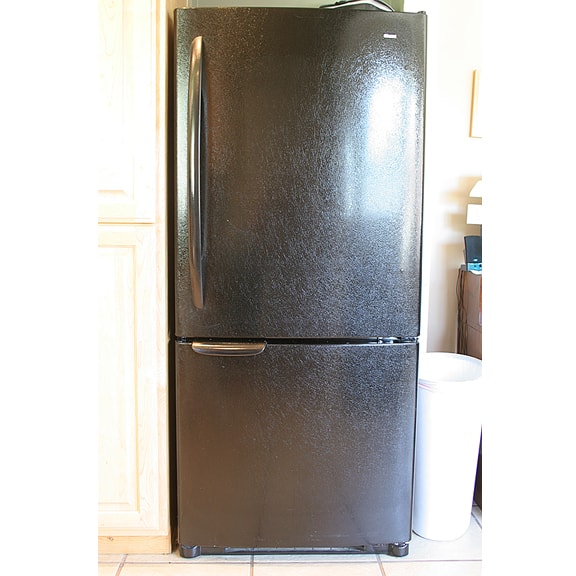 Meet my refrigerator. Sure, from the outside she doesn't look so bad. That's what I thought when I picked her out. But little did I know…
You see, my husband and I bought our house a few months after we got married. We weren't really looking to buy a house, but we happened upon this house through an acquaintance. It was basically stripped down. No floors, no appliances, no fixtures. This house was built in the 1950s, and the person we bought the house from had started a total remodel of the house but ran out of time and money. So we took on quite the project.
I won't even go into what a pain it was and how I will never again remodel an entire house, (some people are great at this – I am not). But one good thing that came out of the whole thing is my kitchen. To say that the kitchen is my favorite room in the house is an understatement. I love this room. But the fridge – that's a whole 'nother story. Where the refrigerator is, there is a little cubby area that it scoots back into. When we went to buy a fridge, we had to buy basically the smallest refrigerator on the market to fit in that cubby. And I have since learned that a fridge is one of the most important parts of the kitchen. We are currently in the process of selling our house, and I know that in our next house, the fridge will be a lot different!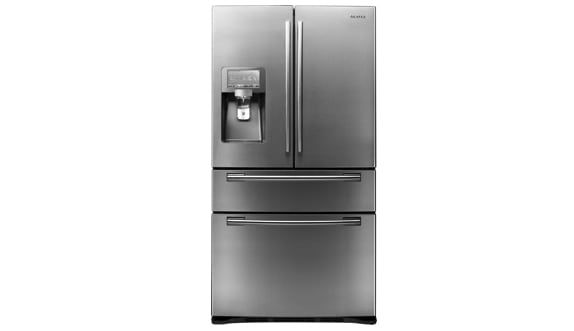 Enter in the Samsung LCD Refrigerator. Wow. Now that's a fridge. This is so much more than a refrigerator. It's a large capacity refrigerator. For me, that would mean no more taking everything out and reorganizing it all so it can fit after going to the grocery store. It has a FlexZone drawer – the perfect height for children to reach in to grab a snack! And this baby makes up to 7 ½ pounds of ice a day. That is huge for an ice-water addict like me. And one of the coolest features is that it has an 8" LCD WiFi screen with apps! Imagine – WiFi for the fridge! I will admit that as much as I want to be that ultra-organized person, it rarely happens for me. This refrigerator would definitely help me in that area! You can leave notes for your loved ones, display photos, listen to music, tweet, and access your Google calendar. And one of my favorite features? You can access hundreds of recipes from Epicurious! Now if only I could get it to do the dishes after dinner…

Blogher and Samsung are giving away a $100 gift card to Best Buy to one of my readers! Here's how you can win!
No duplicate comments.
You may receive (2) total entries by selecting from the following entry
methods:
a) Comment below and tell me – What would you want your dream appliance to be able to do? Would it be the laundry? The dishes? To be able to get your kids to eat their veggies? I want to hear what you come up with!
b) Tweet about this promotion and leave the URL to that tweet in a comment
on this post
c) Blog about this promotion and leave the URL to that post in a comment on
this post
d) For those with no Twitter or blog, read the official rules to learn about
an alternate form of entry.
This giveaway will run from 7/25/2011 to 8/15/2011
This giveaway is open to US Residents age 18 or older
Winners will be selected via random draw, and will be notified by e-mail.
You have 72 hours to get back to me, otherwise a new winner will be
selected.
Visit the Official site
Visit the Official Rules
Visit the Prizes & Promotions section