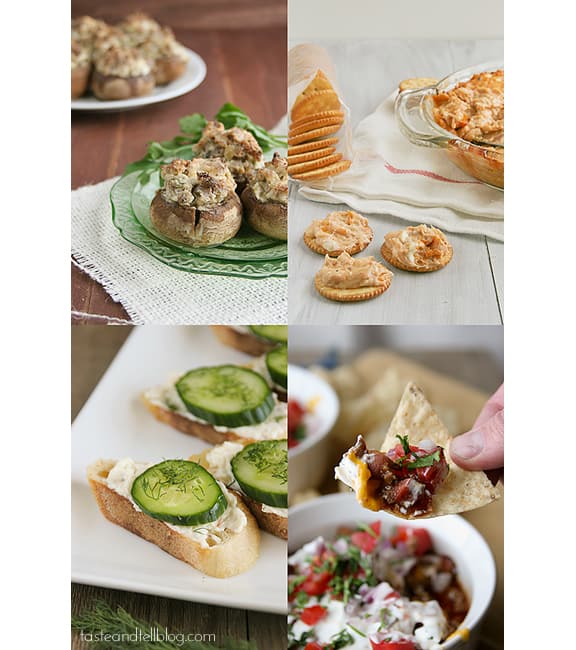 Sausage Stuffed Mushrooms * BBQ Chicken Dip
Cucumber Dill Toasties * 7 Layer Chili Dog Dip

Do you have plans for New Year's Eve yet?
Usually, my family all gets together and we rent a cabin. It's a fun time, laying around in our jammies for a few days, eating lots of food, and playing lots of games. I seriously look forward to it every year. Unfortunately, this year, we weren't able to find a cabin, so our plans have changed. We will still all be getting together, but just not for the whole weekend, and not in the mountains somewhere.
One thing that will not change, though, is our appetizer tradition. Every New Year's Eve, we all just bring a few appetizers instead of having a meal. It works, not only because it is easier, but because then we can have an excuse to eat all night long! 🙂
If you are looking for a way to have an easy, stress-free New Year's Eve, Sam's Club is there for you. Whether you are looking for fresh food items or ready-made appetizers or gourmet baked goods, they have you covered. Above are some of the appetizers I'm thinking of bringing to our family party, and Sam's Club is a great place to pick up the ingredients to make these delicious appetizers. In fact, for the stuffed mushrooms, the mushrooms from Sam's Club are almost a must because they are so big, and you just can't find great mushrooms like that at the normal grocery store!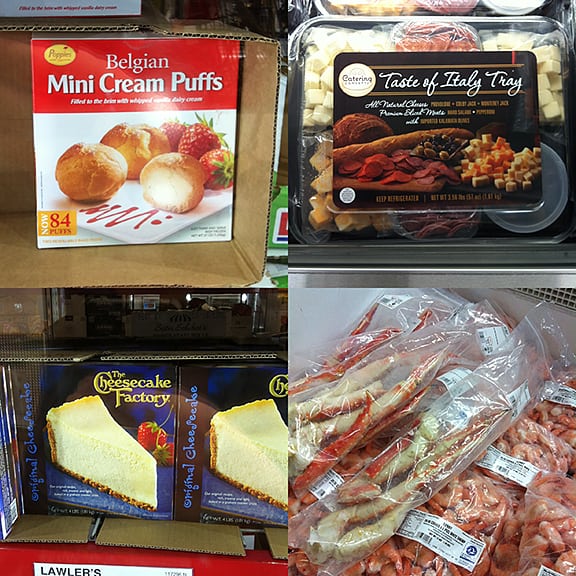 And one I love to do is to browse the aisles at Sam's Club to check out all of the ready made foods they have. The cream puffs are always a favorite of mine. Some other great choices would be the Artisan Fresh Artichoke Dip – a super easy heat and serve dip – or the Daily Chef Chicken and Bacon Bruschetta that just needs to be popped into the oven. You can't go wrong with Cheesecake Factory Cheesecake, either! And don't forget the tableware items – all to help you create the perfect table. They have the Bella Professional Triple Slow Cooker which is great for cooking and serving 3 different dishes simultaneously, or the Tiered Buffet Server.
Sam's Club is there to help you save time with your New Year preparations. Did you know that they also have a 200% satisfaction guarantee on fresh meats, crisp produce, savory seafood and gourmet-to-go bakery items? You can always feel good about the quality of food that you are serving your friends and family.
THE GIVEAWAY
Sam's Club has provided a Modern Cocktail Holiday Mixer Variety Pack – with 3 salts for rims and 15 flavors – perfect for cocktails or mocktails! – for me to give away to one of you!!  To enter to win, just comment below about how you do "Luxe for Less" during the holidays.
The giveaway will go until January 1st at 12pm MST.  Winner will be emailed and announced on the 2nd.
Good luck!
**disclosure – I was provided membership and a gift card to Sam's Club.  Sam's Club is providing the giveaway prize and will be shipping it directly to the winner.**