Rocky Road Sandwich Cookies – Marshmallow cream is sandwiched between two chocolate chip cookies in these rocky road themed cookies.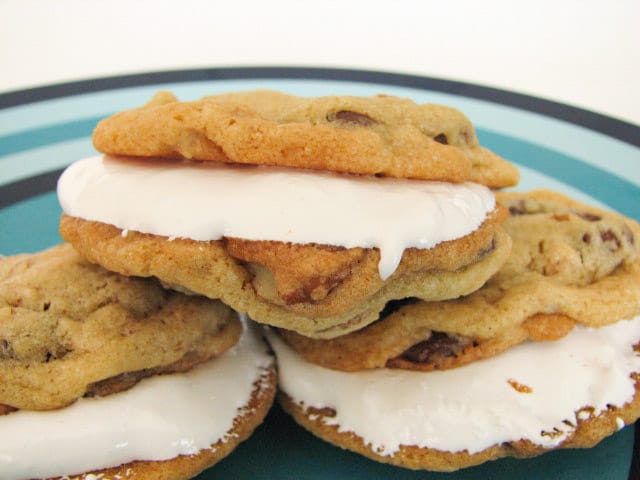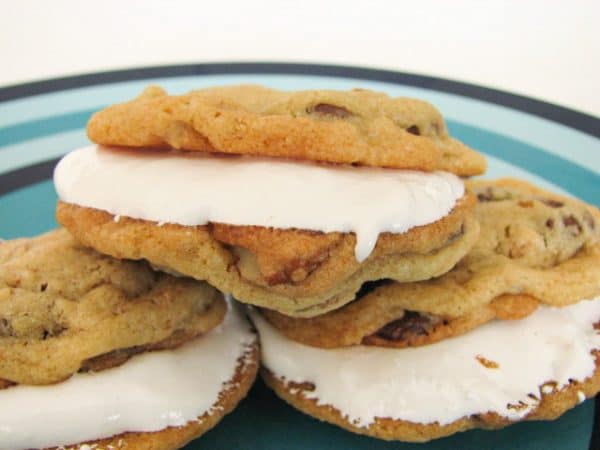 We are in the countdown – 5 days from now, I will be in New York City. I am so excited, but a little bit stressed out right now. For the first time in a VERY long time, my job has actually been busy. So trying to get everything done before I leave has proved to be a little difficult. Not to mention that it has taken away from my precious blogging time! So I apologize right now if I haven't been around to everyone's blogs like I wish I could be. The next 3 days at work are going to be crazy, so I'm sorry for my absence around the blogging community!
But before I get to work, I wanted to bring you this cookie recipe that I made last week. It comes from the April issue of Every Day With Rachael Ray. The minute I saw these Rocky Road Sandwich Cookies, I knew I wanted them!
The actual recipe makes 5 large sandwich cookies. I made half the recipe, but made my cookies smaller – and actually ended up with 24 single cookies. It is a chocolate chip cookie, sandwiched with marshmallow cream to give it that rocky road spin. I am so glad I made these smaller, because this is a true sugar shock! I could eat one, and I was on sweetness overload. I would not recommend making them bigger because they are so sweet and a little goes a long way. They are also very messy, so I would suggest sandwiching them as you go along. As you can tell in the picture, even the 3 I sandwiched were slipping and sliding! The cookies themselves are actually really good chocolate chip cookies. There is no white sugar, just brown, and I really liked the flavor that they had. Plus, they were very soft, exactly like I love my chocolate chip cookies!!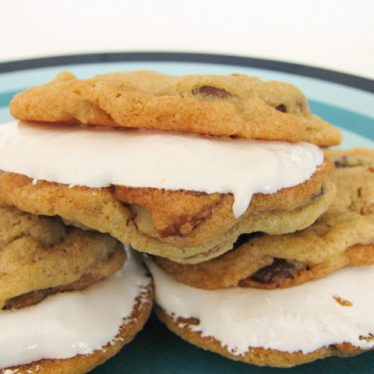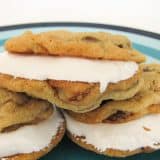 Rocky Road Sandwich Cookies
---
Author:
Yield: 5 large cookies 1x
Category: Dessert
Method: Baked
Description
Rocky Road Sandwich Cookies – Marshmallow cream is sandwiched between two chocolate chip cookies in these rocky road themed cookies.
---
Scale
Ingredients
1 stick (4 ounces) unsalted butter, at room temperature
3/4 cup packed dark brown sugar
1 large egg
1/2 teaspoon salt
1/2 teaspoon baking powder
1/2 teaspoon baking soda
1 teaspoon pure vanilla extract
1 cup plus 2 tablespoons flour
1 cup chocolate chips
1/2 cup chopped almonds
10 tablespoons marshmallow cream
---
Instructions
Preheat the oven to 350˚.
Line 2 large cookie sheets with parchment paper or nonstick baking liners.
Using a mixer, cream the butter and brown sugar until fluffy, about 5 minutes. Beat in the egg. Mix in the salt, baking powder and baking soda at low speed, then mix in the vanilla and flour. Stir in the chocolate chips and almonds.
Drop 10 rounded tablespoonfuls of dough onto the prepared cookie sheets. Bake the cookies until golden at the edges and slightly soft in the center, about 12 minutes. Transfer the cookie sheets to racks to cool completely.
Sandwich the cookies with 2 tablespoons marshmallow each.
Recipe Notes:
Every Day with Rachael Ray May 2008