Roasted Root Vegetable Pizza – made with a variety of roasted root vegetables, this artisan pizza elevates pizza night!
So I think it's pretty obvious that I love cookbooks. I don't even have an idea of how many I own right now, (especially since they are mostly all in storage right now), but I know I have well over 100 right now. With that many cookbooks, it's hard to choose favorites. But every once in awhile, I come across a book that I want everyone to know about – for everyone to have. This cookbook – Artisan Pizza and Flatbread in Five Minutes a Day – is one of those cookbooks.
I was actually sent a review copy of this book awhile back. And admittedly, I was a bit intimidated to get started in it. There is a lot of information in this book, and I wanted to do it justice. Let's just say that I really should have gotten into this book the minute it arrived on my doorstep. This dough is so extremely easy – anyone could make pizza at home with this book!!
There are actually several different kinds of dough in this cookbook, but for this review, I only made the lean dough and used it on 3 different recipes from the book. And every single one of them was a winner. This, ladies and gentlemen, is a cookbook I suggest that you add to your Christmas list ASAP!
This recipe takes pizza to a whole new level. Instead of your typical pepperoni-and-cheese pizza night, you step it up a little and make a more sophisticated version. This pizza was SO.GOOD. This pizza made me happy. What more can you ask for!?! I did cut my vegetables a little bigger than specified in the recipe, but that is the only change I made. (recipe included below)
Overall thoughts…
I've seen this cookbook on several people's "must haves" for Christmas lists. And I totally understand why now. The only downfall to this cookbook that I can even think of is that I don't usually make pizza often enough to use up a batch of dough in 14 days, but then again, the recipe is easily halved, and the dough can be frozen as well. So I guess that means there are no complaints!!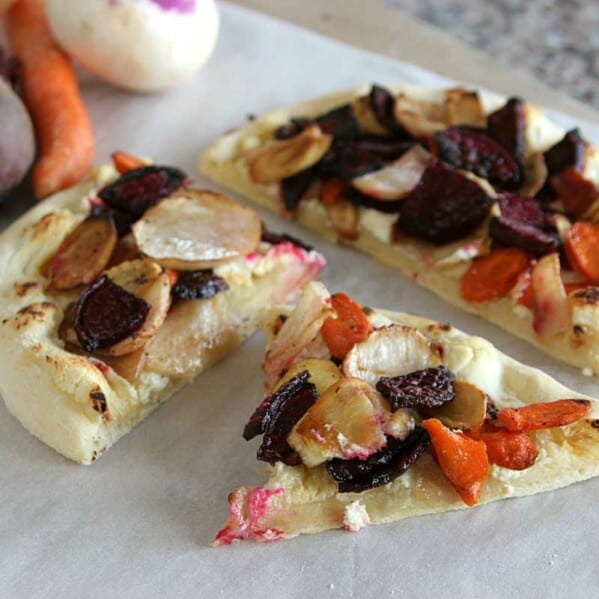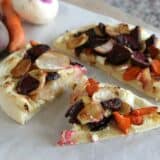 Roasted Root Vegetable Pizza
---
Author:
Prep Time: 20 minutes
Rising/Resting Time: 3 hours
Cook Time: 10 minutes
Total Time: 4 hours
Yield: 1 pizza, plus extra dough 1x
Category: Main Dish
Method: Baked
Cuisine: Italian
Description
Roasted Root Vegetable Pizza – made with a variety of roasted root vegetables, this artisan pizza elevates pizza night!
---
Scale
Ingredients
Dough
3 1/2 cups (1 pound 12 ounces) lukewarm water (100F or below)
1 tablespoon (0.35 ounce) granulated yeast
1 – 1 1/2 tablespoons (0.63–0.94 ounce) kosher salt
7 1/2 cups (2 pounds 6 ounces) unbleached all-purpose flour
Roasted Root Vegetable Pizza
1/2 pound dough
7 cups 1/4-inch diced root vegetables (red beets, yellow beets, parsnips, carrots, turnips, or your favorites)
1/4 cup olive oil, plus more for drizzling
1/4 cup aged balsamic vinegar
salt and freshly ground black pepper
1/2 cup fresh ricotta cheese
1 garlic clove, finely minced
flour, cornmeal, parchment paper or rice flour for the pizza peel
---
Instructions
To make the dough:
In a large bowl, (preferably one with a non-airtight lid), mix together the water, yeast and salt.
Measure the flour with the "scoop and sweep" method, or weigh the flour. Add in the flour to the wet mixture, mixing with a wooden spoon until all the flour is incorporated. You may need to use wet hands to get the last bit incorporated.
Cover with a non-airtight lid and allow to rise at room temperature until the top begins to flatten, about 2 hours. Don't punch down the dough.
After rising, refrigerate and use over the next 14 days.
**the dough is easier to use when it is cold, so before using it for the first time, it's best to refrigerate overnight, or for at least 3 hours.
To make the pizza:
Place a baking stone in the oven.
Toss the vegetables, olive oil, vinegar, salt and pepper together in a large bowl. Lay them out in a single layer on a baking sheet. Turn on your oven to its highest setting. Place the vegetables in the oven (they will roast as your oven preheats). Turn the vegetables often to make sure they don't burn.
When the oven is preheated, the vegetables should be soft. Remove them from the oven and set aside.
Sprinkle a pizza peel generously with flour. Dust the surface of the dough with flour and, using a pair of kitchen shears or a serrated knife, cut off a ½-pound portion, about the size of an orange. Dust the dough with more flour and shape it into a ball by pulling all the sides around to the bottom, rotating the ball a quarter turn as you go.
Flatten the dough with your hands or by rolling out with a rolling pin on a floured surface. Roll into a circle, ⅛-inch thick. Dust with flour to keep the dough from sticking. Transfer the dough to the pizza peel, unless you stretched it on the pizza peel. The dough should have enough flour on it so that it will move easily from the peel to the pizza stone.
Spread the ricotta and garlic evenly over the dough. Scatter 1¼ cups of the roasted vegetables over the dough and drizzle with a small amount of olive oil. Sprinkle with salt and pepper.
Slide the pizza onto the preheated pizza stone. Check for doneness at 8-10 minutes. If one side is browning faster than the other, turn the pizza.
Allow to cool slightly, then cut into slices and serve.
Recipe Notes:
Recipe slightly adapted from Artisan Pizza and Flatbread in Five Minutes a Day