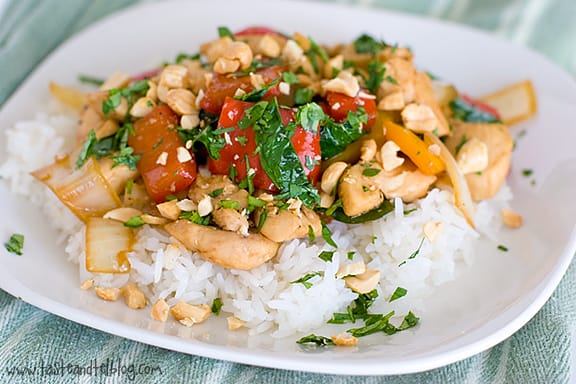 I was talking to one of my sisters the other day, and she mentioned that she hadn't had very good luck with the few Rachael Ray recipes she had tried. It's funny, because there are only a handful of her recipes that I haven't liked, and I've tried a lot of her recipes!! So I decided to go through what I had made to make a list of recipes I thought she should try. Before I even started looking through my past recipes, this recipe popped into my head. I had made it before, and I know at least one of my other sisters had tried it and loved it. And then I started craving it!! After pulling a couple of bell peppers from the garden, I decided that I should make this before the frost hits and I lose my basil plant, because buying this much basil any other time of year would break the bank!!
A few changes I made this time, using what I had on hand:
*I didn't use the Asian chili oil because I didn't have any. This made it so I lost the "spicy" aspect, so I just squirted on some Sriracha (which is what I did last time as well). But make sure if you do this to not use too much – that stuff is potent!
*I used a red bell pepper and a yellow bell pepper. Bounty from the garden!
*I left out the bean sprouts because I didn't have any.
See the first time I made this recipe here!
Spicy Thai Chicken
An easy Thai inspired dish with chicken, bell peppers and basil.
Ingredients
1½ cups jasmine rice
1 tablespoon light vegetable or peanut oil
1 tablespoon Asian hot chili oil
1½ pounds chicken breasts
1 onion
2 red bell pepper
4 cloves garlic
2 cups fresh bean sprouts
1 teaspoon coarse black pepper
¼ cup tamari (dark soy sauce)
A few dashes Thai fish sauce, about 1 teaspoon or so
2 cups, about 40 leaves, fresh basil
¼ cup salted peanuts
A handful of cilantro
Instructions
Cook the rice according to the package directions.
Heat the vegetable oil and the Asian chili oil in a large non-stick skillet over high heat. Cut the chicken into bite sized pieces. Add to the hot oil and cook until no longer pink, 2-3 minutes. Push the chicken off to the side of the pan and add the peppers and onions. Stir fry for another 2-3 minutes.
Add in the garlic, bean sprouts, and pepper and cook for another minute. Stir in the tamari and fish sauce. Wilt in the basil. Remove from the heat. Serve over the rice, garnished with the peanuts and cilantro.