An easy slow cooker soup with all the flavors of chicken enchiladas.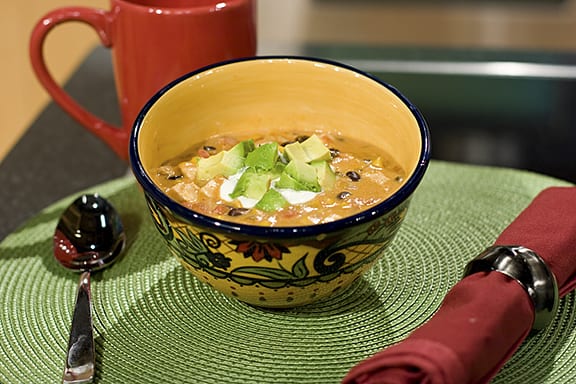 Yesterday, I had was invited to do the cooking segment on a local tv show called Studio 5. If you've been reading for awhile, you might remember that I went on a little over a year ago as well. I'm always so nervous, but really, once the filming is actually going, it's not so bad. I was actually more nervous this time than I was last time for some reason! I'm glad it's over with, although it really is a lot of fun.
In case you are not in Utah or if you missed the segment, here is the recipe – a recipe that I featured here back in January of 2009. This is a delicious soup that is extremely easy. And it freezes well! And if you really want to, here is the link for my segment on Studio 5 (sorry – no longer available!).

Chicken and Cheese Enchilada Chowder
An easy slow cooker soup with all the flavors of chicken enchiladas.
Ingredients
1 15-ounce can black beans, rinsed and drained
1 14.5-ounce can diced tomatoes, drained
1 10-ounce package frozen whole kernel corn
½ cup chopped onion
½ cup chopped yellow, green, or red bell pepper
1 10-ounce can enchilada sauce
1 10.75-ounce can condensed cream of chicken soup
2 cups milk
1 cup shredded Pepperjack cheese (4 ounces)
1 cup shredded cheddar cheese (4 ounces)
4 chicken breasts
Instructions
In a 3½ to 5 quart slow cooker, combine drained beans, drained tomatoes, corn, onion, and bell pepper. In a large bowl, whisk together enchilada sauce and soup. Gradually whisk in milk until smooth. Pour sauce mixture over ingredients in cooker.
Cover; cook on low heat for 6 to 8 hours or on high for 3 to 4 hours.
Cut chicken into bite sized cubes. Cook over medium heat until cooked all the way through. Add into soup.
Stir in shredded cheeses. Can be topped with avocado, sour cream, or crushed tortilla chips.