I have been blogging for nearly 6 years here at Taste and Tell. I've said it before, but things have definitely changed in those years, and around 1400 recipes later, I feel like I have learned quite a bit. One thing that has made the most drastic improvement over the years is my photography.
The funny thing is that the photography is what originally prompted me to start blogging. And honestly, it has been one of my biggest frustrations over the years. Because who wants to eat food that doesn't look good?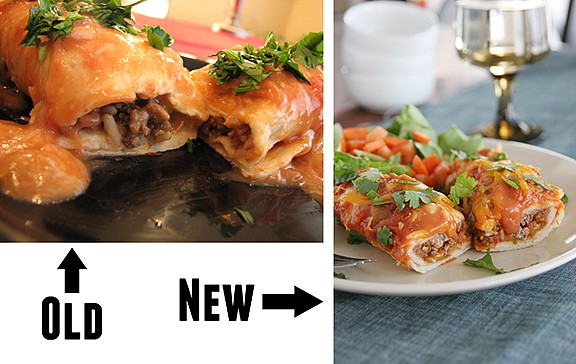 Case in point – these enchiladas. This right here is proof that my photography has grown leaps and bounds over the last 5 years!
Several months ago, I got the idea in my head that I wanted to start re-making and re-photographing some of the older recipes on my blog. Well, I think I've been having a bit too much fun with it, because when I sat down and made a list of everything that I've remade, the list was quite long. I thought about doing a new post for each of the recipes, but I decided that I didn't want these recipes to overtake the blog when they've already been posted about once before. So instead, I'll occasionally bring you one of these posts – highlighting some of the recipes that I've remade. And hopefully you'll find a few that you'll want to add to your list of to-make recipes!
So here is volume 1, with 8 of recipes I have remade in the last few months. There are lots more, so look for volume 2 in the near future!
Chocolate Oatmeal Coconut Cookies