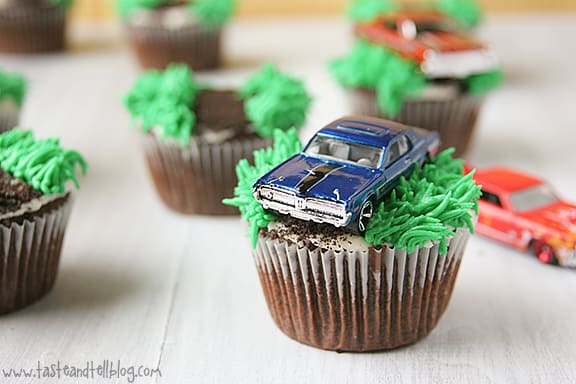 The search for the perfect cupcake continues…
A few months ago, I sat down to figure out what kind of cupcakes I wanted to make for my family birthdays, and realized that there were only boy birthdays that month.  All of them young boys.  And I got really excited – wanting to do something that they boys would all love.
The problem is that I'm not super creative, and I couldn't think of anything.  I thought of bugs, I thought of sports.  But I couldn't pin down exactly what I wanted to do.
And then I saw some cupcakes on Flickr.  (I can't remember where they are now!!)  And I thought they were super cute!!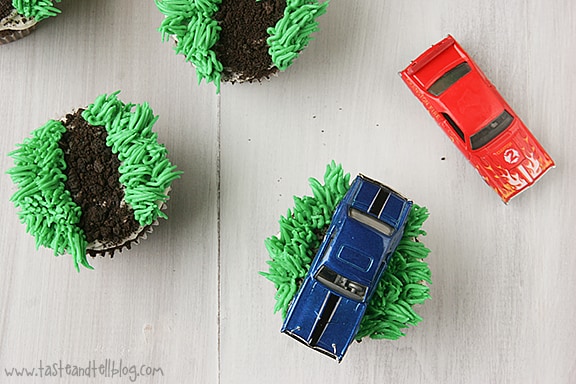 They had a racecar theme, but the cars were made from cookies.  Since I'm not a cookie decorater, (not even really a cupcake decorater, but I try!), I decided to buy toy cars that the boys could keep and play with after the cupcakes were gone.
I think these cupcakes would have turned out just how I wanted if I would have bought smaller cars.  I actually forgot to buy them, so I sent my husband to the store for me.  He bought exactly what I told him to get, but I think that if I wouldn't have forgotten and gone myself, I would have realized that these cars are too big and I should look for something smaller.  But regardless, I think they turned out kind of fun, and I know that I just need smaller cars next time!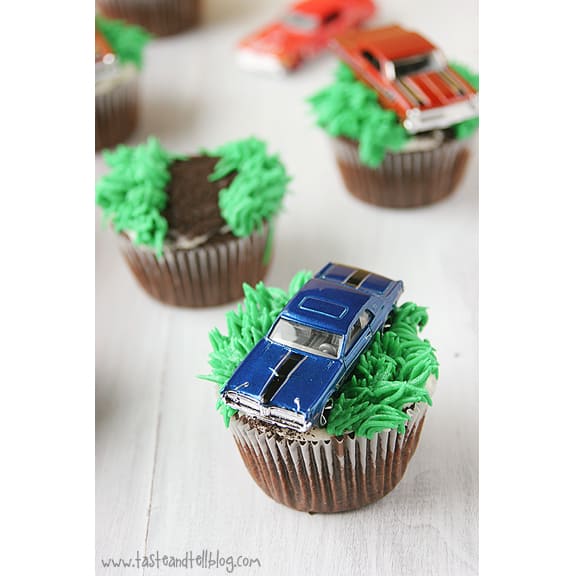 There is no recipe this time around.  Unfortunately, the cupcakes were not my favorite, so I'm not even going to take the time to type it up.  (If you are curious, I used the Magnolia Bakery chocolate cupcake recipe that can be found all over the internet.  They were quite underwhelming for me…)  For the decoration, just cover the top of the cupcake with white frosting, then pipe the grass on the sides of each cupcake with green frosting.  Use crushed oreos for the road, and top some of the cupcakes with cars.  The perfect birthday treat for almost every boy!