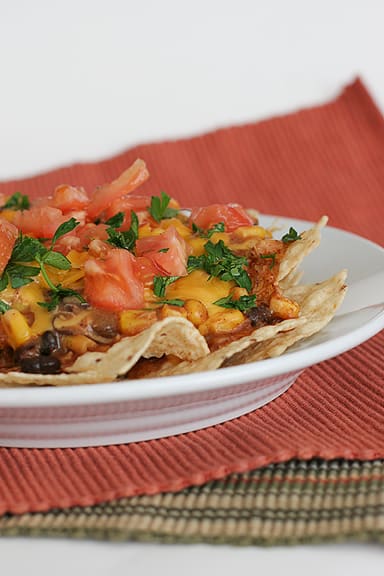 I remember the exact moment when I knew I was in trouble.  I was at the Campbell's kitchens, and I had just finished making my Chicken, Bacon & Cream Cheese Mini Taquitos.  All 3 of us contestants were carrying our dishes over for final judging.  I was standing next to Laura, and I caught a smell of her Quick Chicken Enchilada Nachos.  And that is when I realized, I didn't think I had a chance.  I didn't even have to taste them – just the smell had me convinced at how good these nachos were!!
So of course, I had to make them when I got home.  This was seriously the easiest meal that I've made in a long time.  And they were so delicious – exactly what I expected!!  I'm not surprised that this was the winning dish.  Do yourself a favor and make some of these – you won't regret it!!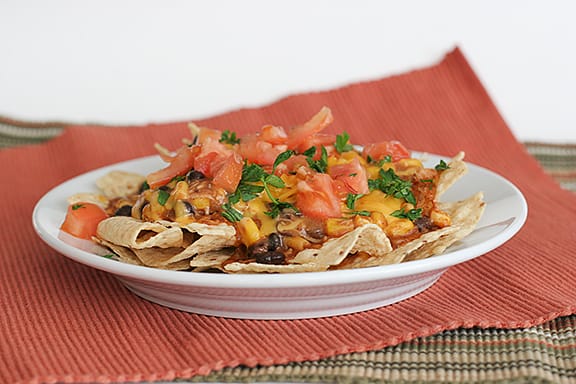 Quick Chicken Enchilada Nachos
Reprinted with permission from Real Mom Kitchen
Serves 6-8
Total time: 15 minutes
1 (15-oz) can corn, drained
1 (15-oz) can black beans, drained and rinsed
1 (12.5-oz) can Swanson Premium Chunk Chicken, drained and broken up
1 (10-oz) can enchilada sauce
1 (10.75-oz) can cream of mushroom soup
1 (4-oz) can green chiles
tortilla chips
cheese
any other additional topping you desire, such as fresh chopped cilantro, diced avocado, diced green onion, sliced olives, etc.
In a large sauce pan, combine corn, beans, chicken, enchilada sauce, mushroom soup, and green chiles. Cook over medium heat while stirring. Cook until heat through.
Serve over tortillas chips and top with any desired toppings.