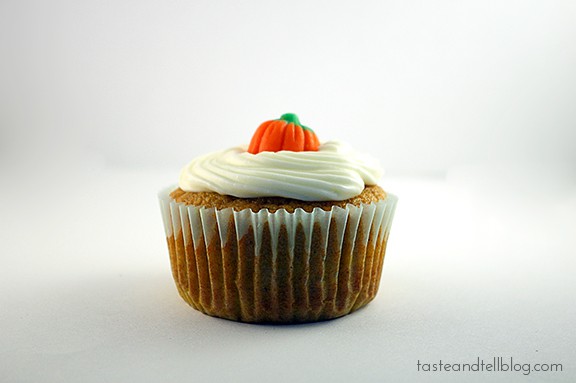 When October started, I declared it pumpkin treat month – meaning all of the birthday treats I brought in October would be pumpkin based. When I decided this, I knew I wanted to do a pumpkin cake roll, and also some type of pumpkin cake or cupcakes. I didn't have a go-to recipe for pumpkin cake, but I figured it would be easy enough to find one. Well, I was wrong. All of the recipes I found were for the bundt cakes that start with a cake mix. Although it sounded tasty, it wasn't what I was looking for. Luckily, one day while surfing food blogs, I ran across a post on YumSugar for pumpkin cake, two ways. The second version was exactly what I was looking for!!
I wanted to do cupcakes since they seem to go over better at work. Maybe it's the single serving portion, but cupcakes always get eaten while there is usually left over cake. I was a little worried for some reason, but these came out perfectly!! I didn't use the frosting recipe from YumSugar, but opted for my go -to cream cheese frosting. These cupcakes ended up being one of my favorites that I have made so far. The pumpkin flavor was perfect and the spices accented it wonderfully. This recipe will be sticking around my kitchen!!
Pumpkin Cupcakes
adapted from YumSugar (original recipe from Silvana Nardone)
1 cup granulated sugar
2 1/2 cups flour
1 tablespoon pumpkin pie spice
1 teaspoon salt
1 teaspoon baking powder
1 teaspoon baking soda
2 sticks (8 ounces) unsalted butter, at room temperature
1/2 cup packed brown sugar
4 large eggs, at room temperature
3/4 cup milk
Grated zest of 1 orange
One 15-ounce can pure pumpkin puree
Preheat the oven to 350°.
In a bowl, sift together the flour, pumpkin pie spice, salt, baking powder and baking soda.
Using an electric mixer, beat together the butter, 1/2 cup brown sugar and the 1 cup granulated sugar until light and fluffy, about 3 minutes. Add the eggs, 1 at a time, beating until combined.
Beat in the flour mixture in 3 parts alternately with the milk and orange zest on low speed until just combined. Add the pumpkin puree and beat until just combined.
Pour into cupcake liners and bake until a toothpick inserted in the middle comes out clean.
The cream cheese frosting recipe can be found here.