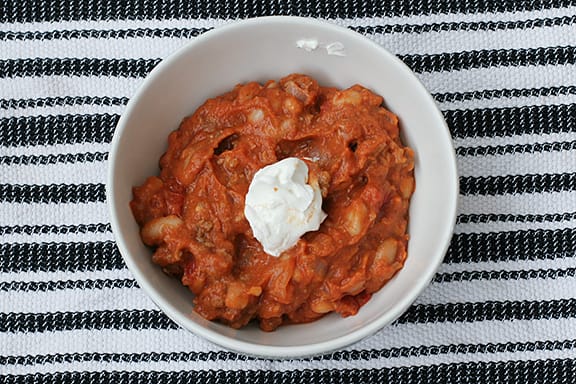 Since I posted a soup recipe yesterday for the cold weather, I thought I'd keep on going and post this chili today! I actually found this recipe online when I was looking for a way to use up some ground beef and sausage, and thought it sounded like a great twist on your regular, old chili. I had never had pumpkin in chili before! I cut way back on the seasonings, and cut out all the sugar that was suggested in the original recipe, but crazy enough – this was still a little sweet. Next time, I would cut back even more on the pumpkin pie spice, and maybe up the chili powder. But besides that – it was a nice change from regular chili!
Pumpkin Chili
adapted from allrecipes.com
Serves 6
Prep time: 20 minutes
Cook time: 1 hour
Ready in: 1 hour 20 minutes
1/2 pound ground beef
1/2 pound sausage
1 medium onion, diced
1/2 green bell pepper, diced
1 can (15 oz) Great Northern beans
2 (15 oz) cans tomato sauce
1 (14.5) oz can diced tomatoes
7.5 oz canned pumpkin
1 teaspoon pumpkin pie spice
1 teaspoon chili powder
salt and pepper
In a large pot over medium heat, cook beef and sausage until brown; drain. Stir in onion and bell pepper and cook 5 minutes. Stir in beans, tomato sauce, diced tomatoes and pumpkin puree. Season with pumpkin pie spice, chili powder, salt and pepper. Simmer for 1 hour.