You don't need to drive to Canada for poutine – Porky's Poutine is a Utah Food Truck specializing in this comfort food from the north.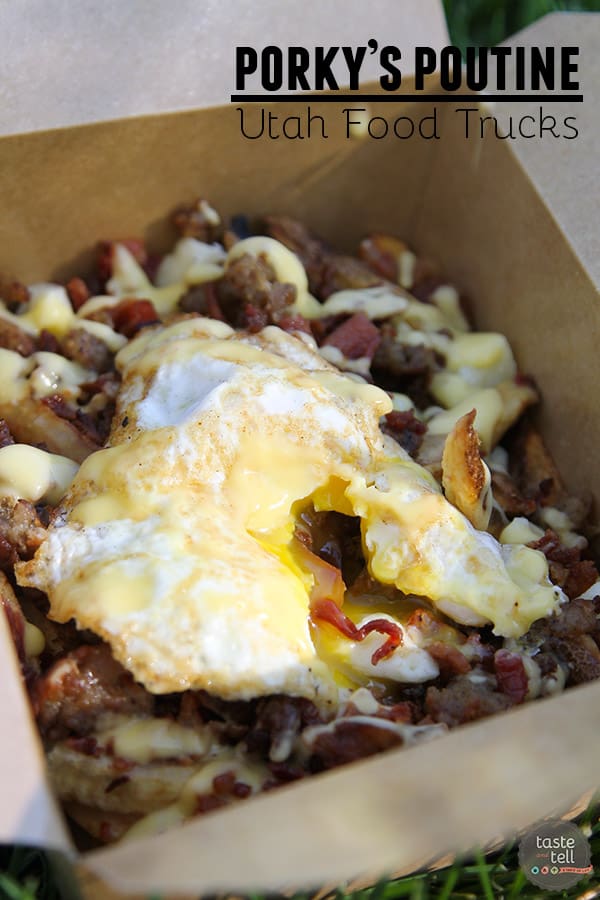 "Do you know what poutine is?" she asked me as I stood, looking at the menu.
"I do – I used to have a roommate from Canada."
It was at that moment that I realized that although I knew what poutine was, I don't think I had ever actually tried it.
A few weeks ago, at a food truck round up, I was trying to decide what truck I wanted to eat from that night. It was between poutine and a "sushi" burrito. But after that realization, I knew I had to get the poutine.
I asked the owner (who I was having the above conversation with) which one was her favorite. Although she said she didn't like to choose favorites, she mentioned the Farmer's Daughter. All I had to see is fried egg and I knew I was sold. It had french fries, cheese curds and gravy, along with bacon, sausage, the fried egg and hollandaise sauce. Perfect for breakfast, lunch or dinner. 🙂
I was a happy, full girl. A couple of weeks later, my husband tried the Philly, and it was good as well. I did try a couple of bites of his, and I couldn't tell you which one I liked better – I loved them both!
And I can now check poutine off of my list thanks to Porky's Poutine.